If you are looking for the best pumpkin powder for dogs, this list is for you. Starting with the Diggin' Your Dog Firm UP! Pumpkin Supplement, Native Pet Belly Bundle, Nutri-Vet Digestive Supplement, Native Pet Organic Pumpkin, Super Snouts GI Balance Digestive Supplement, Back 40 Dogs, and finally the Wild Acre Pumpkin Powder, you can choose whichever product you may like.
P.S.– This list is the product of our extensive research on the best pumpkin powder for dogs, available both on online and offline platforms. We reserve no rights and hence shall not be responsible for any of your purchases, refunds, or returns.
But before we start, let's have a look at what makes pumpkin powder good for dogs.
Is Pumpkin Powder Good for Dogs?
Apparently, amongst all other vegetables, raw/cooked pumpkin is the safest and healthiest for dogs. They are rich in essential nutrients, amino acids, antioxidants, and so much more, making them not only a delicious and crunchy treat for your fido but also a highly nutritious one.
From helping soothe and improve the health of pups with poor digestive systems to enhancing eye and brain development, there are a myriad of benefits of offering pumpkin to your pups. This can be achieved by whatever means of the vegetable, although the pawrent must examine the dosage and frequency of feeding.
Now, proceeding to the main topic, here are the best pumpkin powder for dogs.
Best Pumpkin Powder for Dogs
Diggin' Your Dog Firm UP! Pumpkin Super Supplement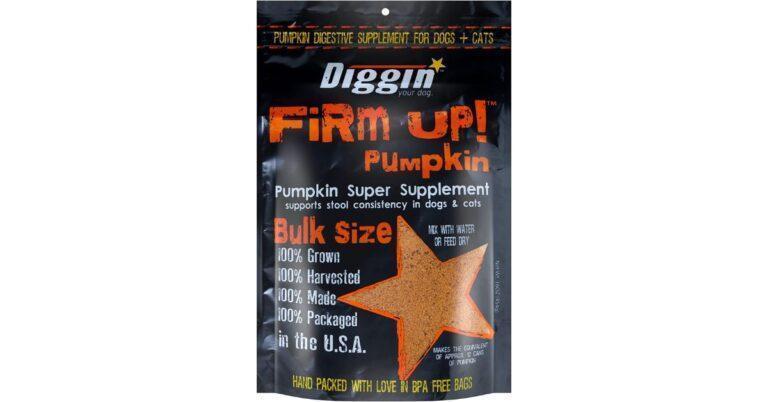 A pumpkin powder brand originating from the USA soil, the Diggin' Your Dog Firm UP! Pumpkin Super Supplement is a top-ranking pumpkin powder supplement for canines. Made with only two ingredients, the manufacturer claims it to be utmost safe for picky eaters and sensitive pups. So when it comes to its components, the powder consists of only drum dried pumpkin and apple pectin.
When consumed regularly, the powder enhances the working of good microbiomes within the pup's body. This in turn soothes any uncomfortable or painful digestive conditions they might be suffering from, including constipation, gastrointestinal issues, etc. The dog's stool texture comes back to normal, and therefore there is no additional risk of anal gland issues.
To use this, simply add warm water to the powder. You can then add this puree or directly sprinkle the powder to their regular food and witness how fast your pup devours everything. However, make sure to never overfeed the powder and check for any potential pumpkin or apple allergies beforehand.
Pros:
Consists of only two ingredients

Supports healthy anal glands

Soothes irritation and discomfort due to gastrointestinal issues

Best suitable for picky canines with sensitive digestive system

Nourishes gut flora

Doesn't add extra weight when fed properly

BPA free packaging system
Cons:
Not ideal for dogs with allergies towards apple pectin
Native Pet Belly Bundle
The Native Pet Belly Bundle is another pumpkin powder supplement that has been quite popular everywhere. Unlike the former option, this product is made up of 4 ingredients, including Jerusalem artichoke, pumpkin seed, beef bone broth and a highly nutritious probiotic blend. Thus, rather than offering pumpkin powder directly to the canine, you will be feeding them with a much balanced formula.
Additionally, this supplement powder is recommended by vets worldwide as a constipation and tummy ache reliever. When ingested, the powder smoothly acts over their irritated nerves, offering the canine much needed relaxation. The components also work together to solidify the dog's stool, giving it a proper texture to pass through.
Pros:
Consists of 4 all-natural ingredients

Vet-recommended for diarrhea

Developed by leading nutritionists and PhD

Air-dried to enhance their shelf life

Blended with the perfect combination of soluble and insoluble fibers

Best for sensitive gut, bloating, sensitivities, etc
Cons:
Some pups may not like the smell

Vet consultation is a must
Nutri-Vet Digestive Supplement
Another product flaunting a composition specifically created by leading vets, the Nutri-Vet Digestive Supplement is manufactured in the USA. Similar to the above-mentioned products, this one is also suitable for canines that are suffering from digestive issues. However, the extra ingredient that makes this one different from others is the inclusion of natural fruits and vegetables fibers.
This diet supplement can be added to your dog's regular food by either preparing it as puree or directly in its powder form. This will pacify the recovery of their digestive issues and maintain uniformity in their stool quality. Moreover, this powder also has a delectable taste and is hence suitable for picky eaters. Just sprinkle some of this magic onto their feed and let the pup clear their bowls clean.
Additionally, the supplement also carries a National Animal Supplement Council (NASC) quality seal, certifying interested buyers of its good quality and safe consumption in canines.
Pros:
Offers instant soothing and supports proper digestion

Maintains uniformity in bowel movement

Prevents gastrointestinal disorders

Formulated by veterinarians and nutritionists

Comparatively affordably priced

Enriched with the goodness of fruit and vegetable fibers
Cons:
Some pups may be allergic to fruits and vegetables

The smell is rather strong
Native Pet Organic Pumpkin
The second 'Native' product in this list, the Native Pet Organic Pumpkin comes bearing three carefully blended items to support sick canines. Consisting of all-organic pumpkin, pumpkin seed, and apple powder this high fiber supplement can be offered to the woofer at any time, no matter if they are sick or not.
The benefit of using this supplement is that unlike canned pumpkin they don't go bad. So, even a single box of these wholesome supplements can last weeks making it an affordable yummy purchase for your beloved fur baby. Furthermore, the blend is also a super beneficial, effective and inexpensive diarrhea medicine for the pups.
Finally, the company also offers a full-refund on its purchased stock. So, if your dog seems to not like the supplement or faces any health conditions after usage, the product can be returned directly to the seller.
Pros:
Ideal for all kinds of digestive related issues

Comparatively less messier than pumpkin puree or canned pumpkin

Consists of 3 ingredients only

No artificial preservatives or fillers

Offers required amounts of Omega 3 fatty acids and antioxidants

Full-refund available
Cons:
Requires vet prescription before usage

The taste and smell is a little peculiar

Some dogs may exhibit allergies to the apple powder
Super Snouts GI Balance Digestive Supplement 
Arriving with a concentrated blend of pumpkin, apple fiber, fennel, ginger and prebiotics, the Super Snouts GI Balance Digestive Supplement makes it to the list of best pumpkin powder for dogs. This pumpkin powder supplement is best for occasional GI disturbances which may occur due to sudden changes in diet, environmental factors, etc.
Upon ingestion, the components create a stable environment for the gut flora encouraging their growth. This in turn puts a positive impact upon their digestive system, letting food get absorbed properly, thereby improving stool quality. Furthermore, with regular usage of the supplement, the company also claims reduced risk of anal gland issues and a heightened immune system.
However, given the ginger add-on, some pooch might not like the powder's taste or smell. In such cases it will be better to slowly introduce the supplement and gradually increase the dosage based upon the vet's prescribed amount.
Pros:
Comes with essential prebiotics for an improved immune system

Supports GI health and healthy anal glands

Affordably priced

Suitable for both gas, loose stools, and tummy aches
Cons:
Prior vet consultation is necessary

Not ideal for sensitive canines without prescription

Causes gas in some canines
Back 40 Dogs
A wholesome product that not only improves your furry friend's digestive working but also works for the betterment of their coat, skin, vision and immunity, the Back 40 Dogs is an absolute deal for pet parents. This is because with this one purchase you can unlock overall health benefits for your pup.
Moreover, to make it even healthier, the manufacturing company also claims the supplement to consist of several essential multivitamins, probiotics, premium fibers, and enzymes. So, upon consumption not only the woofer's digestive system gets back on track, but pawrents can also see a visible difference in their coat texture and immunity against diseases. As per numerous customer reviews, the product adds a shine to the canine's coat while making sure every other nutritional need is being met simultaneously.
Pros:
Comprises of all essential multivitamins, probiotics, premium fibers and enzymes

Ensures healthier coat, skin, heightened vision, metabolism, and immunity

Comes without fillers, preservatives and additives

Works for constipation, runny diarrhea, and other GI tract issues
Cons:
The supplement color may stick on to their fur

Rather highly priced

May cause allergies in some dogs
Wild Acre Pumpkin Powder
Finally, ending the list of best pumpkin powder for dogs, we have the Wild Acre Pumpkin Powder supplement. Made with the perfect blend of soluble fibers, this product claims to be pure organic pumpkin. Even the ingredient list shows no addition of corn, artificial ingredients, colors, as well as inclusion of dairy or soy products, making it one of the safest options out there.
The pumpkin is grown and further processed all in the USA and can be used either directly or by mixing it with water to create a creamy, delicious puree. Thus, based upon your pooch's age, weight and health condition, you can offer them this feed every day or as directed by the veterinarian.
Furthermore, to top it off, the company is also offering a full-refund on its product. This indeed is a customer-oriented approach that can come handy in case your canine doesn't like its taste or smell.
Pros:
No corn, artificial colors, and artificial ingredients

Doesn't include dairy or soy related products

Impeccable taste with long shelf life

Rich in soluble fibers

Can be used on dry, wet, and raw diets
Cons:
Should not be administered without vet consultation

May cause allergies

Not ideal for all life stages

The smell is rather strong
Tips to Remember when purchasing Pumpkin Powder for Dogs
No matter if you are searching for the best pumpkin powder for dogs on online platforms or at offline stores, there are a few tips to remember. These include:
Always mark the ingredients
When starting with a supplement, there is nothing more important than understanding their composition. Hence, before adding any company's product to your bucket list, give their ingredients list a thorough read, including the image as well as description. This way you will be able to track down any potential ingredient that your canine might be allergic to and gain a vet consultation beforehand.
Similarly, if the ingredients show the addition of artificial colors, preservatives, corn, fillers, or gluten, it is better to steer away from such supplements. This is because even though your canine might not show any allergic signs and symptoms, long term use can deteriorate their health rapidly.
Pumpkin Concentration
Now, even though all products preach themselves the best, there is a huge difference when it comes to products with real pumpkin and pumpkin related add-ons as ingredients. Amongst these two, clearly the former is much more suitable and effective for a canine suffering from digestion and GI tract issues, rather than the later.
Furthermore, the concentration of pumpkin used is another considerable factor that pet parents should always remember. A supplement with high pumpkin concentration may not be the best choice for sensitive canines. In such cases, it is better to look for other products that have both real pumpkin and other essential ingredients, minus fillers and artificial additives. Doing so will ensure that the woofer's health is not impacted further, while the components may also work out for the betterment of their overall health.
Type of Usage
Pumpkin powder for dogs arrives in two forms. One that is used only when prescribed by a vet, and the other with the provision for regular usage. So, based upon your canine's particular requirements, the choice should be made.
For instance, if your canine is suffering from painful digestive issues, usually investing in fast-working medicated pumpkin powder supplements is best. These products are specifically designed to meet the sudden demands of the body and can be highly beneficial in preventing frequent phases of constipation or diarrhea.
Likewise, if there are no such medical emergencies, it is better to administer pumpkin powder supplements that are manufactured for regular usage. With regular ingestion, you will be able to see gradual visible differences in the overall health of your canine.
Check for Certifications and Reviews
In the end, never forget to check if the product has been certified by any genuine food safety authorities. Given their usage as a reliever from constipation, diarrhea and GI tract issues, the powder needs to have a proper concentration and base. Without this, the pup will be exposed to even more health conditions, risking their quality of life.
The same goes for reviews also. If you are making the purchase from online sites, don't forget to scroll through their review section. Check all reviews ranging from 5 star to critical ones to better understand if or not the product will be a good choice for your furry friend.
FAQs
How often can I feed Pumpkin Powder to my Dogs?
Depending upon their usage type, your canine's health condition, age, breed size, and weight, the frequency may differ. Although on an average, sprinkling a little of this delectable powder over your dog's food, three to four times a week is nothing to be worried about.
The supplement will only fill up any nutritional gap that might be occurring, ensuring that the canine is well kept.
How much Pumpkin Powder should I feed to my pooch?
It is better to consult with a vet regarding the exact dosage. There are various factors as described above that could affect the final result. However, if your pup is completely healthy and exhibits no allergies whatsoever, you may feed them:
For toy breeds (1-11lbs)- A pinch of the powder

For small breeds (12-20lbs)- 1-2 teaspoon

For medium breeds (20-50lbs)- 1-2 tablespoon

For large/giant breeds (50+ pounds)- 2-5 tablespoon
NOTE- This table is based upon general data. Therefore, to ascertain your woofer's safety, getting professional advice from a vet or a canine nutritionist is a must.
Are there any side effects?
Even though side effects of feeding pumpkin supplements to dogs is extremely scarce, undertaking proper safety measures is a must. Immediately stop administering the product if the dog is:
Vomiting

Seems nauseous and extremely lethargic

Produces frequent pungent gas

Has runny diarrhea or severe constipation

Drooling excessively

Having seizures

Suffering from loss of coordination, etc.
In such instances, take the canine to a vet clinic as soon as possible. These side effects may range from mild to extreme cases, and hence making delays is unwise.
Can I add spices to the powder?
NO!!! ABSOLUTELY NOT!!!
The canine digestive system is nothing like us humans and therefore, a responsible pet parent should never add anything conspicuous to their Fido's feed.
Spices like cardamom, garlic, cookies, syrups, nutmeg, etc are highly toxic to them and even a tiny amount could result in death. Therefore, stick to the exact usage procedure of the dog food or supplement you are using or else check from the 7 Vet Recommended Easy Homemade Food for Cocker Spaniels.
If you are a dog lover then, Subscribe to our weekly newsletters. No Spams!