Every pet parent wants their canines to be safe at all times. And while it may not always be easy given their quirky nature, there are accessories that can make this task a seamless deal. One such item includes dog fences. So, if you have been in search of the best wireless dog fences in 2022, here are a few names that you can check out.
Amongst all popular wireless dog fences, the top ones include: the PetSafe Wireless Pet Containment System, JUSTPET Wireless Dog Fence, PetSafe Stay & Play Wireless Dog Fences, Underground Electric Dog Fence Ultimate, and the SportDOG Brand Rechargeable In-Ground Fence Systems. All of these models are entirely based upon wireless working and are top-notch in their range. So even though some might seem pricey at the first instance, they do a great job keeping the pooch contained to a specific place while they have fun without risking their safety.
But, before that let's briefly understand how the system works, its advantages, disadvantages, including reviews from their users.
Does Wireless Dog Fence work?
Crafted to make the lives of pet parents easier, wireless dog fences have been quiet on the rise, all thanks to their beneficial features. These advanced versions of the traditional fencing systems are immensely easy to set up and use. They also have a long shelf life and are sturdy enough for regular operation.
But unfortunately like every other item, there are certain factors that are needed to be on point to ensure that they work perfectly. This includes the length or size of the land, terrain type, model basic features, warning systems, and much more. Without these, no matter just how pricey or updated the wireless fence might be, you may not get the desired result.
Similarly, when opting for this product, you will also be required to be extra mindful of your canine's breed. Wireless dog fences are typically coupled with a receiver collar, which could be bulky for most small puppers.
Therefore, if you are properly heeding to all the mentioned guidelines, the wireless dog fence is bound to work for long without any hiccups.
How does a Wireless Dog Fence work?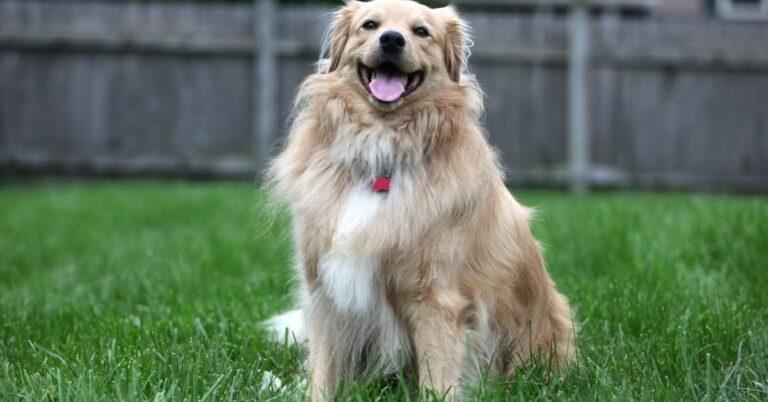 Now coming on to the basics of their working, these fences are made up of two components, that is the transmitter and the receiver collar.
Transmitter
As the name suggests, this unit is solely responsible for emitting continuous signals which are then received by the receiver collar. The signal frequency and length generally varies based upon the model version. However, almost all of the transmitters have a radial frequency that usually starts from 15 fts and can go much higher.
Moving on to its working, the device offers great portability and hence can be placed anywhere, such as a closet or within your living room. From there, once plugged in and turned on, it emits frequencies up to a marked area, creating an invisible barrier for your pooch.
Receiver Collar
The next important part of the whole setup, the receiver collar is just like any other dog collar but with a tiny device attached to it. The unit keeps on tracking the signals as the transmitter is turned on, keeping the canine safe and within the invisible boundary.
But if the pooch tries to move further from the designated area, the collar automatically produces a high-pitched audible warning signal. This happens when the receiving unit is unable to catch on to the transmitter signal, thereby producing a harmless static correction sensation.
The sudden crack of static electricity surprises the dog, preventing them from further rebelling and therefore being safe and secure when outside.
Is it cruel to use a Wireless Dog Fence?
Fortunately, NO!!! Unlike what you may have been fed by bemusing articles, wireless dog fences when used properly aren't at all cruel to canines.
When in use they don't produce electric shocks that circulate throughout their small bodies. Rather, e-collars are equipped with customizable electric simulations that simply excite targeted muscles to instantly reflex without even penetrating deep into the dog's skin layers. This creates a small, sudden static sensation in their bodies, thereby alerting the dog to not proceed further.
To make it even more safer, some of the best wireless dog fences have as much as 127 simulator levels that can be attuned as per your dog's needs. So, based upon your pooch's breed, size, and any persisting health conditions you could fine tune the static levels and have them trained without pressuring their bodies any further.
However, it is also essential to remember that such electric collars should never be worn for more than the mentioned duration. Given their close association to the skin, the collar might end up irritating the skin beneath the fur layers, risking friction-related injuries. Therefore, a 10-12 hour training with such collars is typically the highest one should go for.
Types Available with Best Recommendations
When opting from the best wireless invisible dog fences, there are predominantly two types of electric fencing systems that beginners need to carefully choose from. This includes:
Semi-wireless

Full Wireless
Semi-Wireless Dog Fences
Source: Amazon
A canine fencing system that works on the principles of both a wired and a wireless safety measure, semi wireless systems are coupled with an antenna wire and a receiver collar.
When buried and plugged in, the antenna forms a physically invisible barrier transmitting signals to the receiver collar. This in turn, creates an audible signal that alerts the pup when they are near the barrier, similar to their fully wireless counterparts.
With that being said, these fencing systems are comparatively more versatile and can be easily accustomed to any property shapes. For instance, the Underground Electric Dog Fence Ultimate makes a good choice for pet parents with small yard spaces. It comes with 3 antennas that can cover a whole lot of ground in one price.
Advantages:
Relatively versatile

Less interference issues

Covers larger grounds
Disadvantages:
Setting up is messy and takes too much time

Not viable if you move too much
Full Wireless Dog Fences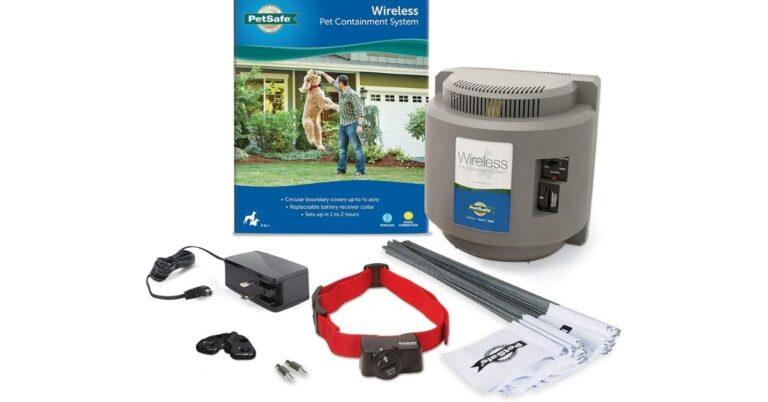 Source: Amazon
Next the full wireless dog fences come with a transmitter unit and a receiver collar, minus any wires or antennae. The transmitting unit is generally equipped with a customizable signal emitter. Thus, no matter wherever it's placed, upon turning on, the unit emits trackable signals to the receiving collar forming an invisible boundary around the designated area.
When you invest in one of the best wireless invisible dog fences, like the PetSafe Wireless Pet Containment System or JUSTPET Wireless Dog Fence, you not only get a portable fencing unit but also many more additional items. This includes boundary flags, a powerful battery, extra screws and much more.
However one of the best features of these fences is their capability of connecting with an unlimited number of collars. Best suitable for houses with more than two pets, these full wireless electric fences are both affordable as well as efficient in doing their job.
Advantages:
Individual customization setting for every collar

No need for digging holes

Offers greater portability and easy-set-up

Allows wider transmission by additional transmitter units

Several simulation levels
Disadvantages:
Not for uneven shaped properties

Interference issues may happen in bumpy terrains
From the above discussion we find that both semi wireless and full wireless fencing systems have their own set of pros and cons. But, if portability, usage, features and affordability is compared, the latter does seem to score some points more than the former option.
How long does it take to train a dog on a Wireless Fence?
Sadly there is no absolute answer to that. This is because depending upon the regularity of the practice, dog breed, and nature of training, a pooch may take anywhere between a few weeks to some months to be fully trained on a wireless fence.
Additionally, unlike other physical forms of training, this particular procedure will require the canine to be mentally alert. Only such a puppy will have enough idea to understand the cues or audio signals and respond to them.
To achieve this result, you can also follow the steps mentioned below and act accordingly.
Introduce them to the e collar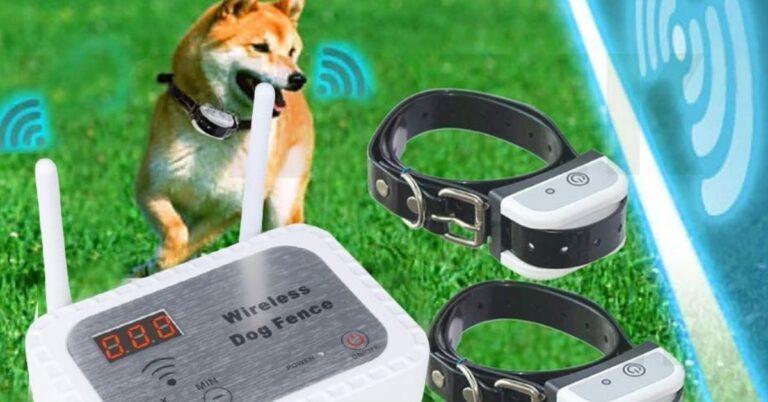 Source: Amazon
As discussed above, electric collars like these arrive in many forms. While some induce a warning signal prior to producing the static sensation others directly use static electricity to alert the pooch. And while both could seem to be doing the job, it is better to go for ones that offer an audible warning. This way it won't traumatise the animal and hence encourage them to keep on using the collar.
So, if it's your first time investing in the best wireless invisible dog fences, then always start by letting the pupper have a proper and thorough sniff of the item. Dogs predominantly use their snouts and smelling power to investigate new things and hence allowing them to do their own little examination is bound to make them less stressed.
Once done, firmly put on the e collar around their neck, along with a harness and a leash. Next, take them on a walk over the destined area, slowly progressing towards the boundary of the invisible fencing. Upon reaching the border, the receiver collar will emit an audible high-pitched warning signal, alerting the dog. Initially, the canine may get shocked and try to run away, and therefore having them on a leash is what's best advised.
Be consistent with the practice
Consistency is the key. So once the canine shows acceptance of the warning signal, repeating the above mentioned step regularly is highly necessary. Apart from recognizing the audible signal, the dog also needs to be understanding of the safety boundary they have been assigned to. Without it, the poor animal would have a hard time getting hit by the static shock every now and then, making them hate the entire thing.
Don't forget rewards and treats
Positive reinforcement training techniques go a long way in ensuring canines learn their lessons faster. This is because when you synchronise their action with a tasty treat or a good praise, it builds up their confidence, making them understand the difference between normal actions and desired ones.
This form of encouragement also motivates the pooch to exhibit more good actions, and in this case, stay within the invisible barrier. As a result, with a lot less effort and time, pet parents can rest assured that their pooch is safe from traffic or other major risk factors at all times.
Put Flags
Almost all of the best wireless electric dog fences come with a set of white flags. These flags serve a good visualisation point and therefore when in training, marking the outline of the invisible barrier with these flags can induce faster and more efficient learning.
To adapt them to the presence of warning flags, attach the pooch to a leash and take them near any of these flags. As the boundary closes in, move away from the flag and return to the starting point. You can also wait for the warning signal before turning back in.
This way the woofer will soon start comprehending the warning signal with the visual points and hence back away. Once this step is done, you can then move forward by setting the lowest static correction signal and gradually moving up as per their weight, size, health status, and other vital factors.
Add fun games and activities
Finally, it is also better to add fun games and activities to the training. Doing this will keep the pooch interested and motivated and therefore enjoy the whole process.
Playing games like hide-and-seek, ball throwing, disc throw, etc, gives the animal ample time and space to freely explore their surroundings and know their movement boundaries. Moreover, it is also a more convenient way of meeting their daily physical and mental demands.
What is the best wireless fence for a Spaniel dog?
Spaniels, excluding the Clumber Spaniel, generally are small-medium stature dogs and hence when looking for the best wireless electric dog fences, you will need to consider their:
Exact weight

Persistent health conditions, if any

And the static simulation level
Given the breed's relatively smaller size, the PetSafe Stay and Play Wireless Pet Fence, SportDOG Brand Rechargeable In-Ground Fence Systems, WIEZ GPS Wireless Dog Fence, and the COVONO Electric Dog Fence make some of the best wireless dog fence choices. When installed, they offer both space and protection to the pup, without compromising their fun.
NOTE- We have carefully selected the above choices after going through their individual specifications and additional features as mentioned on online platforms. We will not be deemed responsible for any issues arising during or after purchase, as we are not directly or indirectly linked to any of the products or their companies mentioned above.
FAQs
What is the minimum or maximum age for dogs to use wireless fences?
Even though you can find several golden best wireless dog fence reviews, there are certain guidelines to follow. One of these includes the minimum and maximum age limit of the pups for using wireless fences.
As these e-collars produce static electricity in varying simulation levels, dog experts advise pet parents to not opt for the accessory if their dogs are less than six months of age. The shocks may badly traumatise the little pup, discouraging them from further using it.
Similarly, if your canine has had recent surgeries or heart problems, then also you should wait before getting them your choice of best wireless electric dog fence. This is because the frequency may hinder their normal healing or affect other health devices, such as pacifiers, resulting in further worsening of their health.
Are wireless dog fences suitable for toy breeds?
NO!!!
Receiver collars, as compared to normal ones, are heavier which is a severe disadvantage for toy breeds. Not only that, but toy breeds are also more susceptible to the static sensations than other canine breeds. Even the lowest of simulation levels are generally too strong for their petite bodies. And hence, toy breed owners are best away from this safety accessory.
Which one is better for a Sloppy yard: Semi Wireless or Fully Wireless Dog Fencing Systems?
If you have a sloped yard, then undoubtedly semi-wireless dog fences is what you should go for. In case of fully wireless fences, the transmission might get interrupted a number of times, risking the safety of the pup. 
However in the case of semi-wireless fencing systems (given their nature of installation) they can be adjusted to any terrain or property type, making them both effective as well as economical for your requirements.
So, with this we are concluding our discussion on the best wireless dog fence reviews. Don't forget to subscribe to our mailing list for more interesting updates on all our recent releases.
Till next time, Take Care.
If you are a dog lover then, Subscribe to our weekly newsletters. No Spams!