Introduction 
There is a quote by W R Purche that goes by the lines of -' Everyone thinks they have the best dog and they are not wrong'. The logic behind the lines completely applies to all proud owners of Blue Roan Cocker Spaniels. Blue roans are among the most easy going spaniel breeds, with an energy level always on the higher side. 
They are known for their friendly nature and are a far cry from their golden and red-colored brethren, famous for their bouts of 'Cocker Rage' phases with dominating behavior and aggressive tendency.
That said, it is important to know in detail about a roan's physical characteristics and personality that significantly impact its temperament that will help you decide if you are compatible with the breed.
The physical Characteristics of Blue Roans contribute to their temperament. 
Studies have shown that smaller head size is associated with increased sensitivity for higher frequencies, a trait that blue rowans exhibit to the best possible extent. Blue Rowans are a gentle breed that doesn't do well with high-intensity noises. Yelling at them will not help in the training process but rather make them nervous. A nervous rowan will be uncomfortable when exposed to loud noises in the form of a human voice, blaring horns or thunder and hide or be depressed while exhibiting compulsive behaviors.
Gentle and firm commands are the best way to make them listen to you and obey what you are trying to teach.
In addition to a small head, blue roans are blessed with long heavy ear flaps, which are an advantage in the hunting field but not so great for home-bound roans as the heavy flaps hang low and are a breeding ground for moisture and bacteria. That, added to the narrow ear canal, makes the spaniels prone to frequent ear infections of a painful nature. frequent untreated ear infections will enforce an anxious temperament and make it look ill-tempered as it deals with the pain and swelling. And that is not their fault as it was our job to clean their ears periodically and identify the symptoms timely.
A roan with ear infections 
Will frequently shake its ears while assuming a tilting head posture
Be fidgety and whiny to convey its discomfort. 
Studies have shown that age, skull shape, and size influence the temperament of domestic dogs. Putting into theory the hypothesis, the slender build added by the small size of the blue Roan makes it a super active species that does not shy from being vocal about its likes and dislikes.
While younger blues are super active and mouthy, it gradually transitions into a calmer temperament as it grows older while retaining some of its sassyness. 
A new research paper has recently gained attention for its unique hypothesis that the color of eyes in dogs determines their gazing pattern and impacts their temperament and communication skills.
Members of the spaniel family were not included among the evaluation breeds. But irrespective of the inclusion criteria, the study further validates the roans' tendency to make frequent eye contact with their favorite human, who they consider part of the pack.
The Blue Roan Cocker Spaniels Personality
Some of the chief features that sum up a blue roans personality are 
Affectionate and Friendly 
The blues originated from the cocker spaniel, a breed developed for hunting and staying in constant contact with humans. This has given them a friendly and affectionate temperament and the ability to mix with everyone, though there will be one they will be closest to and who will be their favorite human.
Good with children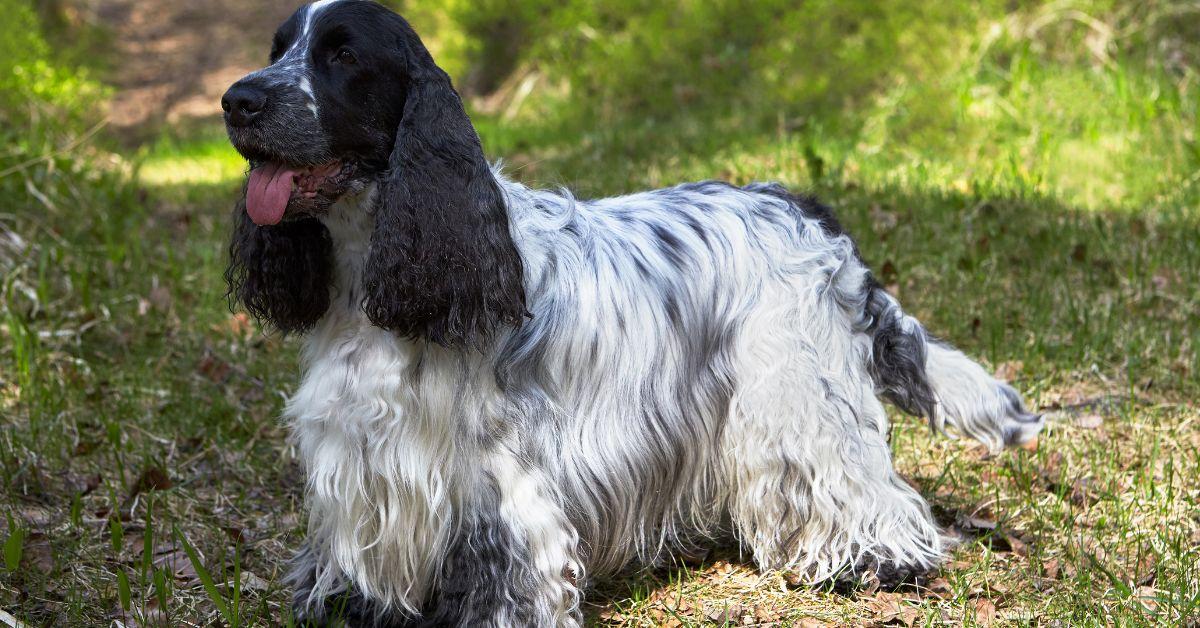 They are tolerant of children and make good family pets, though not as good as the Cavalier King Charles Spaniel, known for his sweet and friendly nature. Blue Rowans, in comparison, are a calm species that will  let kids be around them while they mind their business.
Compatible with other pets 
Blue roans are generally compatible with other dogs when raised alongside them from a young age. If you are adopting an older blue, they might hesitate to be friends at first sight and take time to adjust. 
Whether the other dog is compatible with your blue is another matter. Research has shown coat pigment melanin shares a common biochemical pathway with dopamine and other brain chemicals involved in aggressive behavior. Cocker spaniels of a golden or red tint are more aggressive than black-tinted or blue roans and may show aggressive tendencies when paired, especially at an older age.
Playful and Energetic 
The ancestors of roans were bred to retrieve and hunt wild birds/ small wild animals and current roans share the trait. While being incredibly playful and energetic by temperament, physical activity is a must for them to be in shape and retain their stamina. Because of comparatively higher testosterone levels, male roans are usually more active than females. 
Intelligent and Trainable 
True to their cocker spaniel genes that rank 20th among the smartest dog breeds, roans are an intelligent breed. When trained early, they comfortably learn the commands and socialize.  
Socialization is an essential factor affecting Roan's temperament. A social roan knows how to behave around children and unfamiliar faces without getting excited or showing nervousness. 
Training them is also vital to be composed and comfortable in public places like vet clinics, pet parks, and dog-friendly places where they may encounter more giant and aggressive breeds. 
Training and Exercise Requirements 
Dogs that are appropriately socialized as puppies are less likely to exhibit behavioral problems in adults. Blues are mouthy creatures that need extra attention and training or may become destructive.
Proper training through positive reinforcement or traditional/ scientific methods can help socialize your blue rowan and set its guidelines and boundaries.
Exercise Needs
Studies have shown that obese canines tend to show aggression toward familiar people, strangers, or other dogs and exhibit symptoms of fearfulness with separation anxiety added to food-related behaviors such as food guarding, food stealing, and coprophagia tendency. 
So what you think as an ill-tempered blue roan is an obese roan exhibiting behavioral problems. And it can be corrected through a proper exercise that appears like fun activities. A simple fetch and hide and seek can go a long way in shedding the extra kilos and improving its temperament tremendously.
Conclusion 
There is no doubt that Roans are a frolicsome and vocal breed which is sometimes mistaken as aggressiveness by ill-informed or recent in-the-training pet owners. That, added to their highly energetic nature, makes it challenging to handle them in hectic households where they are brought on a whim and then left to their deeds. 
And truth be told, dogs, besides food and water, need attention to survive. Every blue Roan has its share of nervous energy that it needs to shed off through walks and regular activities. And they are eager to please breed that is primarily a winner but, in the eyes of a few owners, makes them seem like a clingy pet. 
Their household, the nature of their owner, and the training they receive significantly decide their temperament. Health conditions and compatibility with other pets are other factors that determine its overall state of mind.
Reference:
If you are a dog lover then, Subscribe to our weekly newsletters. No Spams!