Welcome back everyone!!! At Spanieldogs.com, we are back again today with another one of bizarre yet highly researched topics on the Internet. So, let's start without further ado.
If you have been long thinking if dogs eating ants is harmful or not, then there's no need to worry further. Occasionally these little insects may get inside their food, making their way into the pooch's digestive system. And even though it might be a scare to you, they serve as tiny little supplements of proteins and vitamin C for the canine. However, this doesn't mean that you should go looking for ants and have your canine snack upon them. Ants do bite and that could be excruciatingly painful and severe depending upon the bite location and damage.
Below, we will be discussing in detail about the weird habit and how it can escalate into serious situations. So, make sure to read until the very end. But first of all let's uncover the reason as to why some dogs may like having ants as delicacies.
Why does my Dog eat Ants?
In most cases, a canine will only eat ants if the insect is in its food. However, if you have one of those naughty canines that won't stop licking or slurping down every little thing that moves, then proper training is the only way out.
Other reasons which could contribute to the cause include a strong prey drive or heightened curiosity levels. A perfectly fine canine may choose to dive into a line of ants just because they are moving or in case they are carrying some food with them. The smell of the food may come as a surprise to their little nose and thus they start with their investigations.
In some cases, a dog may choose to eat ants if it has seen the same behavior from another dog or its parents. Just like small toddlers, puppies often mimic other pets and may think the little insects to be nutritious food items which can be consumed when hungry or bored.
What happens when a dog eats ants?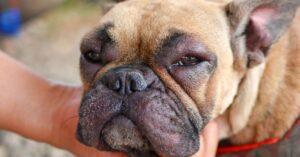 There are various kinds of ants. While some may be relatively harmless, like the black ants, some are known for their nasty painful bites, such as the red ones or the fire ants. The later breed of ants are equipped with a very harmful toxin that when injected in bulk amounts could trigger severe allergic reactions. Therefore, if you find your pooch's bowl covered by a line of ants, it's better to throw the remnants of the bowl and give him a fresh clean one.
However, if the canine has already consumed a huge amount of ants, it may lead to an allergy as mentioned above or cause them stomach issues. Other health risks include:
Burning sensation around mouth and oesophagus

Irritation and gagging

Acid reflux

Vomiting

Swelling

Nausea, etc.
Similarly, although rare, some pups may also experience much more severe side-effects. For instance, if the toxins make way into the bloodstream, it can cause multiple organ failure or blindness, requiring vet care at the earliest.
Therefore, if you doubt that your pooch is in any way susceptible to such conditions, taking them to your vet's clinic is definitely the best choice.
Can ants kill a dog?
Depending upon their variety and the pup's sensitivity, Yes, ants can indeed kill a dog!!!
Ants move in colonies and hence even if one is threatened, there is a higher risk that the whole lot will go into attacking mode. They usually climb onto their target, releasing harmful toxins into the animal's body through bites. This in turn causes painful, red bumps all over the area which can quickly escalate to further grave health consequences.
Many pet owners have reported their dogs getting critically sick after getting bit by aggressive ant categories, such as red and fire ants. Therefore, if you see any signs and symptoms, it is better to have your pup thoroughly checked by the vet rather than wait for their health to degrade irreversibly.
How can I get rid of ants from my dog's body?
Follow this step-by-step process to make sure your dog is not at risk to the threat posed by these little insects.
Apart from removing loose fur off clothes and furnitures, lint rollers can also be used for getting rid of ants from your dog's coat. Thanks to their strong adhesion, the ants will be pulled out in no time, thereby ensuring that your pooch is safe from their venegeance.
However, lint rollers are only suitable for dogs with small coats and short fur. So, if your pooch has long hair or a thick coat, you will need to proceed to the second step once done with lint rolling.
Comb with a bristled brush
The next step, combing with a fine bristled brush is very beneficial as it clears out the insects from deep within the fur. The ants are combed out from their covers, without hurting the pooch's skin at all.
Additionally, you can also use pet brushes as they are generally a good substitute to the hard-bristle brushes. But make sure they have finer, close knitted teeth, so as to pluck out the insects with one go.
Finally, a thorough doggy bath is what the canine needs to be utmost safe of ant bites. When soaked with water or lathered with shampoo, the layers will smother the insects, causing them to die and fall out of their fur.
Even more, bathing the pup will also ensure that any food or smelly particles that may have been lodged in their coat is ultimately taken care of.
How can I make ants stay away from my Dog's Bowl?
Ants are probably the only insects that are always looking for food items. Thus, no matter just how clean your house might be, if you have a habit of keeping your dog's food bowl filled with remnant food particles, then, you will definitely have to deal with the problem of ant infestations.
To get rid of such situations, you can:
Put the bowl in a shallow dish of water
Hands down the most effective and convenient tip of all, placing your dog's filled bowl within a shallow dish of water can keep these pesky insects out of the way. Given the risk of drowning, ants won't try and infiltrate the food, thereby letting your canine enjoy its feeding time without risking their health.
Mark and clean the area with DIY-ant killing solution
Next up, you can also make a homemade ant repeller by mixing a 50-50 proportion of vinegar and water. The strong smell of the concoction will aid smother existing ants, while simultaneously acting as a repeller for any future conquests.
Usually, this smell stays on for 2-3 days, and hence it is advised to repeat the action every couple of days. You can also clean the whole house for an even better result.
Spray essential oil and water solution
Another easy-to-follow tip includes using a solution of essential oils like lemon eucalyptus, peppermint, or tea tree with a proper concentration of water. Once done with the solution, spray it over highly frequented areas and let it settle for a while before placing your dog's bowl of food.
Same like the vinegar and water mix, this DIY spray is also proven efficient in killing and repelling all kinds of ants. When sprayed, the smell suffocates their senses, causing them to lose consciousness, allowing you ample time to sweep them out.
Mark with specialised chalks
Additionally, you can also invest in specialised chalks that consist of a toxin especially harmful for all kinds of insects. Use the chalk to mark all opening and exit areas of the house. A single use can easily give you a good result of at least 10-15 days or unless the chalk mark fades away.
Conclusive Thoughts
Dealing with this problem isn't as scary as it seems. As said above, ants typically serve as one of the most nutritious elements for pooches who have consumed them either from their food bowl or due to curiosity. But this in no way should be used as an encouraging factor by pet parents.
Not every ant kind is harmless for canines. Hence unless it's a dog-feed that uses ant-based proteins, keeping your pupper away from ant colonies is what's best for all.
You may also like:
Can Dogs sense Evil Spirits and Demons?
If you are a dog lover then, Subscribe to our weekly newsletters. No Spams!