Since old times canines have been popularly regarded as 'spirit guardians' that protect over the soul of their humans. While this thought can be considered as a folklore myth, there have been many cases worldwide that intrigues the question if the supposed myth can have some pint of truth.
Various studies done on dogs have time and again proved that these beautiful creatures are blessed with a heightened sense of smell and hearing. They can easily sense the change in vibrations and hence react accordingly which could come as a surprise to their pet parents. But, apart from that many leading spiritual believers and psychics claim that dogs, same as many animals, can actually sense the presence of something evil. This could be a negative energy, spooky ghost or even a terrifying demonic presence. So, do they really sense evil spirits and demons???
While there has been no consistent answer to this, the belief really does stem from your own credence on the paranormal.
How does our belief affect the answer?
When we speak about the human mind structure, a lot of what we think, believe and worry about is reflected in our daily actions. And even though we may not be conscious of the same all the time, it does get engraved deep into our belief system. So if you are a believer of the paranormal, any weird dog staring or growling is bound to invoke your fear of the unknown.
For instance, in case your dog starts stressing out at something that's not there, your mind and body will instantly tense up. This sudden movement triggers the production of adrenaline, which is to suffice the natural 'fight or flight' reaction in the face of adversities. As a result, you will soon start imagining things, making you further trust the presence of evil spirits or other negative energies lurking inside your space or around you.
But do dogs really sense ghostly presence?
Although we aren't completely rejecting the notion, there's a high chance your pup might be actually reacting to something bad. Here's why:
They have amazing motion sensing abilities
Unlike a human's perception, a canine is far more sensible when it comes to detecting even the tiniest of movements. So, whilst we may miss out a few motion changes, our dogs will definitely notice them and react accordingly.
Moreover dogs are also better suited to track movements in the dark which could be the triggering reason behind their sudden aggression. Just like us, a canine feels frightened or excited upon detecting unfamiliar things and may charge up to protect its pack. The same is also confirmed by Open Farm's Head Animal Behaviorist, Jill Villarreal in one of his interviews.
Hence, if ghosts and spirits do exist, there's a very high chance that our fur buddies might actually sense them.
They have supernatural smelling power
With a nose that's 10,000-100,000 times powerful, there are rarely scents that surpass your pooch's attention. Many-a-times it is the unknown smell that sets off the canines and hence if you find your fur baby sniffing into thin air, it could be a possibility of an evil spirit's presence or just a bad smell.
Although there's no logical explanation to the above-said events, many animal behavioral specialists as well as pet owners do believe that dogs can smell out shifts in energy, also termed as spirits, and alert their owners. You can literally find hundreds, if not thousands, of stories referring the same.
So, again if you believe in the existence of the otherworld, your dog's sudden nose work may definitely come as a dead scare.
They can hear better
Ever woke up to your dog's unexpected barking or howling in the middle of the night??? If yes, then it can be a sign that the pup has heard something. That could be a movement, a whisper or even the sound of someone passing by the side of your bed.
Scientists have been investing for years trying to understand how dogs tend to receive even the tiniest of vibrations in the environmental frequencies. But unfortunately there hasn't been any conclusive proof yet. When they hear things which are unexplainable, the hair on the back of their neck tends to stand which could be perceived as an alert stance by the pup.
This is a posture most dogs follow just before attacking and hence growling, or barking also follows if the sound continues for long. A renowned canine specialist, Dr. Aramendi believes that the little ones can detect sounds as far as a few miles. Therefore it might not be entirely wrong to say that the pup is picking on something that's not physically present there.
They start howling suddenly
Just like smelling, seeing, or listening things, extreme or unexpected howling can be an indicator that the pup is in distress. And most probably this change in their demeanor might be due to the presence of an unfamiliar negative energy that is scaring the canine.
Dogs howl as a form of communication and although there could be a lot of potential reasons beyond the thought of them seeing paranormal occurrences, the situation and their body language afterwards is what's important. Hence, if the pup seems to be agitated, whining, growling with its hair standing, or barking at a specific point, you should inspect the cause.
You will be surprised to know that many-a-times, a window creaking due to air, curtains swaying, or the shadow of a tree outside are the real reasons keeping both you and your dog awake all night.
From the above discussion it is quite clear that dogs behave the same way their owners do. They are capable of mimicking their owner's body language and thereby depending upon your reactions to the unknown or belief on the paranormal, the canine will simultaneously get reactive.
What are the obvious signs and symptoms of a dog seeing a ghost?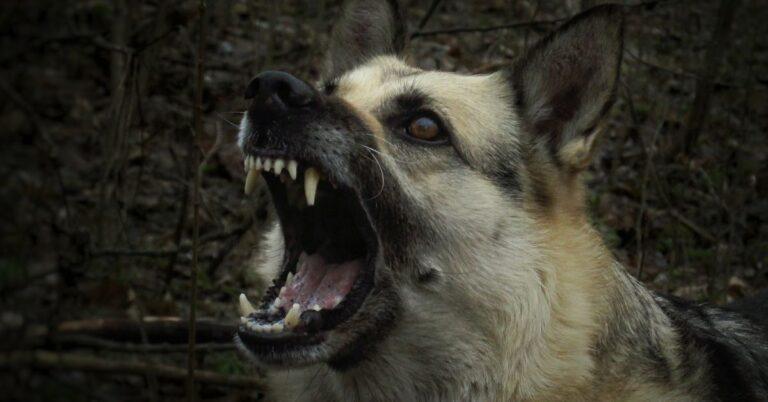 Now, if you are fully convinced that your house is haunted, you may find the pooch doing the below-mentioned things:
Following something that's invisible to naked eyes

Barking or growling at nothing

Whining and tucking their tails

Not heeding to commands while staring at something

Hiding in corners or under furniture

Trying to escape from the place

Excessive snapping or aggressive behavior

Defecating within the house
Usually just like us, visits from a dark energy as in the case of evil spirits or demons can be super terrifying to these innocent animals. So, in a bid to protect themselves, your perfectly fine canine may exhibit drastic changes in its behavior.
This is a biological process and therefore if you suspect the company of paranormal beings in your stay area, it is better to move to a new place until the situation gets under control. The excessive stress, fear, and anxiety will do nothing good to both you and your pet, and will need to be wisely dealt with.
Finally, Can Dogs Sense Good and Evil?
With the main question still unanswered, dogs have however been proven to be quite perceptive in picking good and evil personas. Upon meeting new faces, dogs tend to use all of their senses, including their sixth sense to try and recognise the individual they are meeting.
Once done with their analysis, a majority of their behavior changes according to the scenario. For instance, a canine will happily approach a good thing with their tails wagging, excited jumping, running back and forth, licking and even with a high pitched barking. But if it's an opposite sign, their bodies will instantly tense up, growing into a more fierce, aggressive stance with each passing moment.
If such is the case, don't think twice and remove yourself and your pup away from the place. Dogs have attuned senses and rarely does their 'gut feeling' prove wrong.
For more interesting updates like these, subscribe to spanieldogs.com and stay updated on all our recent releases.
If you are a dog lover then, Subscribe to our weekly newsletters. No Spams!