Whoever came up with the idea of New Year's resolutions surely must have lived in Hawaii. For most of us, the beginning of the year is frosted with unpredictable and unpleasant weather, only to be briefly interrupted by a flurry of holiday bills that reaches its peak around Valentine's Day. It's just so hard to feel resolute about anything for a while. Even the groundhog only works for a few minutes in February.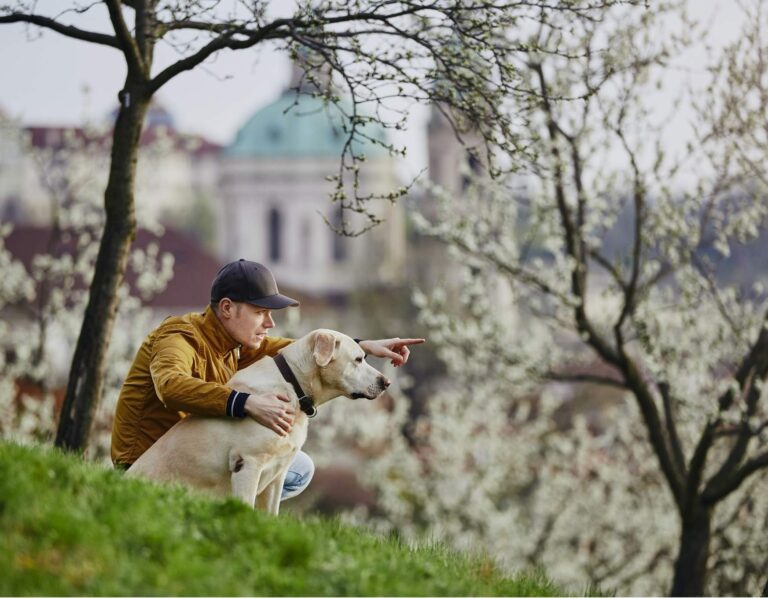 But the magical, refreshing spring gives us all a renewed sense of purpose–and an extra hour of daylight to accomplish our goals. This is a nice time to check in with someone who's been patiently waiting and keeping you warm all winter long: your dog.
Here are ten great ways to celebrate spring with your dog !
Spring Training. Enroll your dog in an exercise class for a little cross training action. After a long winter indoors, your dog will appreciate a little extra workout time. Contact your vet or local shelter for classes near you.
Spring Cleaning. 

Schedule a special spa day for your pooch. A little deep cleaning isn't a bad idea and will help keep pets pretty and in good health. And if you missed National Pet Dental Health month in February, here's a great time to make up for it.

A New Leash on Life. Toss out the old collar and leash and invest in new gear.  These things get old and worn, and spring is the perfect time to give your pooch a new look.
Commanding Attention. 

Review basic commands that may be less than consistent.  All dogs should know 

sit,

 

stay

, and 

come

, and while most have a concept of these basics, it's easy to let them slip over time.  Even more than just reinforcing a little discipline, your dog will appreciate being reminded of the rules—and  the extra attention he gets from you.

Date Day. 

Sit down with the family, pull out your calendars, and schedule 

in pen

at least one regular time when everyone can gather outdoors with the dog over the coming months.  Check out local dog parks, or explore green spaces that may even be new to you.

Get Above Board(ing)

.  Schedule a kennel or pet sitter in advance. If you know that your family reunion is always over Memorial Day weekend at Aunt Betty's—and that she has a strict no pet policy—make your reservations well in advance (you aren't the only one going away this summer).

Pack It Up.

Organize your dog's dog-walking bags to make walks easier.  Getting out the door can be hectic enough without a hide-and-seek session for your pup's stuff, too.

Legalize It.

Get your pet square with the law. Review licensing information for your area to be sure that you're in compliance.  Most pet licenses are less than $30, and it could really come in handy if your pet is accused of running afoul of the law.

Do Something!

Look into volunteer opportunities at your local animal shelter for yourself,  and also for your dog.  Canine blood drives are a small way that your dog can share her good fortune.

Snap to It.

 Take some photos of your pet alone or with your family.  Or schedule a sitting with a professional. You'll be glad to have those snaps someday–especially if your pet is ever lost.
You may also like to read: 6 Secret English Springer Spaniel Entertainment Ideas that they Love So Much
If you are a dog lover then, Subscribe to our weekly newsletters. No Spams!