For dogs with sensitive skin issues, choosing the right fur clipper is of utmost importance. So, if you have been looking for the right product, you may like: Andis 22340 ProClip 2-Speed Detachable Blade Clipper, Professional Dog Grooming Clippers, Mighty Paw Professional Grade Dog Grooming Clippers, Dream Reach Pet Grooming Clippers, and the Wahl Professional Animal MiniArco Corded/Cordless Clipper. Additionally, given their feasible setting changes, the above-mentioned clippers also do well for hypoallergenic breeds.
These clippers don't tag or pull and also smoothly glide over their skin, creating enough pressure to trim their coat no matter wherever they might be used. Now, let's learn more about their individual strengths and drawbacks.
Clippers for Dogs with Sensitive Skin + Hypoallergenic Breeds
Andis 22340 ProClip 2-Speed Detachable Blade Clipper
Starting our list with the Andis 22340 ProClip, this dog clipper is undoubtedly the favorite of almost all professional groomers. Highly preferred for its unique features, sturdy built and effortless trimming capabilities, investing in this device won't disappoint you if your pup has a sensitive skin or belongs to the hypoallergenic breed.
The machine arrives with a two-speed rotary motor, coupled with detachable ceramic blade design which when plugged in works wonders no matter the coat type. So, without any snagging and pulling, the motor craftily enhances the blade penetration, offering a clean efficient cut. Even during long work periods, the blades rarely heat up, making them the best choice for pooches with rather sensitive skins.
Pet parents can also choose from its 5-speed, 2-speed and one-speed variants, although the latter is best advised for beginners with no prior experience. The company produces 20 blade sizes, all manufactured and crafted in the USA, thereby easing the task by a great deal.
Pros:
14' heavy duty cord

120V super quite two-speed rotary motor

Durable and easy-to-maintain

Carbon steel and ceramic blade design

Suitable for both canines and felines

No heat-up when in use

Available in three-speed variations
Cons:
Quite expensive if on a budget
Professional Dog Grooming Clippers
Widely popular for its professional and top-grade shears, the Professional Dog Grooming Clipper is equipped with a potent 380W copper motor. This beast when turned on offers a 2500RPM cutting speed, like none other, making the work seamless, fast, and greatly efficient.
Additionally, thanks to the aerodynamic design, with ample airflow vents, and an aluminium head, the blades don't heat up like others, thereby there is no risk of hurting the pooch during extensive trimming episodes. The corded design aids to its working durability and can be used to trim 2-3 large canines on a single go.
The blades are easy to detach and attach, and therefore are easy to maintain. However, given the powerful motor, the machine produces quite a bit of sound which can scare off the canine initially. Proper introduction and training is a must if you are thinking of opting this particular model, so as to ensure a stress-free experience for the dog.
Pros:
Powerful 380W motor

Rugged polymer body for easy handling and durability

18.3 foot huge cord

Top-notch quality grooming shears

Less vibration and no heat-ups

Equipped with 2 industrial-quality blades
Cons:
Only suitable for large dogs (more than 25 inches)

Too noisy
Mighty Paw Professional Grade Dog Grooming Clippers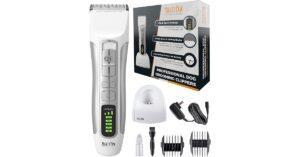 Manufactured in the USA, the Mighty Paw Professional Grade Dog Grooming Clippers is another of the corded/cordless wonders you can invest in for hypoallergenic dog breeds and pups with sensitive skins. The device is packed with a long lasting Lithium ion battery that offers 4.5 hours of working time with every full charge, and hence can be conveniently used anywhere.
Furthermore, the grooming clippers are made up of strong ceramic cutting blades that penetrate easily into even the thickest of furs, giving a close trim. Owners can seamlessly change through the three blade speed settings or micro-adjust them to properly meet their canine's fur and skin demands.
For easy cleaning, the package comes with a complimentary cleaning brush, which dusts off a majority of dust blades after every use. Afterwards, users can wash them off with running water and reattach them once dried completely.
Pros:
Ceramic cutting blade design

3 blade speed settings with 4 micro-adjustments

Stand up charging stand

LED display tracks battery life and blade speed

Made in USA

Suitable on all coat types
Cons:
Clipper guards could have been better

No replacement blades with the package
Dream Reach Pet Grooming Clippers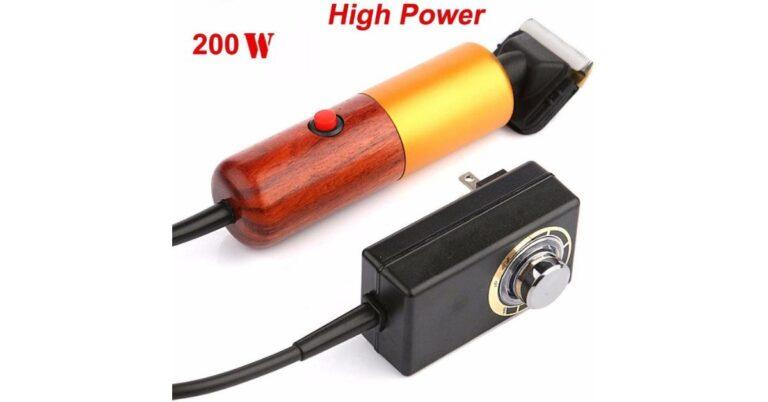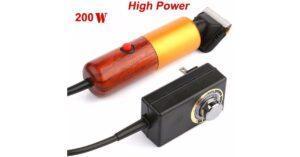 Probably bearing the most unique looks of all, the Dream Reach Pet Grooming Clippers arrive with a Pear wood + Matte metal combo design that is both good to look at and works efficiently. This beautiful device comes loaded with a precision motor that works relatively well and offers stable operation no matter whatever trimming speed is chosen. Therefore, there will be no tugging or pulling.
When in operation, the motor produces no more than 50 dB of sound, allowing the pooch to visibly relax and calm down during the procedure. Furthermore, the blades are all titanium-acute angle blades, combined with ceramic movable design for easy detaching and cleaning.
The device is also covered by a 2-year free warranty. Thus, if you face any technical issues, the company will immediately replace the unit, once the complaint is raised and accepted by the team.
Pros:
Pear wood+Matte metal design

Wooden handle acts as shock absorber reducing vibrations

Ideal for all coat and skin types

50 dB sound output when in operation

Doesn't tug or pull
Cons:
Clipper guards are of poor quality

No lubrication oil with the package

Too heavy as compared to other dog clipper models
Wahl Professional Animal MiniArco Corded/Cordless Clipper
Another one of the dog clippers that efficiently caters to the needs of pooches with sensitive skin issues, and hypoallergenic coats, the Wahl Professional Animal MiniArco is a rechargeable trimmer. Offering around 45 minutes of total work time, the device also operates when plugged into an AC outlet.
This single-speed dog clipper provides around 6000 strokes per minute, cleanly trimming even the thickest and curliest of furs. All of this work is done with the #30 fine cut blade, which is both easy to remove and clean. Unfortunately, the trimmer works only on specific areas, and hence if you are looking for an overall trimming, this model might not be the best choice for you.
Pros:
45 minutes of cordless operation + corded working

Lightweight clipper

Comes with two attachment guide combs, a cleaning brush and blade oil

Decent noise level
Cons:
Only offers single speed clipping

Compatible for USA-based electrical outlets only

Ideal for trimming faces, ears, and paws only
Conclusion:
Before you start with your purchase, it is important to understand and remember the very basic coat type of your pooch. Given their unique coat differences, as in a hypoallergenic dog, not every dog clipper would be suitable for them. For instance, trying out a straight hair dOg clipper on a wavy coat type canine such as a poodle, will only result in immense pain and discomfort to the pup due to the constant snagging.
Similarly, if they have sensitive skin, you may want to seek a vet's consultation before choosing the 'premium' looking dog clipper. Even a tiny mistake could affect their fur growth and thereby intensify their skin conditions.
You may also like:
Quiet Dog Clippers for Thick Hair
If you are a dog lover then, Subscribe to our weekly newsletters. No Spams!