For pets with thick fur and coats prone to severe matting, these heavy-duty clippers are a boon in disguise: DOG CARE Dog Grooming Clippers, HANSPROU Dog Shaver Clippers, Wahl Lithium Ion Pro Series, Triumilynn Quiet Cat Dog Grooming Clippers, and the oneisall Dog Grooming Clippers. All of these come especially designed to cater to their thick furs and operate with minimal noise transmission. So, if your pup has a fear of loud noises, then these could easily be the safest bets on your investment.
Below, we have prepared a detailed list, discussing their individual strengths and weaknesses. Make sure to read until the end for a better understanding.
Top Five Quiet Dog Clippers for Thick Hair
DOG CARE Dog Grooming Clippers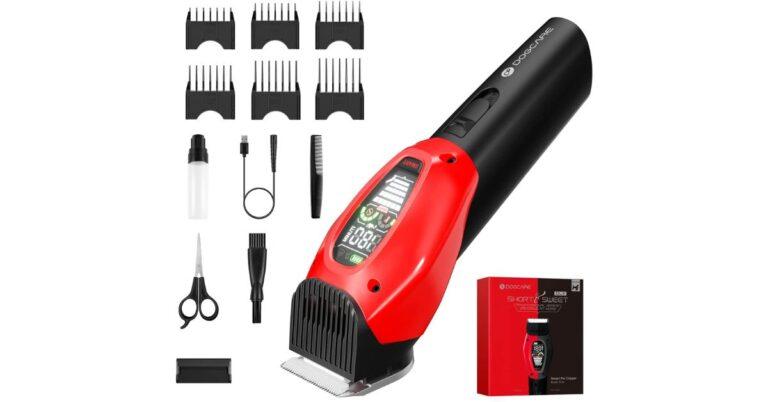 Power Packed with an intelligent algorithm-based working, the DOG CARE Dog Grooming Clippers are by far the finest of all hair clippers for thick fur canines. This little beast comes along with three different modes, Smart, Turbo and Quiet modes, allowing users to seamlessly glide through different settings without making much noise. To top that, the Smart mode, when turned on, automatically senses the level and thickness of the fur, offering valuable guidance to first-time users.
Similarly, the device also features an intelligent LED display screen that offers quick readings on total working time, mode, temperature and life-cycle of the blade. So, without further ado, you can check all the essential factors at a single place, and take proper measures for its long running. The blades are further aerodynamic and alloy-based, making them the best option for even the mattiest of furs.
The cordless device also runs for a record 180 minutes straight, shaving through thick manes of fur, without getting heat up or hurting their delicate skins.
Pros:
Intelligent LED Display screen

Early blade lubrication reminder

Easy to clean and maintain

Detachable and heatproof blade

Auxiliary light for seamless trimming in darker areas

180 minutes of cordless running time
Cons:
HANSPROU Dog Shaver Clippers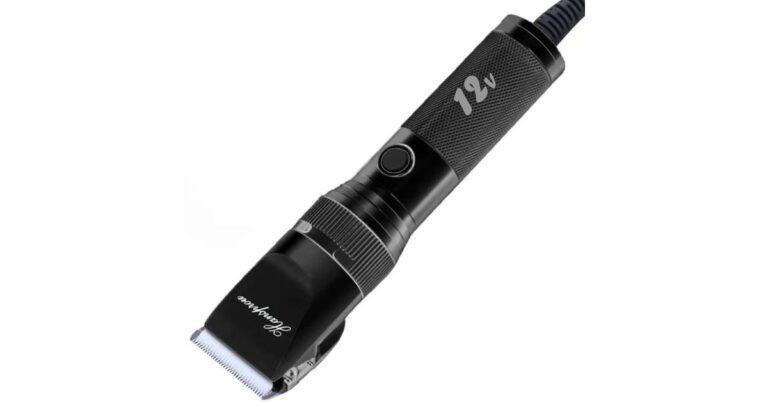 Coming in second place is the HANSPROU Dog Shaver Clippers, which arrives with a super-quiet mode that only delivers 50 dB of sound waves when in use. Thus, everytime the machine is plugged on, it won't frighten the pup, making your task effortless and less intimidating for the canine, as well. The machine is equipped with a powerful 12V high-speed motor that glides through even the thickest of furs without tugging or pulling anywhere. This is all thanks to the premium quality titanium alloy, detachable ceramic moving blades.
Furthermore, the package also arrives with 4 guard combs which can be seamlessly fit onto the device to achieve cuts of different lengths. Owners can change through the 5 clipper levels with a few clicks, achieving a professional trim within the comfort of their home.
Pros:
Detachable, washable blades

Low vibration motor

Aluminium alloy fuselage for added durability

2-year extended warranty

Ultra quiet working upto 50 dB
Cons:
The blades are extremely sharp and may cut skin if not used properly

Clipper guards are relatively fragile
Wahl Lithium Ion Pro Series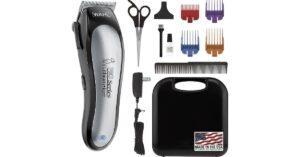 Originating from the USA, Wahl Lithium Ion Pro Series is an absolute darling for pet parents that have no prior experience of using dog clippers. This beast comes with a cordless working system that can offer an extended grooming session enough to trim two dogs at a given time. The highest the machine can go on with a single full charge is about two hours, which is definitely a huge plus point. Even a 15 minutes quick charge can offer around 8 minutes of usage and can be a lifesaver for most cases.
The lithium-ion battery is of the highest grade and comes along with a warranty, covering technical issues for a year. Moreover, when it comes to the trimming part, the self-sharpening precision blades cut through even the thickest of furs in no time without any tag and pull. So, if you have a pup with ridiculously thick fur and a great fear towards buzzing noises made by dog clippers, then the Wahl Lithium Ion Pro Series is your best bet.
Pros:
Long-lasting, durable parts

Snag-free cutting with high-carbon blades

Powerful, quiet motor

3-5 hours for full charge

Cordless working goes upto 2 hours
Cons:
Clipping with guards can be problematic

May not work well for curly hair breeds
Triumilynn Quiet Cat Dog Grooming Clippers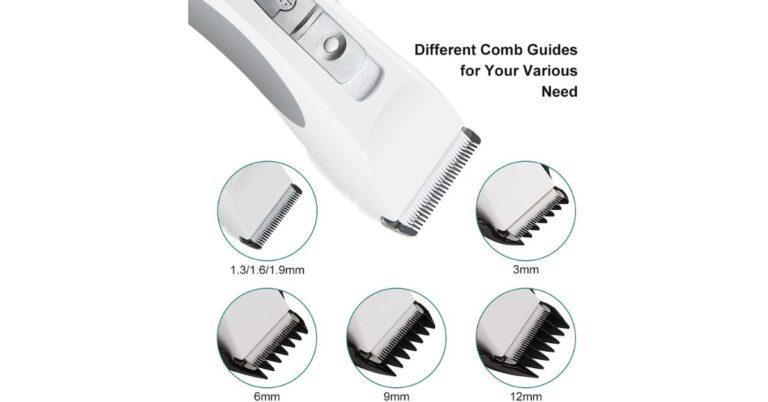 The Triumilynn Quiet Cat Dog Grooming Clippers is a professional-grade dog clipper with a copper shaft DC 3.6V motor type that offers smooth trimming of furry canines. Attached with a fixed stainless steel blade and a ceramic removable blade, when turned on it doesn't irrelevantly heat up, nor produces high buzzing sounds.
To top it off, this particular model features both corded and cordless working, allowing users to benefit from both the settings. When on battery, the 1600mAh lithium battery can go on for 2.5hours, completing the overall trimming task without any hiccups.
The package comes with two cutting combs which can be adjusted to four different cutting adjustments as per the pet's fur type and thickness. This in turn enhances the final result, leaving your pup looking fluffy and handsome/beautiful.
Pros:
40 dB motor sound

Works both corded and cordless

LCD display for convenient tracking

Easy-to-use, disassemble and clean
Cons:
Doesn't work on curly fur canines

Blades lose sharpness way faster
oneisall Dog Grooming Clippers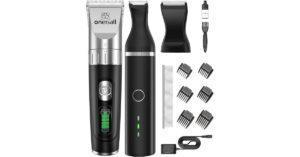 Last but not the least, the oneisall Dog Grooming Clippers comes with a 2-in-1working system. This cordless dog clipper is designed to not only clip thick furs of canines and felines, but also works best for trimming or shaving their paws.
This particular model offers a decent service, but is limited to dogs with straight coats only. The blades may not work well, and hence end up tugging or pulling a pooch's curly hair which is both uncomfortable and painful for them. However, to make up for this loss, the company has provided a powerful combination of upgraded stainless steel blades and ceramic blades that work together to offer a nice trim.
Even more, the super-quite function is coupled with a built-in rechargeable USB with an indicator light for added efficiency. Owners can also leverage from the 1001 free replacement policy, which is for users that face technical issues when working with the machine.
Pros:
Lightweight and easy-to-use

Works for both trimming paws and clipping fur

Fine adjustment blades

2 hour quick charge offers 2.5 hour running time
Cons:
Works only on small areas, including paws, eyes, ears, and buff

Blades aren of poor quality

Clipper guards don't do much good
Conclusion
Trimming matty fur babies can be a really difficult task. However, as a wise man once said, "Patience is the key to everything". And therefore, apart from choosing the right dog clipper for the job, it is also advised to be:
Patient-

No matter how fast a dog clipper works, cutting through thick furs is time-consuming. You may need to spend hours behind this ordeal and so start the task keeping the same in mind.
Proceed slowly-

Given their tough nature and specific made, dog clippers for thick furs come along with extremely sharpened blades. Therefore, if you don't want to even mistakenly graze your pooch's skin, working slowly is what's best.
Know what you are doing before starting-

Using dog clippers can be confusing. With so many tools and accessories, you may not find the perfect fit for your dog's coat, and end up messing everything up. In such cases, do take time to carefully understand the working of each of these tools and only then move on to the main part.
You may like:
Best Portable Dog Ultrasound Machine for Breeders
If you are a dog lover then, Subscribe to our weekly newsletters. No Spams!