Hey everyone!!! We at spanieldogs.com are back with another refreshing topic on one more highly preferred Cocker Spaniel hybrids. So, without wasting any more time let's get into the discussion.
A Cock-a-Tzu, as clear as its very name is a hybrid between a purebred American Cocker Spaniel and a Shih Tzu. They are one of the sweetest little woofers that you can come across thanks to their lively, fun-loving personalities. This particular hybrid grows luscious amounts of beautiful fur all over its body and is growing super popular as a designer breed.
Is there any History behind their origin?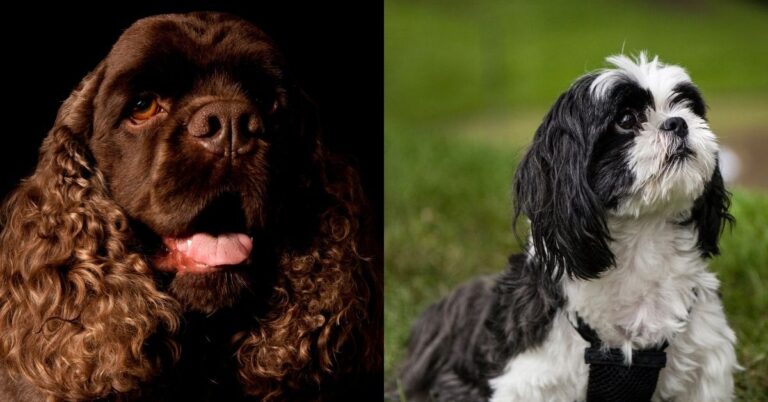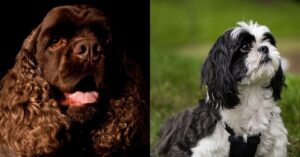 Intentionally selective bred to symbolise the goodness of the two popular parent breeds, the Cocker Spaniel Shih Tzu Mix is no wonder a regal dog. The pup arrives with shiny flocks of flowing hair and is a great addition to any kind of home.
The hybrid is an intense connection between the ever-so-loyal companion, the American Cocker Spaniel and the adored Chinese royalty watchdog, the Shih-Tzu. So, even though there has been no accurate reasonings as to why the hybrid was created, pet parents consider it to have been brought into the world for the reason we stated earlier.
Apart from that who doesn't love a little cuddly woofer who will do anything just to be with you at all times and make you feel the most special at all times.
What does a Cock-a-Tzu look like?
Also commonly known as a Cocker Tzu or a Shih Tzu Spaniel, these pups are very similar to soft plushies, the only difference being the huge amounts of fur. They have a small statured body which is generally long and supported by two pairs of strong legs. Their heads are normally round with a small muzzle, and down-flowing ears, just like their parents.
Moreover, their face is further graced with a set of brown eyes which may be either circular, almond or oval-shaped depending upon their dominant parents' genes. And when it comes to their coat texture, it may be as straight as a Shih Tzu or a little bit wavy as the Spaniel. They are also available in single or multi-colored coats, so deciding their coat colour is not possible, even for the breeders.
However, the one thing that is sure with this hybrid is that their coat is super smooth, easy to maintain and medium in length. Similarly, upon reaching adulthood, a Cock-a-Tzu typically reaches a height of 11-14 inches and weighs around 30-35 pounds. A little adorable woofer, ain't it???
Do they make good apartment dogs?
These super fun-loving dogs are undoubtedly one of the best apartment dogs that you can ever lay your hands upon. Apart from their tiny little bodies, they are born with a charming personality coupled with a very quiet, reserved image. So, unlike other yappers in the canine franchise, owning a Cocker Tzu won't lead to you being warned by your neighbours for unnecessary noise. Although they do have watchdog capacities, they refrain from barking unless urgently required.
They also don't need strenuous exercises and are fine with two daily-based 15-minute walks, a little running in the dog park or a 10-minute fetching frisbee with their human companions. Thus, if you literally spend most of your time lazing on your super comfy sofa, your Shih Tzu Spaniel pup would be more than happy to be your partner in this endeavour. Or else just give them a good mind stimulating game and they will happily resolute to it without needing extra attention.
How are they with other pets and children?
An ideal family canine hybrid, these pups are loving and extremely playful with everyone they come across, be that another dog or an infant in the house. They are very friendly and do not shy away from making friends. So, until and unless your Shih Tzu Spaniel shows direct impressions of aggressive behaviour to strangers, they can be easily left unmonitored.
As a responsible pet parent, you can also ensure proper socialisation is followed from a very young age, to make it safe for both your dog and other members. Introduce the members one by one or any pet you may have in the house, as flocking them all at once may confuse the innocent pup.
How do you train these little hybrids?
Just like any other dog breeds, when training your newly bought Cock-a-Tzu, make sure to follow positive reinforcement training methods only. Shouting and using choke or electric collars is not only a gruesome thing to do but also severely impacts the woofer's trust and bonding with you. Even more, at last you might end up with a stubborn dog that has entirely shut down itself and is severely snappy.
However, on the other hand, using treats and positive training methods, allows both you and your pup to grow closer for life. They start understanding the difference between good and bad actions better on their own, and hence have a probability of remembering it for long.
Do they suffer from any medical issues?
Some of the most commonly reported medical issues in this hybrid include:
Allergies

Arthritis

Obesity

Cataracts

Hip and elbow dysplasia
Although the hybrid is quite healthy, and rarely needs emergency vet care, the above mentioned are some of the genetic health issues that may be passed down to their genes from their parents. Simultaneously, some Cocker Spaniel Shih Tzu mixes may also be prone to skin cancers.
This is why, when purchasing a Cock-a-Tzu puppy, it is very essential to know about the parent's progeny. Understanding this will help predict any severe health conditions that may also be found in the pup and hence be resolved from the very beginning.
7 Interesting facts about the Cocker Tzu
Now that we know almost everything that is there to know about this lovely breed, here are seven interesting facts about the hybrid.
1. The parents are from completely different countries
Featuring the good genes of two widely popular canine breeds, the American Cocker Spaniel and the Shih Tzu originally belong to different countries. While the Spaniel was initially developed in Spain and later brought into America in the 1800s, the Shih Tzu belongs to the land of Tibet.
2. The Cocker Tzu almost never happened
All thanks to the breeding program initiated by the Empress of China, the falling numbers of Shih Tzu was brought back to its standard size after 1908,  without which the hybrid would have never happened.
3. The pup is not hypoallergenic
Unlike its parent, the Shih Tzu, the Cocker Spaniel Shih-Tzu mix is not at all hypoallergenic. Combining the genes of both the parents, the pup is known to produce dander from its fur which can cause allergic reactions in sensitive individuals.
4. They are prone to separation anxiety
Always loving to be the centre of attention, leaving the pup for extended hours might not be a good idea. They are easily subjected to panic or anxiety attacks and hence having other pets around or leaving them with their favourite play toys might be a good idea. You can also invest in good-quality mind stimulating games to keep them indulged every time you are away from home.
5. They are always high on energy
Never go on the tiny stature of a Cock-a-Tzu. They are always packed with enormous amounts of energy which can easily contemplate an active pet parents' daily activities. So, when not exercised aptly, they can switch over to their destructive phase in an instant.
6. These pups shed a lottttt
Bearing the genes of two furry parents, the Cock-a-Tzu puppies do shed a lot on a regular basis. Thus, pet parents will need to comb their soft coat daily to prevent matting or uncontrollable falling of loose fur all over the place. Apart from regular combing, a good raker is often advised to help the dog get rid off these frustrating tangles.
7. They are recognized by a wide variety of institutions
Fairly recent, this hybrid has however successfully bagged recognition from many accorded institutions. Some of them include:
ACHC-

American Canine Hybrid Club
DBR-

Designer Breed Registry
DDKC-

Designer Dogs Kennel Club
DRA-

Dog Registry of America, Inc.
IDCR-

International Designer Canine Registry
So, this was all about the comparatively recent and alluring Cocker Spaniel Shih Tzu mix dog. Hope you had a good time with this read.
If you are a dog lover then, Subscribe to our weekly newsletters. No Spams!