Same as their name, Cockapoos are a hybrid between a purebred Cocker Spaniel and a Poodle. They are very much people-oriented, love to be the centre of attention and shed hardly, making them the 'ideal family canine hybrid.'
And even though they might seem delicate and tiny, these pups have one of the biggest attitudes when it comes to a dog. Hence, never make the wrong decision to go on their petite figure as they can be courageous and as bold as a pitbull.
What is the origin story of a Cockapoo?
One of the oldest and first ever Cocker Spaniel mixes, the Cocker Spaniel Poodle mixes date back to the 1960s. Records state that the hybrid was first bred in the United States to bring out a canine that was fully amiable and had a lesser prey drive than its parents.
Additionally, bearing the genes of the beautiful Poodle, the Cockapoos also come out with a relatively low shedding coat, therefore making them the best option for sensitive individuals. Thanks to their coat, they produce low dander and loose fur, hence requiring less effort on their maintenance. So, if you have been looking for an adorable pup with a tiny figure and a big clown attitude, this pup is the right option for you.
How does a Cockapoo look like? How big do they get?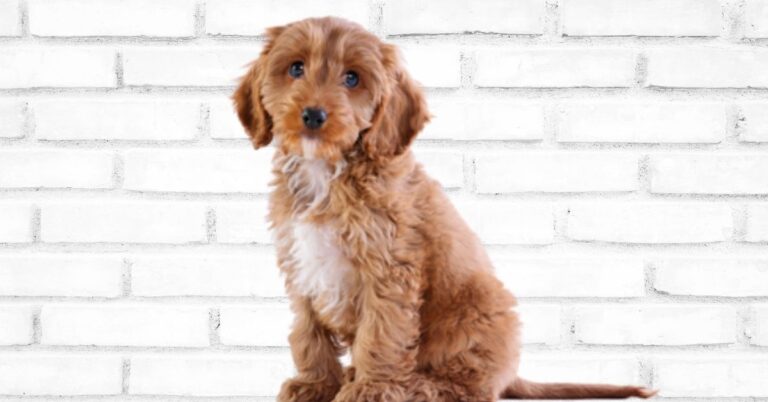 When it comes to depicting the physical appearance of this hybrid, it may not be as easy as it may seem. The main reason being their genetics from two different parents.
So, starting with their size, there can be three different types of Cocker Spaniel Poodle Mixes. These include:
The Toy Cockapoo- measures only 10 inches and has a weight of 12 lbs

The Miniature Cockapoo- their height goes up to 14 inches with a weight ranging around 18 lbs

The Standard Cockapoo- weighs over 18 lbs and often reaches a height of 15 inches upon reaching adulthood
Next, these sweet little angels come with either a wavy, thick coat as their Spaniel parents or have a curly shiny one as the standard Poodles. The coat may be single toned as in golden, black, white, brown, red or bear unique combinations, such as tinges of silver spread across a black coat. But, no wonder whatever the coat texture and colour might be, it sure does give the canine a regal appearance like none other purebreds.
These pups have a small head, a compact muzzle and tiny little legs attached to a sleek body. So, even though these woofers may not seem all that muscly, they sure are packed with enormous amounts of energy.
How long do Cockapoos live?
The main notion behind creating hybrids was to ensure lesser health issues in the upcoming generation of canines, and hence just like other hybrids, these puppers are also a considerably healthier breed. Similar to its parents, a Cocker Spaniel Poodle Mix can easily live until 13 to 16 years of age, much more than most purebreds we know as of today.
However, there might be some exceptions. Based on their parent's pedigree and medical history, a healthy pup may get infected with a breed-specific disease if not bred properly. They can suffer from:
Ear infections

Skin allergies or infections

Hip and elbow dysplasia

Patellar Luxation

Cataracts

Von Willebrand's disease

Hypothyroidism
These conditions can be quite expensive and hence if you are thinking of welcoming one of these pups home, make sure to run a thorough background check on the breeder and the pups' parents.
How to groom a Cockapoo? Do they shed?
Although the hybrid doesn't need as much grooming as their Poodle parents, you will still need to tend to their coats on a regular basis. Their fluffy coats can easily get tangled and matted when kept ignored for long, requiring you to spend too much every time you go to a professional groomer. Thus, brushing and thoroughly raking their coats every alternative day, following it with a relaxing bath every 7-15 days is best advised. This practice will also keep loose fur from getting into every nook and corner of your house, as they are low-moderate shedders depending upon their parent's genes.
Apart from their fur, their ears, eyes and teeth are the next most essential body parts that will need your attention. Keeping them unattended won't only make them look uncared for but will also trigger the numerous health issues that we talked about previously. So, why compromise your pooch's life when you can give them a good makeover with only a few hours out of your whole week.
Are Cockapoos Hypoallergenic?
Fortunately, yes. One of the many reasons behind the wide popularity of this Cocker Spaniel Poodle Mix is because of their hypoallergenic coat. On an average, they shed less, and hence there's a limited risk of contracting dog allergies due to loose fur or dander.
However, always remember that these woofers aren't 100 percent hypoallergenic. Therefore, consulting with your family doctor and checking your pet's fur, dander and saliva for the presence of harmful proteins before adopting them is a much wiser thing to do. This way you can save discomfort for both you and your new puppy.
Are Cocker Spaniel Poodle Mixes good dogs?
Selectively bred especially to be the man's best friend, this canine hybrid is an absolute jolly creature. No matter if it's a small hooman or another pet, they will love anyone and everyone with the same zeal.
They love taking long walks with their humans, or simply cuddling with them all curled up into a ball. These woofers are extremely friendly and hence can make good apartment dogs if you are lonely and looking for a companion dog that won't leave your side no matter what.
However, given their very people-oriented nature, the Cocker Spaniel Poodle Mixes are also highly prone to separation anxieties. If allowed, they can't and won't leave their owners even for nature calls, let alone staying all by themselves for long hours. So, for this, you will be required to train them efficiently or accustom them to your working schedule by offering them loads of toys and mind-stimulating games.
Do Cockapoos bark?
Bearing hunting instincts passed down from both parents, this hybrid can be an annoying yapper. They will bark at any moving thing, no matter if it's a falling leaf or the shadow of persons passing the hallways. At the same time, some pups may even display a quiet, reserved side and bark only when provoked.
But, that doesn't mean they get easily scared. No, No!!!! These pups can fight for life if they ever sense danger towards their family or beloved hoomans. They are very courageous, and daring and hence toying with them never ends well.
How to train these pups?
Having the energy and intelligence of two popularly acknowledged breeds, the Cockapoos make a great candidate for all kinds of training sessions. Although it is common to face a few hiccups every now and then, these hybrids are one of the most easily trainable dogs to ever exist. These puppers are always eager to please and hence you won't even know how fast time passed away when teaching your pup the basics and pro training tricks.
While training them, pet parents should never raise their voice or use disgusting methods, including choke or electric collars or raising hands on them. This will lead your pup to perceive you as an 'unworthy individual', making them act out in the wrong ways. Therefore, following positive reinforcement training methods is the sure shot way to having a well-behaved Cocker Spaniel Poodle Mix dog.
Subscribe to our mailing list at spanieldogs.com for FREE today.
If you are a dog lover then, Subscribe to our weekly newsletters. No Spams!