Cocker Spaniels, be it the American or English woofers, are known to be little bundles of limitless energy and spunk. These babies, although come in small to medium sizes, were once bred to serve as gun-dogs, hence if you are opting for the breed, understanding their daily exercise requirements is a must.
Depending upon its age or health factor, a Cocker Spaniel will regularly need at least a whole hour of physically and mentally stimulating exercises. The breed needs to be tired out completely to ensure proper behavior for the rest of the day, as well as to maintain their proper health index. Without it, the pups will grow bored out of their minds and eventually try entertaining themselves by chewing furniture, destroying your stuff, or even peeing everywhere. These changes can rapidly deteriorate, requiring professional assistance and therefore detailed info about the canine's energy levels is highly essential.
Take a look below to find the proper way of managing your Spaniel's pent up energy through the most befitting ways.
How much exercise does a Cocker Spaniel need?
As discussed previously, Cocker Spaniels are joyous, wonderful pups who will any day choose to run across a large field, rather than lazing their way off on the couch. However, a lot also depends on their line of origin (apart from age or health conditions).
For instance, a working origin Spaniel will require more workouts than a show breed. Their bodies are designed to serve completely different roles, hence you will need to craft a schedule that suffices to their exercise requirements. From one hour of heavy strenuous physical training to introducing them to puzzle food games, there's a lot that needs to be properly planned out for the best.
On the other hand, show Cocker Spaniels will do amazing even with a 30-35 minutes workout daily. Unlike field Spaniels, they will require more specific training which allows them to train their lean muscle mass and hence stay healthy and fit.
Exercise Schedule for Cocker Spaniels
Here, we will be focusing on how much exercise is good for spaniel puppies according to their age, given that they are not suffering from any severe medical risks.
| | |
| --- | --- |
| Puppy Age | Total activity duration |
| 3 Months | 15-30 minutes |
| 4 Months | 20-35 minutes |
| 6 months | 30-50 minutes |
| 8 months-1 year | 40-60 minutes |
| 1 year-7 years | 60-100 minutes |
| 7 years + | 20-35 minutes |
The variation in the timing is because when they are too small or in their older years, their bones and muscles are unable to perform at their full capacity. So, if forced to play more than that's required, they might end up hurting themselves which could cause severe pain as well as discomfort to the pooch.
What are the best exercises for my Cocker Spaniel?
Long Walks
Starting with the very basic, long walks are an absolute must for Cocker Spaniels. If you stay in a building or a housing area where space is constrained, taking your pooch on a daily morning and evening walk of at least 30 minutes is a must.
When outside they will get ample time to relieve all that pent-up tension in their muscles and will most probably tire out themselves in the process. To make it even more interesting you can also add resistance or obstacles in the way, such as going around a tree, walking by a sandy beach, or treading along shallow water bodies.
Mountain Hikes
Now if you are a nature enthusiast and often go on long hikes at unknown terrains, taking your Cocker with you will also make them happier and healthier. Bred to be gun dogs, these woofers have too much energy which needs proper disbursement. So, while long walks do usually aid in a little bit controlling of their energies, hiking is one of the best ways of smartly dealing with it.
This is because with hikes comes an increased exposure to nature and scents, also as canines are very perceptive towards smells and love to explore new things, both their mind and body will be at work. Eventually, at the end of the day, they will not only be completely tired but happily snoring when you are out at work or doing chores.
Jogs
At places with ample leg space for your pup to follow you safely, when out on a walk, jogging can also be introduced. Thanks to their comparatively demanding nature, when your pooch jogs, their whole body comes into play. Therefore, most active pet parents often stride alongside their pooch when outside in between walks.
The sudden change of pace amuses the pet which can be counted as a mentally stimulating activity, thereby ensuring overall satisfaction at the end of the day. However, be sure to keep a safe hand on your pooch's movement. You may invest in a good jogging leash for the same as it will give you more control on your woofer.
Play Tug-of-War
One of the favorite timepasses for a Cocker Spaniel, adding even a 15-20 minutes of tug-of-war game can make them immensely happy. Dogs have by default a strong prey drive, which they often exhibit on walks or chasing squirrels along with some other small animals.
So, while apartment Spaniels may not get much chance to explore with their mouth, using a good-quality sturdy tug rope can be satisfying for them. Just take the rope, letting it dangle loosely on one side from your hands. This movement will interest the pup, and soon enough they will run behind you either trying to catch the rope or to take it out of your hands.
Tug of war can sometimes cause your pup to behave aggressively. Thus, if such an instance rolls out, it's best to stop playing for a moment and resume later. Let your dog calm down its raging hormones first, as they might end up hurting your hands or body in the process. Additionally, you can also introduce frisbees and play a good game of catch with the little fur baby.
Obstacle Course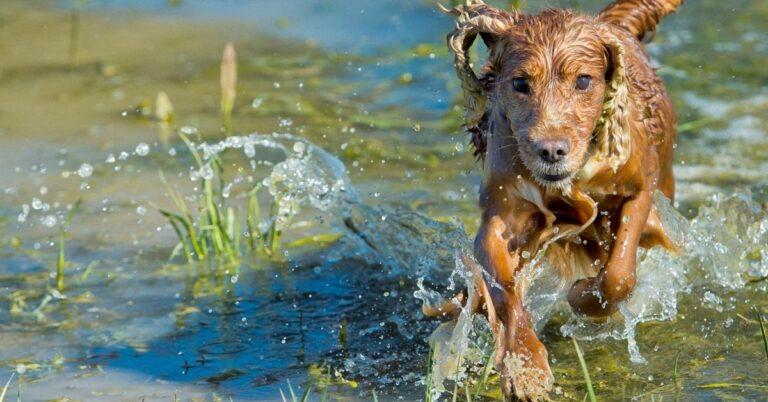 Best for pet parents with large yard space to flaunt, you can set up your own obstacle training course with home-available obstacles. For instance, laundry baskets, curtain rods, PVC pipes, or hula hoops make an amazing addition for various ranges of obstacles.
Make your Spaniel jump through the hoola hoop, play a 'Guess the Treat' game with cups, or simply let them run through set up cardboards or wood piles. Providing such an offer to get rid of their pent up energies while with you will make your pooch overwhelmingly happy and gradually super tired.
Additionally, hiding their favorite treats at different places is a good option for apartment or small home dwellers. For this you won't require a much larger space, so finally have a win-win situation for both you and your furry companion.
What will happen if my Cocker Spaniel is not properly exercised?
From obesity to the risk of coming across a completely ruined home, there are simply too many side-effects of not having your woofer exercised properly. Some pups may also start exhibiting sudden increases in their sleeping pattern or become bizarre with their normal day behaviors.
This can then rapidly accelerate to behavioral issues requiring immediate professional attention. Therefore, if you don't want to spend huge bucks of your hard-earned money at a vet's or canine behavioral specialist's office, heeding to your Spaniel's exercise demands is a must.
You may also like:
Top 7 Best and Safe Dog Shampoos 2022
If you are a dog lover then, Subscribe to our weekly newsletters. No Spams!