Originally bred to be used for scent identification (sniffing) and gun dog purposes, these beautiful creatures now make one of the most active cuddle buddies you could ever wish for. More and more owners are preferring this majestic canine for its looks, but somehow this preference has led to a steep decline in ensuring that the breed is properly stimulated both physically and mentally. And so here we are to help you.
Scent games, a sport specially designed to help fur babies direct their sense of smell towards specific things, is a superb choice for overall efficient training at home. For this, take some of their favorite treats and hide them in various places. The delicious smell will force the little Spaniels to use their nose to work, thereby enriching their minds with newer fun experiences. Also don't forget to add a cue before the pup sets on its sniffing journey so that they are able to relate the command with something good.
Nose/Scent games are an excellent way of training workaholic Spaniels to detect treats or other things without having to go outside. To know more about this exciting activity, keep on reading.
Why are Scent Games necessary?
Belonging to the canine family, Spaniels have around 20-300 million olfactory receptors in their nose. So, it is not wrong to say that dogs lead their life mostly by sniffing and categorizing every smell to a certain memory.
Upon sniffing, their brain releases dopamine, a neurotransmitting hormone that increases their level of arousal, thereby leading to proper enrichment of your Spaniel's life. They are better able to distinguish between odors and act according to that. This in turn improves your pooch's confidence, therefore making scent games a necessary part of their upbringing.
What are the best ways to play Scent Games with my Spaniel?
If you are a beginner, starting out slowly and gradually is the key to teaching your Spaniel the basics of nose work. Here is a step-by-step process along with certain ideas that you could follow.
Hiding Treats in Plain sight
When you start, the pups don't actually have any idea of what to do or expect. Therefore the first thing to do is to hold a treat in your fist and let the fur baby smell it. Once you have gained their full attention, command them to 'Sit' and then move your fist here and there.
During this time, track their eye movement and see if they are conveniently following your hand motions. Afterwards, throw the treat or hide it at a nearby place and command your dog to 'Find it'.
Initially it will take some time for your woofer to figure out what you want from them, but soon they will be following the scent using their nose.
Using Cups to Hide Treats
In this next phase, you will need two/three cups, some treats or dry kibbles and your Spaniel's undivided attention.
Start by commanding the fur baby to 'Sit/Settle down' and then place a treat under one of these cups. Thereafter, allow the canine to sniff and find the food by either pointing out to the cup using their paws or nudging by their nose. Same as the first step, this may take some time, but after a while the pup will be finding out the treats in no time.
To raise the difficulty level, you can also switch the cups every now and then. This will keep the pup guessing for the right option, and hence keep them super invested in the game.
Sending them on a sniff journey
Finally when the canine has started thoroughly enjoying it, it is then time to vamp the game. Hide multiple treats in various places and out of plain sight. Command the pooch to 'Find it' and witness how they use their little snouts to sniff around the home and chomp down the delicacies.
The same is also possible if you have sufficient yard space. You could hide the eatables in hard to find places, such as behind a tree, over the grass, under a cup, and similar spots. Do this and your pooch will absolutely thank you for the exciting phase.
Are there any other exciting scent games?
When it comes to interactive nose games, there is no guide to doing it a particular way. Pet parents are free to devise their own procedures and try out with their pups.
However to give you a brief understanding on certain tricks, below we have pointed out the most commonly played scent games. So, let's start.
Hand Picking
Probably the simplest and easiest nose work, in this game owners will have to hold multiple treats in one hand while keeping the other one empty. Make sure to load your hands out of your pooch's sight to create an air of mystery.
Next hold out both your hands for your pupper to sniff and detect. To make it more enriching, you can also add a cue before letting them sniff your fists. Once allowed, the pup will use their nose to smell both your fists before making the final choice. If the answer is right, open your fist and let the snuggle buddy munch down the delicacies. During this time, it is also highly advised to praise or compliment the pooch as it helps build rapport between the human and the animal.
However, if they fail to do so, you can repeat the whole process again and maybe hold the treats in the other hand or in both to increase the chances.
Tennis Tin Game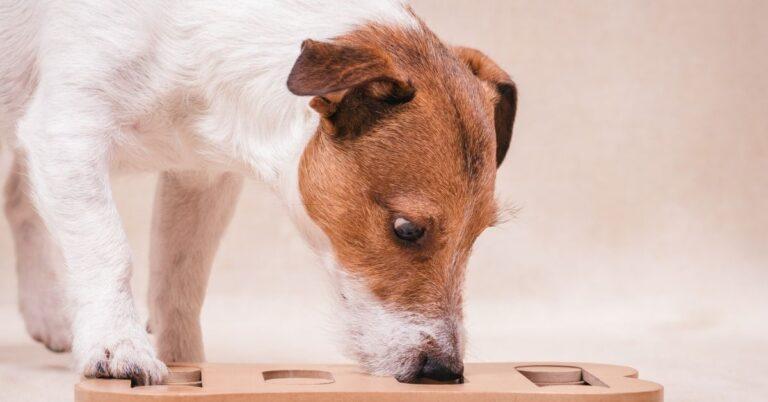 A much more challenging task, in this game you will require a tin can, some tennis balls and a pack of their favorite treats. Fill in the tin cans with eatables and cover them with the tennis ball on the top. The balls will act as a barrier forcing the Spaniel to use their snouts rather than being dependent on their eyes.
Always start with filling all the tin cans and slowly proceed to placing treats in only a few of them. This will help your dog understand the task in a more fruitful way, avoiding the risk of overfeeding them.
Empty Boxes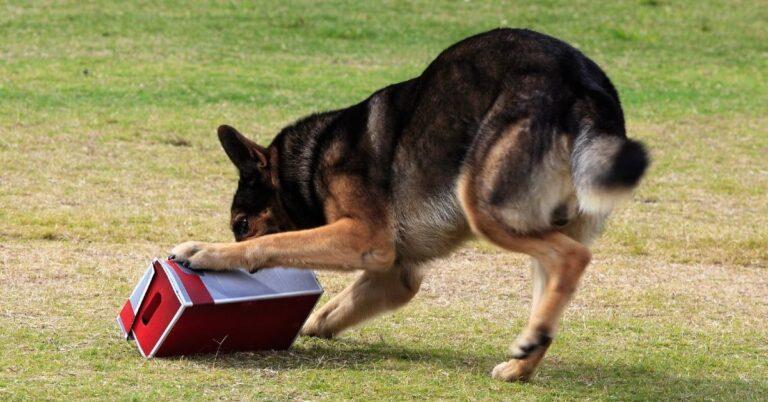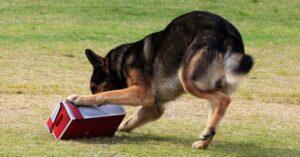 If you don't have tin cans, the next best thing is empty boxes. Just like hiding eatables under cups, here you will be required to put treats in a few boxes and circle them or switch their positioning with other empty boxes. Unlike small cups, finding the right answer amongst these boxes typically proves to be a little harder as the total area to be inspected also grows larger.
For beginners, usually boxes without lids is what's best advised. Once this skill is mastered, you can then move forward to boxes with lids. This way when the dog nudges the correct option, you can open the lid and give them the delicacies.
Pet parents can also invest in interactive treat puzzle dog toys, like this one here.
Playing Hide&Seek
Given their gun dog tendencies, Spaniels do love a good hide and seek or chasing game every now and then. So if you have been looking for new scent work ideas, here's a great idea for you.
First of all, ask one of your family members or friends to take your pooch's leash and keep them restricted to one place while you get ready to hide. At the same time, take some smelly delicious treats in your pockets and then hide at your chosen spot. You could then call out your pooch's name or inform the other human to release the Spaniel.
In these cases, naturally the dog will start chasing the scent all over the house. To make it easy for the little fur baby, it is best to start with practically easy-to-find spots and then proceed to tougher ones. Once the canine has got the gist of the game, you can also take this to your yard or even try training them off leash at bigger grounds.
However, always remember to play in safe, fenced areas. You never know when the pooch might walk into dangerous situations and risk their and others' safety. Trying to harness the sniffing ability of Spaniels is hands down a super fun and exciting experience but no wonder there's a proper way of doing it.
You may also like:
Top Dog Lick Mat Ideas for Bath Time and Anxiety
If you are a dog lover then, Subscribe to our weekly newsletters. No Spams!