Known for their regal looks and voluminous layers of furs Cocker Spaniels make as one of the most popular canine breeds out there. Their funky character is typically coupled with a lot of energy which may sometimes be overbearing for their owners.
So for Cocker Spaniel owners with small spaces the best way to relieve their pent up energy is to create abundant physical and mental stimulations. From playing hide and seek to setting up an obstacle course with your daily use items, there are a lot many ways to keep them interested in the game. However given the scarcity of space you may need to notch up your ideas a bit tentatively.
Below we will be discussing seven such proven ways that can help tire out your Cocker Spaniel puppy in a small space in no time. But first let's start with taking a look at the exercising requirements of these pups.
How much exercise does a Cocker Spaniel puppy need?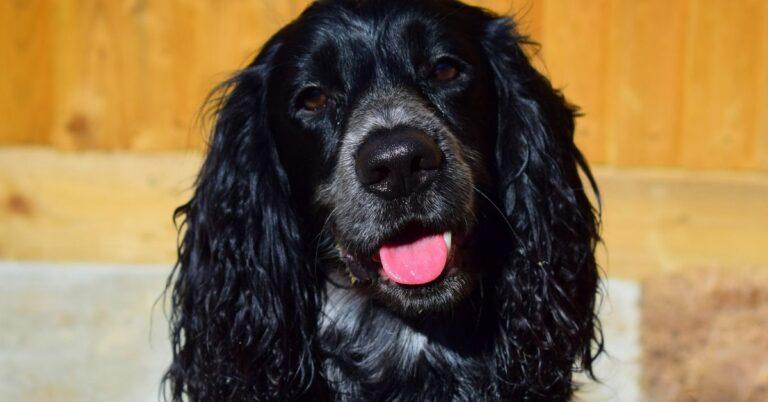 Never go on the small and petite seeming frame of your Spaniel.
Originally bred to serve as gun dogs, they have a never-ending zeal to run and work. Their strong legs are fine with running and flushing games for a whole day and hence tiring out these puppers can be a real dilemma, especially for novice owners.
Typically, based upon their age and health conditions, a Cocker Spaniel puppy needs at least one hour of vigorous exercise daily with a lot of room to sniff around. Their brain and body both are needed to be taken care of to ensure that they won't wreck havoc in your absence. Therefore, as discussed previously, both physical and mental stimulations will be necessary for a properly behaved Spaniel.
Spaniels do well in obstacle courses, seeking things, playing catch, and even wrestling their way in tug-of-wars. So, always let these little beasts have a blast before leaving them unattended for extensive periods of time.
Top 7 Ways to Tire out a Cocker Spaniel Puppy in a Small Place
Even though adjusting their daily exercising needs into small spaces may be troublesome at first, patience and dedication will help you achieve the best results.
Hide their Toys
Every Spaniel, including Cocker Spaniels, love a good game of hide and seek. And when it comes to their favorite set of toys, the pup will do almost everything to seek these lost wonders.
Unlike giving your pup access to all of their toys during play time, hiding them at different places and letting your pup sniff them out gives them a sense of work, which the breed absolutely loves. Moreover, thanks to this, they are able to use their mind, nose, and body at the same time, which also improves their eye-to-body coordination.
When allowed to search for long hours, the pup eventually tires out itself, finally returning to its resting area to let his/her worked out muscles rest. Doing this every once in a while is sure to keep your pooch entertained for hours without you having to hover around them continuously.
Set up an Obstacle Course
Obstacle courses are hands-down the BEST for tiring out hyper-active pups. And if you are thinking of making your pup one of these, you don't have to worry about expensive items or extra space anymore. No matter how small space you may have, you can always set up a mini obstacle course using your day-to-day items for your Spaniel to enjoy.
For instance, you could line up your bath products, cosmetics, and even toilet paper rolls and have your pup pass through it. When doing so, make sure to add variations to your commands, such as 'Jump', 'Climb', 'Duck', 'Pass', 'Through', etc. At the end of the game, the pup will be burned out and will only look for a fresh bowl of water and his/her bed.
Play the 'Guess Game'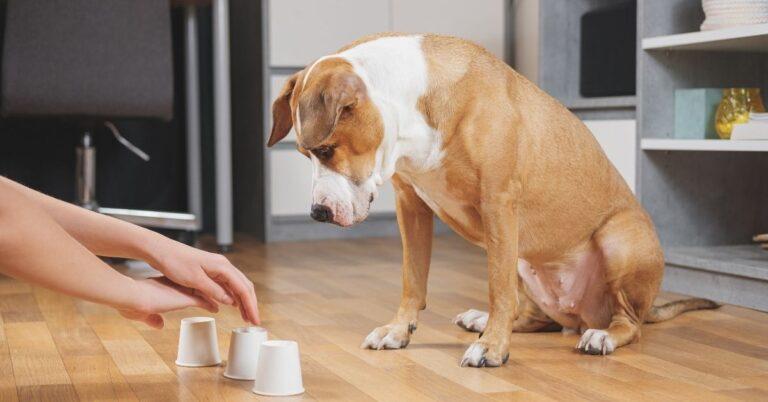 Now especially designed to mentally stimulate Spaniels, playing the 'Guess Game' is a wonderful idea. This is best for pups who, although get enough physical exercise during the day, may be missing out on mental exercising.
Also known as Shell game, this includes having your pup sniff and recognize the cup that holds the treat. To start this game you will need two or three cups. Next place one of their favorite treats under one cup and change the cup's positioning for a few seconds. Once done, allow your woofer to try and track the smell by nudging into these inversely covered cups.
If they are successful, praise and reward them with the treat. But if they fail to do so let them have another go at it and this time also change the cup's position to keep the excitement going. As this requires both their mind and nose to work together, soon your pup will get tired out.
Chase Bubbles
Another super tiring game for Cocker Spaniels, blowing bubbles is no wonder an excellent indulging game. These transparent beautiful bubbles give these hyper active beauties a way of using their prey drive for an exciting cause and hence tire out their mind and bodies in the meanwhile.
However, beware, as most of these bubble making solutions are often created using toxic chemicals that could have a severe impact on your dog's senses. A slight contact with the pup's eyes or ears may leave them at a great risk of getting infected. Therefore it is far better to invest in dog-friendly bubble makers only.
Give them a Food Toy/Feeder
Not many owners know that even feeding time can be arranged for the pup to let their steam out. And so here we are here to help you. If you have been depending upon a normal feeding regime till now, it's high time to stop and add some creativity for your pup to enjoy.
Rather than feeding them using normal dog bowls, you can switch to dog food toys or feeders. Made specially to encourage the pups to use both their nose and minds, these toys are a great way of tiring them out as well as to ensure they aren't munching down too much.
If your dog has a dog food toy, you can also stuff some food in the pockets and then deep freeze the whole toy before giving it to the pooch. This will allow them to enjoy the relish for a much longer time and gradually tire themselves completely.
Play Tug-of-the-War
Best for puppers who like playing a little rough, tug-of-war may be the best choice. Given its high intensity muscle workout, a Cocker Spaniel puppy can easily tire out after a good 15-30 minutes of tugging the rope and hence this can prove to be a good way of eliminating pent-up energies.
But make sure that the pooch doesn't get too over excited as in such fits they may jerk too hard or try to take the rope from your hand which could lead to teeth-related injuries. Another substitute for this would be wrestling. However this again is a game of brute force and hence you may need to be super careful when indulging with your pet.
Train new tricks
Cocker Spaniels are predominantly small sized working breed dogs. And hence having them learn new tricks in a small space is also a great way of mental as well as physical simulations. During such phases, it is better to teach them advanced tricks, such as opening or closing a door, bringing out items, and even help you do daily chores.
Start out slowly, and don't forget to praise and reward your beloved fur baby with every successful step. Associating positive reinforcement training methods will allow them to better understand and portray the learned actions when asked next time. And so at the end you have a perfectly tired puppy who has also learnt many new things.
Check out our other works at spanieldogs.com.
If you are a dog lover then, Subscribe to our weekly newsletters. No Spams!