A carefully bred hybrid between a purebred Boykin Spaniel and a Poodle (Standard), the Boykin Spaniel Poodle Mix is a pup with irresistible looks, friendly temperament and a courageous personality.
This medium-sized woofer is agile, intelligent and loves to work by its owner's side, and hence make a perfect fit for individuals who stay on their feet. However, before you run to your nearby professional breeder to get one of these beautiful pups, here's some things you should know about them.
Origin History of the Boykin Spaniel Poodle Mix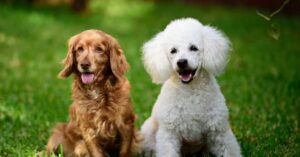 Just like other cocker spaniel hybrids, the origin history behind the Boykin Spaniel Poodle mix is rather unclear. Although the first ones must have been due to accidental mating, breeders have been trying to create the perfect Boykin Poodle Mix for the last few years. And this is all because of the amazing physical and temperamental characteristics that these pups show.
This designer dog arrives coupling all the good genes of the two super popular canine breeds, i.e. the Boykin Spaniel and the standard Poodle. So, naturally this one is a super energetic, hardworking pup that needs plenty of physical and mental exercising. And hence, only if you are sure to handle the responsibility that the canine comes with, then only you should think of parenting the hybrid.
How does the Boykin Poodle look like?
Bearing the genes of two amazing parents, it is not always possible to depict their particular physical characteristics. The cross breeding can result in any of the one parents' genes to go dominant over the other, and hence lead them to look more like one parent than the other. So, your Boykin Poodle may have a straight smooth coat like its Spaniel parents or a curly dense one like the Poodle.
While these variations make it hard to denote their physical attributes when they are in their puppyhood, growing up can make this task a lot more easier for pet parents and breeders, likewise. On an average, a Boykin Poodle Mix will have a small to medium stature with adorable doe-shaped eyes, a wide broad round head and a short snout. All these features perfectly fit their facial characteristics, giving them the nickname of the 'forever puppy.'
The body is further compact with strong legs meant for high pressure tasks and easy mobility. Apart from that, depending upon the dominant set of genes, these pups may either have a luscious mane of straight silky coat or exhibit one that is curlier and more denser than the Spaniels. Similarly, the coats may come in many single tone colors or exhibit dual tones, which gives the woofer an even more special appearance.
How big does the Boykin Spaniel Poodle Mix get?
Although this also depends upon their particular gene arrangement, the Boykin Spaniel Poodle Mix are small-medium statured dogs, as discussed above. So, a fully grown male generally grows up to be 14-15.5 inches long while females are a bit shorter. The females' height lies between 13.5-15 inches, however just like other hybrids, some exceptions can always happen.
Similarly, this work-loving pup also maintains a comparatively lower weight measurement, with males weighing between 28-35 lbs and females going upto 26-32 lbs. Thus, unlike other Spaniel hybrids, owners don't have to worry about the pup requiring much space in case they live in a condo apartment.
How long do these pups live for?
The life expectancy of a Boykin Poodle Mix ranges between 12-14 years, given that the pup leads a healthy and fulfilling life.
Contrary to the ridiculous notion of 'hybrid vigor', it is essential to understand that not all hybrid pups are born healthy. Depending upon several external factors and their breeding methods they can produce vulnerability to certain health conditions that can affect their life if not diagnosed and treated from the very start.
So, if we are to look at some of the breed-specific medical issues that could easily pass down to these little woofers, they include:
Patellar luxation

Skin problems and infections

Eye or ear problems

Food allergies

Progressive Retinal Atrophy (PRA), etc.
Therefore, to prevent all these risks, experts advise getting all necessary info about these pups before bringing them home. This can come handy in ensuring them with a healthier, happier life with less emergency trips to the vet.
Therefore, when thinking of getting hybrids like the Boykin Spaniel Poodle Mix a professional breeder is your best choice. They will be honest about the parent's progeny as well as help you point out any risk factors that could come across with the woofer's gene.
Are Boykin Poodle Mixes Hypoallergenic?
Unfortunately, no, they aren't. Bearing the genes of its not-so-hypoallergenic Boykin Spaniel parents, these pooches are known for their typical moderate shedding nature. Their coats are prone to losing fur that could easily create a mess in your homes when kept unkempt for long and hence regular grooming is necessary.
Given this feature, their bodies also produce more dander and canine allergens, unlike certain hypoallergenic breeds, and thus can prove to be harmful for susceptible individuals.
How to groom the coat of these canines?
To keep your house, furniture and clothes fur-free, it is highly crucial for pet parents with this lovely hybrid to regularly brush their coats. Doing this will ensure that all of the loose hair is properly discarded before they start flowing all around.
Similarly, the woofer will also need a thorough raking, as it does good in pulling out any dust, dirt or grime that may have gone deeper into the coat, keeping the fur from breathing healthy. Apart from that nail trimming, cleaning the teeth, ears and eyes are some of the most common grooming steps that every canine needs to follow, despite the breed.
When it comes to bathing, these pups absolutely love water and hence bath time won't need you running behind your pooch. Using an unscented dog-friendly shampoo is best when the dog gets dirty or lives outside for most part of the day, followed by a mild-smelling cologne to top it off.
What is the temperament and personality of this Spaniel hybrid? 
Known to be very hardworking, friendly and loyal to a fault, the Boykin Poodle Mixes are genera;ly happy-go-lucky dogs. However, some of them may also exhibit aloofness as its Poodle Parents, requiring proper socialization from a very young age. But let's be honest, no matter how much a pup may score in the 'friendliness score', it is always better to have them socialized to avoid any mishaps.
Additionally, they love to work and hence if you are an active individual with many things that your little pooch could do by your side, then definitely this hybrid is the best choice for you. Their energy levels are super high and therefore they will need a proper physical and mental workout every day to ensure they aren't inclining towards destruction.
These pups can also bark a lot and don't do well when left alone for long periods. So, to prevent unnecessary noise and any mess, getting your woofer trained properly is a must. Positive reinforcement training acts best for the canines, however the pet parent will also require time, patience and regular practice to mold their canine as the 'ideal four-legged mate'.
In this article, we covered all available facts about the Boykin Spaniel Poodle Mix. For more, subscribe to us on our mailing list and stay updated on all recent releases.
Until next time, Take Care!!!
FAQs
Is Boykin Spaniel Poodle Mix (Boodle) a good family dog?
Boodles are known as one of the best family dog breeds due to their selective gene pool of Boykin Spaniels and Poodles. They have the agility and enthusiastic personality of a hunting dog and have a mellow and friendly temperament. They are pretty affectionate and loyal to their owners and enjoy the company of children and other dogs. 
Can Boykin Spaniel Poodles be aggressive?
Genetically, Boykin Spaniel Poodles belong to two non-aggressive breeds. They are super friendly to be around. However, they might show signs of aggression if treated harshly, especially by strangers. They are not easily provoked, but they may bite in their defense if pressed. 
Do Boykin Spaniel Poodles require a lot of grooming?
It depends on the type of coat they have. If they inherit more physical traits from the poodle side, they may have more fur, which means more grooming, including regular haircuts and brushing to avoid matting. Even if they inherit more from their Boykin side, they might also require grooming. 
How much exercise does Boykin Spaniel Poodles (Boodles) need?
Boodles get their active nature from both parent breeds, which means they need moderate to high exercise. Make sure to offer them plenty of physical activities and mental stimulation as it keeps them happy. 
Try to take them for a walk for at least 1-2 walks per day for 30-60 minutes. You can also offer them active play sessions like fetch or jumping or let them run off-leash in an enclosed area, giving them an experience of a dog park. Swimming is also crucial for enthusiast breeds like Boykin Spaniel Poodle mix. Their excellent swimming skills are passed down from their parent genes as both breeds have a natural affinity towards water.
Are Boykin Spaniel Poodles easy to train?
Boykin Spaniel Poodle Mixes are comparatively easy to train. This is because they are eager to please their owners, making them more receptive to training and learning new tricks. Both parent breeds are intelligent and agile, which makes Boodles quick learners and problem solvers.
If you are a dog lover then, Subscribe to our weekly newsletters. No Spams!