Dogs bark for many reasons. From alerting you about any stranger's approach to bristling leaves on the trees, there are a lot of factors that could be contributing to this behavior. However, no matter if they are trying to be your guardian angel or simply being excessively possessive of their territory, when they bark at night consistently it is a definite issue.
So, while muzzles may seem to be the best option to make your pup stop the incessant barking, it is an inhumane method. It is also uncomfortable, makes them unable to breathe or pant properly and feel even more agitated. Thus, rather than binding their mouth shut, it is better to keep them in a comfortable warm place away from any triggering factors.
In this blog, we will be looking at the five best alternatives to muzzle for dog barking at night. But first, let's understand why some dogs start yapping incessantly at night rather than any other time of the day.
Why do dogs bark at night?
Well first of all, dogs are not only man's best friend but also protective guardians. They repay the love they get from their parents by looking out for danger signs and alerting their owners about the same. Moreover, a dog also barks as it is one of the ways they communicate with their parents, playmates or other people and animals.
However, apart from these, there could be a myriad of other reasons behind your dog barking at night. These include:
For safeguarding their territory
Canines are very territorial animals just like their ancestors, that is wolves. They never like strangers indulging themselves within their marked places and therefore the little one will start barking or being snappy upon feeling challenged. And moreover as nights offer the perfect dark environment for dangers to stay hidden, your dog may become overly cautious of everything and therefore bark at anything and everything that moves and makes a sound.
Call and Response
Like we discussed previously, canines communicate by howling and barking. So, if your pooch gets all yappy upon hearing other dogs barking outside at night, then he/she might be either calling them or responding to their messages. This is a normal occurrence and happens in most canines, mostly puppies.
A potential distress signal
If you have been a pet parent for long, you must have come across various kinds of barks from your beloved fur baby. Not all barks mean there is a threat lurking by, rather it could be a distress signal. A puppy when in pain or hungry may choose to communicate with its owners or fellow mates by producing a high pitched barking. This kind of sound can be easily determined from other barks and hence should be treated alike.
Extreme Boredom
Initially bred to be hunting partners, dogs of all breeds need ample physical and mental stimulation to be healthy. When ignored, all that pent up energy could make them feel frustrated and therefore indulge in irritating habits such as howling or barking in the middle of the night. Thus, to prevent such instances a pup should be regularly and properly exercised every day.
Separation anxiety or attention seeking behavior
Mostly witnessed in pups that are crated in separate rooms, your dog barking at night may be an attention seeking behavior or due to separation anxiety. Woofers love their humans too much and always want to be by their side. Hence, when you restrict them to a place where they can't access you easily or aren't able to see you, they will start barking or howling at the top of their voice, no matter if it is a bright sunny day or a dark eventless night.
By barking they are simply letting you know that they are lonely and would want your presence by them. This behavior can be seen predominantly in rescue pups, elderly dogs and smaller puppies.
Underlying health conditions
Finally, your dog barking at night could be linked to certain health conditions. The pup might be trying to adjust with the discomfort or inform you regarding the same by behaving abnormally.
Canines are super intelligent animals and they learn by monitoring your body language and actions. So, by barking constantly they may make you book a vet visit for a thorough checkup which can then lead to detecting the health condition.
Can I use a muzzle to stop my dog from barking at night?
Well the answer is yes and no. A muzzle won't be able to stop the pooch from barking unless it is too tight for them to even open their mouth to pant. And if you are thinking of investing in such muzzles, it is better to let them go to another home that won't torment the poor soul.
Apart from the shameful feeling, the perpetrator will also be booked for involvement in animal cruelty acts under the regional and state guidelines as well as the animal safety laws. This will include hefty fines, imprisonment, permanent ban from keeping any kinds of pets and any kind of access to their old pet.
So, as a responsible pet parent it is your utmost duty to never indulge in shameful acts like these. There are numerous ways to control this irritating behavior of your dog barking at night without being cruel to them and next we will be talking about this very cause.
How can I stop my dog barking at night without using a muzzle?
The first thing to do here will be to carefully determine the triggering factors. Is your dog showing secondary signs of aggression when barking, like flattening ears, foaming around mouth or seems to be whining a little at the end.
Depending upon your answer, this could mean different things. Thus, if you want a final accurate answer, taking your beloved canine to an experienced and qualified vet is what needs to be done at the earliest instance possible. Once at the clinic, the team will give your canine a thorough check and may also help you find better effective options for correcting their behavior.
Other things that you can do simultaneously to stop your dog barking at night includes:
Give them ample mental and physical stimulation
Each dog breed has variable exercise requirements. So, based upon your pooch's existing health condition, breed, size, and age their exercise schedule must be designed and maintained. Their exercise should include both physically and mentally stimulating tasks as by doing this only you can help your canine consume their daily pent-up energy.
From off-leash running around safe and secure yards to introducing canine brain puzzle games, there are a lot of things you can experiment with your furry friend. This will also offer them a change of pace and will keep them entertained as well as super focused for the entire time.
All of these activities will ensure that the pup is tired enough for the night and won't have any more energy to keep you awake with their constant barking.
Remove triggers
Based upon your findings, the next essential thing to do is to remove triggers from the area. For instance, if your dog is triggered by any passing vehicle lights seeping from your window then closing the blinds or adding a curtain can cut down on the effect.
However, understand that the behavior will take time to change, in case the dog has fallen into a rhythm. So, even though all windows and doors may be closed, the dog may still bark at night for a few days. Meanwhile don't stop following the new exercise schedule and removing any triggers that may be causing the frustrating issue at hand.
Introduce calming aids
Mostly for dogs that are unable to resist the temptation of communicating with other canine friends at dead of night, canine calming aids act like elixir. Available as diffuser blends, individual essential oils and calming sprays, using these mesmerizing smells instantly lifts the canine's mood, making them eventually feel sleepy.
Usually, lavender, vanilla, chamomile, peppermint, and tea tree essential oils are commonly used for initiating a calming effect in the canine. But to be on the safer side, consulting with your vet regarding this is a better option. With their proficient knowledge and experience, they may also guide you in the more efficient way.
Desensitize them to outside disturbances
Another way of reducing the effect of sound-based triggers includes desensitizing them to the same. So, if your dog barks at night when there is a passerby at the road or due to the barking of strays, then training them to avoid the issue can come handy.
For this there are numerous training procedures that you can follow. However for faster results, ensuring a proper positive reinforcement training is what's best for both you and your little fur ball. Teach the pup the 'quiet' command which he/she will associate with the outside factor.
To do this, start by:
Commanding the pup to 'Sit'. Make sure the canine's full attention is on you before proceeding to the second step.

Next wait for them to bark at the trigger. This may take some time so be patient.

Once the dog starts reacting to the factor, command them 'Quiet' in a calm, clear voice. You may also take the help of a clicker to click at the exact moment for the dog to be distracted.

If the canine follows your command, praise them in your happy tone and hand them a few of their favorite treats. The timing between the pup doing the desirable action and rewards needs to be within seconds. So, always keep the treats nearby or in a waist pouch.

Unfortunately, in case the dog doesn't seem to be heeding to your command, don't further repeat the same command. Rather you can distract them by dropping a loud object nearby or squirting water onto their face. This will shock the pup and you can then repeat the process.
NOTE- Always remember, teaching your canine new tricks can take time. Thus, maintaining proper body language, using high quality rewards, and regularizing the trick practice is highly essential. Hitting, shouting at the dog, or using other inhumane methods like shock collars, ultrasonic collars never work and may worsen the situation even more.
Take them out for potty/pee
A simple yet a highly efficient step, taking your woofer out for pee/potty before tucking them into their bed can be super beneficial for lowering the chances of the dog barking at night. Most often canines bark in the night if they are feeling like going to the loo and so taking them on an evening or a late night walk is a good step.
This way the little pup will be able to sleep peacefully, without getting the urge to relieve themselves in the middle of the night. Moreover, a breath of fresh air prior to bedtime is proven greatly beneficial for enhancing the quality of sleep for both the canine as well as their human.
Find a new resting spot
Unfortunately, if none of the above-mentioned tips work, it is better to find a new resting spot for the suffering pooch. In case your pup is affected by incoming lights, sounds of strays or roadside vehicular movement, then shifting them to a room with considerably low noise will help them to eventually calm down.
Additionally, you should cover any windows or doors that may be facing to the outside by translucent or thick opaque covers. Doing so will aid reduce the impact of disturbance coming from outside and hence let your pup rest well.
However, always remember that this is a gradual process. So, you can't expect your dog to completely stop barking at night in a day or two. To make it more comfortable, don't forget to add in your pooch's favorite toys or blankie onto their bed or crate.
Make a night routine and follow it strictly
Just like us humans, dogs also need a good night routine. This is when they need to rest their bodies as well as minds, and thus ensuring that your pooch is getting a good night's sleep is indeed essential.
So, if you are thinking of implementing a night routine, the first thing to do is to prepare a schedule and strictly follow every bit of it. Keep things consistent, such as tucking the dogs into their bed at the right time, going on brisk evening or pee/potty walks, ample physical and mental stimulation, ensuring a light, nutritious bedtime meal, etc. This will help the canine to fall into a regulated rhythm and thus there will be very low chances of your dog barking at night.
Give them a good massage
Everyone loves a good massage session, and the same goes for our four-legged partners. Thus, rather than only petting or brushing their coat, you can gift them with a full-fledged massage session twice or thrice a week.
Massaging canines in the proper way has been proven beneficial in many cases, like here. Hence, rubbing their muscles, bones, ears, and other sensitive areas with the right pressure can be quite relaxing for the little ones. The pressure could help them release any muscular stress that may have accumulated in the area causing body aches, and painful spasms.
If interested, you can add on canine-safe massage oils to the whole procedure. This will leave them smelling amazing and may even prevent the infestation of ticks, fleas, and pet dander if the oil comprises these benefits as well.
Play calming music
If your dog barks at night because it is lonely, suffering from separation anxiety or is stressed then you can play calming music. Similar to other sensory calming aids, playing soft, tranquil music has been found to support and lighten up a canine's neural points.
The continuous music even subdues any other distractions or triggering factors, allowing the pup to finally rest without any worries. And top it all, there is no side-effect to this. Interested pawrents can choose from literally thousands and thousands of calming music for dogs from the internet and play it without having to pay any additional OTT subscriptions.
Just make sure that the sound is on a normal level. Dogs don't like loud, pitchy or sounds with higher bass. So, keep the sound level to a bare minimum, follow all the above mentioned steps and with constant practice soon your dog will be completely unbothered at night.
Follow the vet's prescription properly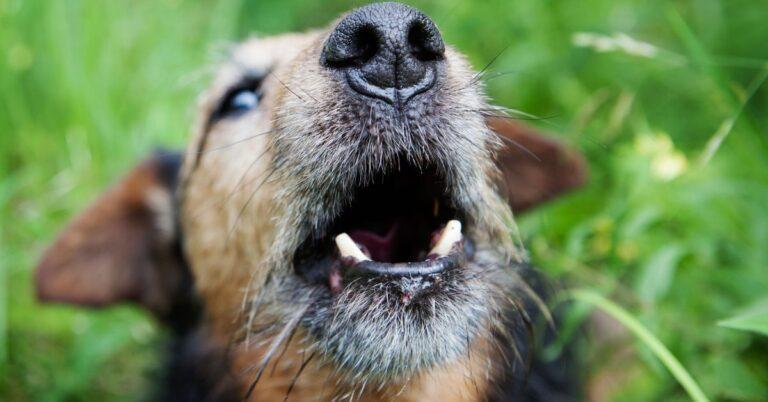 Finally, never ignore your vet's consultation and prescriptions, if any. In case your dog is diagnosed with any health conditions that may be leading to the consistent barks, then do follow whatever medication or treatment procedure has been advised by the specialist. Such cases are mostly accompanied by secondary signs of frustration, so be on the lookout.
Unless completely cured the pup will likely exhibit all signs of discomfort and pain. So, ignoring them could lead to worsening of their symptoms ranging from late night barks to aggressive snapping and incessant howling. Apart from that, it will also severely impact the pooch's life quality. So, why risk their precious lives!!!
It is even better to take the pup for periodic examinations and testing, as it could help keep a track of any progress health-wise. Simultaneously, let a professional canine behaviorist have a look at your canine. They will help you out if the situation is going out of your hand, therefore are a much better option.
You may like:
Do Cocker Spaniels Bark a lot?
Reference:
If you are a dog lover then, Subscribe to our weekly newsletters. No Spams!