Dogs love to lick. This is a fact that every pet parent is thoroughly aware of. And while you may love those slobbery kisses your fur baby adores you with every now and then, have you ever imagined what happens when your pooch ends up licking your wounds??? NO!!! Then, you have arrived at the right place.
When a dog licks human blood, there are a lot of things that may happen. From a possible minor infection to severe drawbacks resulting from transfer of deadly microbes both into the pooch's system as well as your wound. Additionally, if ingested in bulk, the canine may also suffer from an upset stomach, leading to vomiting, diarrhea, or a bad case of gastro-intestinal disorders.
To know more about why dogs indulge in such actions and the right steps to stop this bizarre behavior, keep on reading.
Why do dogs lick human wounds?
Apart from being their hooman's best friend, dogs are also super instinctual and caring. So, anytime you have got yourself injured, no matter how small or large it may be, you will often find your fur baby seemingly quite clingy to the injury. They may either start with sniffing the new smell and try soothing it by licking the wound or else stay quite close to you the whole time.
Canine behaviorists and researchers trace the behavior's root cause to general animal survival instincts. Unlike us humans, animals in the wild don't have several treatment options. And thus anytime they or any of their pack members are injured their first instinct is to lick the wound clean. They know that their saliva possesses antibacterial qualities and therefore licking it up prevents microbial infestation and fastens healing.
So, the minute your pup sees you injured, in pain, or is able to sniff the smell of blood, their wild survival instincts naturally show up.
Does Dog Saliva heal wounds?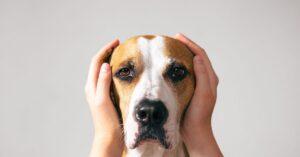 A notion that has been quite popular since the Egyptian era, unfortunately dog saliva is not always healing for human wounds. While it is true that their saliva has similar antimicrobial properties as to human saliva, there are various risk factors that need to be considered.
Composition
As concluded by Menno Oudhoff of the University of Amsterdam, saliva in general consists of huge amounts of histatins. A certain kind of protein, histatins work by prohibiting the breeding of infectious microbes and pacifying the production of the healing tissue.
And even though dog saliva consists of histatins, the amount may vary as compared to human saliva. So, letting your pooch lick upon the exposed skin may cause more damage than good.
Friction due to licking
Although most pet parents claim their dog's tongue to act as a great cleansing agent, doing too much of the licking can cause friction-related injuries. This is because contrary to us, a canine's tongue comes with slightly raised structures. Also known as papillae, these structures not only connect to their taste buds, but also aid in efficiently removing dirt and debris from their bodies.
So, in case the pup licks your wound way too much, these structures might end up tearing your adjacent muscles, causing it to grow way bigger.
Presence of foreign particles
Known for their super quirky nature, dogs usually put their mouth in anything and everything that excites them. Therefore, no matter whether they are regularly brushed or not, a woofer's mouth is almost always filled with microbes, both good and bad.
Now imagine the consequences if your pooch licks your wound. Even though this may not mean the end of the world, it does increase the risk of contamination and infections, which can escalate to much more severe circumstances. Your wound might get infected pretty badly, leading to pus formation and what not.
Given these above-mentioned factors, experts generally advise pet parents to keep their wounds away from their pooch's reach.
What happens to the dog?
The side-effects include:
Transmission of microbes/toxic chemicals
The first side-effect to consider in such cases is the risk of transmission of deadly microbes into their system. Exposed wounds are generally at a greater risk of having a high microbe frequency and thus, letting your woofer lick them can prove to be pretty hazardous to their health.
The same also goes for ointments and other medical lotions. Upon licking the medically cleansed wound, these toxic chemicals make their way into the pooch's digestive system, resulting in vomiting, diarrhea and other severe health issues.
Gastroenteritis
Human blood consists of humongous amounts of proteins, micronutrients, amino acids, fatty acids, etc. All of these components give it a richer nutritional base making it harder to digest when consumed in bulk quantities.
Therefore, if your pooch licks your blood, there is a high chance that they might go down with severe gastric issues. From super-painful stomach aches to a bad case of runny diarrhea, there are too many health issues that could pop-up. Some pups may also show extreme dehydration, appetite loss, signs of iron toxicity, and nausea, requiring emergency vet care to make a complete recovery.
Transfer of certain diseases
According to a study, it has been proven that around 61.6 percent of human pathogens are actually multiple species pathogens and can transmit between another species of animals easily. This includes tuberculosis, MRSA SuperBug, flu/influenza, pneumonia, measles, and bacterial, viral or fungal infections.
So, by licking human blood, a dog not only runs the risk of suffering from gastric related disorders, but also catch on to infectious diseases that their human might be suffering from.
Now that we know how disastrous the behavior can be, let's proceed to the problem-tackling methods.
How to stop my dog from licking human blood?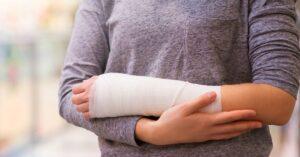 The best answer to this question is to immediately take care of your wound and cover it, no matter how big or small it might be. Dogs are loving creatures and especially caring towards their owners. Thus, rather than having to push them away from your wound every now and then, it is better to properly sterilize and clean up your wounds.
However, if your fur baby seems to exhibit extreme clinginess to your injury, enforcing positive reinforcement training is what's best advised. Using treats, praises, or their favorite toys to distract their attention is much better than shouting or forceful pushing. Furthermore, doing the former also assures the pup that you yourself are capable of dealing with your injuries and hence they don't have to be worried much.
You may also consult a professional canine behaviorist or veterinarian, if the behavior does not seem to fade. Ignoring this could make it a habitual behavior which will surely be problematic to both you and your canine.
You may also like:
Reference:
If you are a dog lover then, Subscribe to our weekly newsletters. No Spams!