WHY DOES MY DOG SCRATCH MY BED SHEETS!!!
I still remember the day crystal clear, when I first witnessed little Bruno scratching my bed sheets as if he was a pirate looking for his long lost treasure. My first thought was, 'Is this normal or has my dog.exe stopped working?'. I had never heard or read about such a bizarre thing and hence I speed-dialed my vet.
Well, for starters upon hearing my half worried, half-dumbfounded question, my vet started laughing. But soon after he helped me calm down with the answer. 
So, if you have been also pondering over this same question, then you have arrived at the right place.
So, why does my dog scratch my bed sheets?
The first thing I learned that day was that dogs are habitual creatures. Thus, even though they have been domesticated and offered all sorts of luxuries and a nice place to sleep, they just can't get rid of their instincts, such as in my case, scratch my bed sheets.
This could also mean that they are marking their territory, leaving their scent or worse suffering from something painful or frustrating that has not been detected yet. And therefore, marking the frequency and severity of this behavior is a must for all pawrents.
My vet also offered me a list of all possible explanations as to why my dog chose to scratch my bed sheets. Here they are:
Ancestral Habit
Like us humans, some habits die hard even in our furry little friends. And hence some canines love scratching their beds, or in certain cases our bedsheets (if they sleep with you).
If they do so, then there is no need to be worried. This is just an instinct that has been passed down to generations, and by doing it your little Fido is simply trying to make his laying area more comfortable. In earlier times, most dogs had to sleep on the ground or on a bunch of dried leaves, sand, etc as there was no concept of soft, smushy dog beddings then.
Therefore, by scratching up the place, the canine would make up a little comfortable place for him/her, and then lie down to rest.
SOLUTION- There is no need to fret and stop your dog from scratching their beddings or your bedsheets. However, based upon the frequency of the action, you can definitely add on a few blankets or their favorite toys to their sleeping place so as to make the canine a bit more comfortable.
Territorial Marking
In the past we have covered how territorial dogs can behave sometimes. And thus, my vet also advised me to mark Bruno's territorial aggression around my other pup when I asked the reason for his scratching of my bed sheets.
This usually happens in homes with more than one pet, as the one more closely  connected to you feels the overwhelming desire to mark you and your things as theirs. This impulse may vary from one canine to another, but no matter what territorial marking is also an important reason and hence must be dealt with seriously.
By scratching your bedding, the dog is leaving its pheromones through its paws to scare off other animals or people. However, this may also be marked with other secondary factors including peeing, snarling at anyone who tries coming onto the bedding, or even trying to hide the bedsheet from others.
SOLUTION- If territorial marking is the cause, then immediate action is required. When left ignored for long, your canine will gradually get habituated with the action and will become increasingly violent when anyone approaches the spot. Usually consulting with a canine behavioral specialist or a vet comes handy, although it is also better to make them sleep on their separate bedding until they have stopped marking their territory on your bedsheets.
Anxiety
Every pet parent with years worth of pet keeping experience knows that an anxious dog is like a ticking time bomb. Anxiety in canines can be due to many factors. From lack of exercise to sudden change in the environment or even past traumatic memories could trigger anxiety-related reactions at any time. And therefore being mindful of their behaviors at all times is the best thing to do.
When anxiety hits a canine, the animal has a hard time relating and likely responding to things that's happening all around him/her. As a result, such a pup will often show a number of telltale signs and symptoms including: shaking, tucking tails, excessive panting, hiding, scratching bed sheets, having accidents in the house, and even sometimes by being extremely snappy.
SOLUTION- In such cases, recognizing the triggers is the first thing every pet parent should focus on. By doing so you can later remove the trigger, thereby easing your canine's natural response. These triggers could either be physical, psychological or metaphysical factors, and hence consulting with a vet will help through the entire process.
In search of something
Hands down, all dogs are weird creatures. And so if you suddenly find your dog scratching your bed sheets like crazy like my Bruno then it could be because they smell or see something within them.
Now this is not something straight out from a horror movie. It simply means that either there is a distinct smell from your bed sheet, preferably another person's or animal's scent, the smell of food remains over your bedding or something might have mistakenly lodged within your bedding, making your pooch extremely curious.
SOLUTION- Simply have a look at what the pooch is trying to discover. Have a sniff of the bed sheet or look under it. If the sheets are dirty or smell weird, toss them for a cleanup, and soon enough your puppy will also stop with the incessant search.
Boredom and Attention Seeking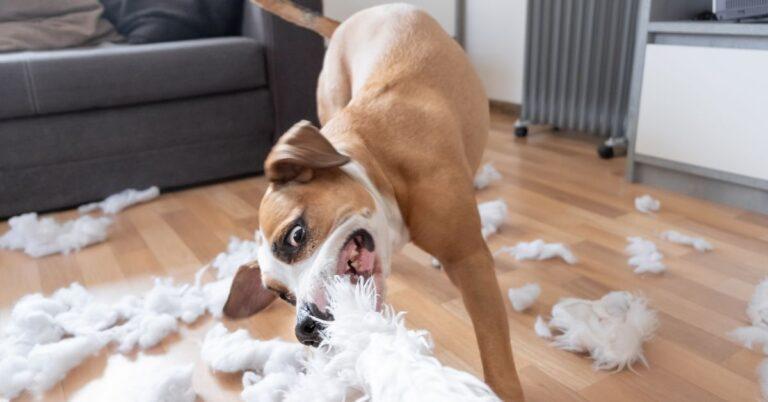 According to my vet, the next major factors contributing to Bruno's scratching action could also have been due to boredom. Unlike us humans, canines don't talk human, and therefore when bored or needing attention they will most likely exhibit their mood by engaging in weird actions.
This could include destroying furniture, digging up their beds or even scratching our mattresses and bed sheets. By doing so, they usually try to seek our attention, so that we can heed to their requirements and maybe take them on a long walk or play with them.
SOLUTION- When ignored for long this could easily turn into a bad habit. And hence rather than giving attention every time they do such, it is better to stop them from doing so. A better way is to offer them long and strenuous exercises every single day (depending upon the breed), so that they can be tired and stimulated enough to not further indulge in the same bad habits.
An act of Nesting
Now if your canine is a female and is nearing her heat phase, then she will most probably start scratching your bed sheets out of nowhere. This is a rare sight, but still an occurrence in some dogs and is usually more prominent during this phase, thanks to the raging hormones inside her.
This could happen in both mated and unmated females as the sudden change in hormone levels kick starts their motherly instincts. Such a canid will also show many secondary symptoms including gathering and assembling of their favorite blankies and toys on their bedding, being more protective of their laying area, and even sometimes hiding their food.
This is a way of the female dog being prepared for her puppies in the future and can be counted as another instinctive action.
SOLUTION- If your female canine is unmated, then the symptoms will gradually disperse on its own in a few days. Meanwhile, it is better to let them be as forcing them could turn them defensive and snappy. But if they have been mated, then take your vet's consultation and prepare for her future delivery.
Just Play
Finally, all of that scratching of bed sheets and digging up enormous holes in the garden could be all due to extreme playfulness. In the dog universe, some breeds are known to be more playful than others, and hence all these bizarre actions could only be because the pooch is in a playful mood.
Generally, Labrador Retrievers, Golden Retrievers, Spitz, Pomeraninas, and Corgis are known for their playfulness. So, similar to my case (Bruno) your canine might also be acting up just to rile you up and have you running behind them.
SOLUTION- Just like tending to their bad habits, this should also be dealt similarly. Engaging with them or rewarding them when they are in action will only encourage them to keep on doing the exact same thing over and over again, every time they need your attention.
What are other Remedies to stop my dog from scratching my Bed Sheets?
You can try:
Discouraging them by using a stern voice command, including,

"No", "Enough", "Settle", "Leave", "Drop", "Back".

Make sure not to shout at them as shouting will only

worsen

the results.

Provide them their own dog bed. If your dog doesn't use it, you can bribe them with treats or their favorite toys like I did with my baby boy, Bruno.

Get them enough exercise and both physical and mental stimulation. I personally prefer letting my canines have a go at canine-safe mind games that you can find in both online and offline pet stores.

Seek professional help immediately if the causes seem to be territorial marking or other aggression-related factors. Delaying it will only make matters worse and your family susceptible to sudden violence.
In this blog, I covered the reasons behind "why my dog scratch my bed sheets" and ways to tackle this issue. Hope this works out for you.
If you are a dog lover then, Subscribe to our weekly newsletters. No Spams!