A tasty supplement, bee pollen has been an ultimate favorite amongst humans. But what about our canine friends??? Is it beneficial for our fur wonders or should we never administer the same to dogs???
To know more about bee pollen and their effects on dogs, keep on reading.
Is Bee Pollen good for Dogs?
Infused with all essential antioxidants, vitamins, minerals bee pollen has been proven as a great health supplement for dogs. No matter their age, health and breed, every canine can enjoy this delicious treat and also bear good health and enhanced immunity with its regular usage.
During my research, I first came across this idea when me and my vet were discussing the various health supplements that are available for our canines. Even though the market is full of a plethora of options, I have never been a fan of commercially sold products. And so when my vet initiated the idea of introducing bee pollen for my dogs, I jumped into action.
Interestingly, many well known vets, canine nutritional experts and even dog bloggers, such as the Animal Wellness Magazine have reported about bee pollen and their benefits. So finally convinced enough, I eventually introduced the tasty delish to my dogs and to my glee the benefits were soon visible, almost in a week or so.
What are the health benefits of administering Bee Pollen in dogs?
The many benefits of bee pollen consumption in dogs include:
A great source of Fatty Acids
Probably the best possible way of ensuring that our canine friends are getting all the best nutrition is to slowly introduce bee pollen. They are packed with all essential fatty acids, out of which a whopping 70 percent consist of Omega 3 fatty acids and 5 percent that consist of Omega 6 fatty acids.
These fatty acids are very important for their overall growth and muscular development. Thus, with regular and monitored usage of bee pollen, pet parents can stay worry free about their canine's development and well being.
Enhances body functionalities
Apart from being a great source of fatty acids, bee pollen also arrives bearing high amounts of antioxidants, vitamins, minerals, amino acids and a lot more. All these components work together to produce optimal conditions within the body, ensuring that all body functionalities work well.
This includes digestion, nutrient absorption and even prevention from infections and diseases. So, it is not wrong to say that proper use of bee pollen acts as an elixir to dogs.
Soothes Dogs with Severe Allergic Reactions
Probably the sweetest supplement with the most number of benefits, administering bee pollen for dogs with allergy-prone bodies has been backed by many leading canine experts. This is because bee pollen consists of Quercetin, a natural histamine.
The component when ingested gets absorbed by the body quickly and acts as an allergy protection given its antihistamine nature. This then prevents the woofer's immune system from acting up too much, thereby gradually desensitizing their little bodies to certain allergens. However, do remember that allergies are very much different from sensitivities and therefore bee pollen might not be safe for consumption if your dog is highly sensitive.
Apart from these major benefits, bee pollen also induces:
Protection to the liver due to its hepatoprotective properties

Boosts overall metabolism

Supports and enhances faster wound healing

Improves blood flow

Strengthens the heart, arteries and capillaries

Maintains an uniform pH balance in the urinary tract

Exhibits anti-bacterial, antifungal and antimicrobial properties
What are some of the best bee pollen for dogs with allergies?
After a number of trials, I feel the Alovitox Bee Pollen Granules, Greenbow Organic Bee Pollen and Dr. Danielle's Bee Wise to be the best bee pollen for dogs with allergies. All the three products come with pure organic bee pollen as its primary ingredient and are composed in easy to administer forms.
Alovitox Bee Pollen Granules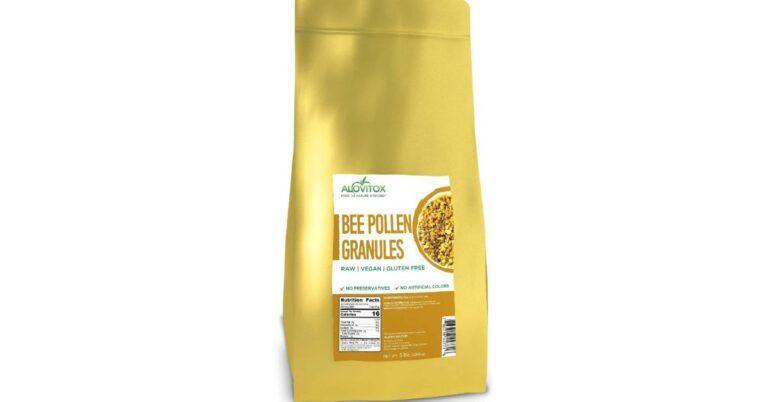 Starting with the Alvoitox Bee Pollen Granules, these are by far one of the best bee pollen that I could find from Amazon. Curated from high quality and all organic components, the granules are specifically prepared by leading experts and come bearing all essential nutrients packed within their small sizes.
Moreover, this particular powdered packed superfood is also gluten free, consists of no fillers, preservatives and other substances that can be harmful to the canine. And hence a proper monitored use can yield great results like I personally witnessed in my doggos. After consuming the bee pollen granules for a couple of weeks, there was visible improvement in my pups' coats, nails, and they even seemed much more gleeful and energized than before.
So, if you too are looking for a healthy supplement without having to try overexposed commercial health supplements for canines, then you can give this a try.
How do I feed- My dogs like it when I sprinkle a little of these powdered granules onto their breakfast directly. This sweet supplement goes well with a bowl of oats, fruits, or salads, although pet parents can also try putting it into liquid diets, including water.
Pros:
Made up of pure organic bee pollen

Easy form to administer

Consists of all necessary nutrients, vitamins, minerals, amino acids, antioxidants, and more

Strengthens body functionalities

Protects internal organs

Strengthens capillaries, arteries and even the functioning of the heart

Has a delicious taste and a sweet smell that dogs love

No bees are harmed during the extraction process

Gluten-free, Non-GMO, Vegan, no preservatives, and artificial colors
Cons:
Very pricey as compared to other bee pollen alternatives

The granules get sticky when kept in open for prolonged amounts of time
Greenbow Organic Bee Pollen
Next, the Greenbow Organic Bee Pollen is my second most preferable choice when the former option is out of stock or I am running low on cash. Much like the Alovitox Bee Pollen Granules, this superfood is also crafted by leading nutritionists and vets, ensuring their safety as a canine supplement.
Furthermore, the product is USDA certified, meaning pet parents can stay worry free when feeding this supplement to their woofers. The feed is Non-GMO, Gluten free, doesn't contain additives, preservatives, colors, flavors and is also Kosher certified. Thus, if you have a dog that is hyper allergic, introducing this feed after a thorough vet consultation can be greatly beneficial for their health.
However, the one feature I loved the most is its composition. Consisting of top tier organic bee pollen, the company claims this product to be of human-grade, allowing both pet parents and their woofers to enjoy them as they want. So, at the price of one, individuals can leverage all benefits for both them and their pups.
How do I feed- Like administering Alovitox Bee Pollen Granules, the Greenbow Organic Bee Pollen can be offered with breakfast, lunch or even dinner. Just sprinkle the advised amount of the pollen granules over their normal meals or add them into liquid diets including cereals, yogurt  or milk.
Pros:
USDA Certified Organic Composition

Human-grade ingredients

Contains no preservatives, colors, flavors, and additives

Non-GMO, Gluten free and Kosher Certified

Easy to administer formula

Working since 40 years of beekeeping

Best suitable for woofers with severe allergic conditions
Cons:
Requires vet consultation before administration

Made in China product

Granules are very small and have a strong smell
Dr. Danielle's Bee Wise – Bee Pollen Supplement
Finally, we have the Dr. Danielle's Bee Wise – Bee Pollen Supplement. Initially, I came across this product when casually scrolling through Amazon. While there was nothing special about this product at first glance, the thing that struck me the most was the Doctor formulated composition. I mean even though the other two claim to have a vet manufactured formula, this one particularly names one.
So, enticed by their boldness, I opted for this bee pollen supplement, and to my surprise it did work decently. To start off, the bee pollen supplement comes in the form of small capsules. Each capsule is filled with the goodness of bee pollen combined with Propolis and Royal jelly, ensuring overall nutrition to the canine.
Moreover, the formulation is USA based, and hence contains no fillers, binders, or artificial ingredients that can be easily found in other cheap alternatives. The manufacturing company even goes a step forward and offers money back guarantee if users or their canines are unhappy with this product. This makes it a useful factor for first bee pollen supplement users, and therefore makes it to my top preferred list.
How do I feed- The capsules are small in size and can be administered to the dog directly. I usually take the vet prescribed number of capsules in my palm and put them one by one into the back of my dog's throat. Given its sweet taste, my pups generally gulp it down. But if your pup manages to throw them out, then taking a little bit of water along with the capsule and then putting them directly into the canine's mouth can work well. The liquid will reduce any friction and ease the movement of the capsule down their esophagus.
Pros:
Composed by a Naturopathic and a Certified Biochemist

Includes organic bee pollen, propolis and royal jelly

Gluten-free, Non-GMO, Vegetarian, and Cruelty free formula

Made in USA

Soothes dogs with severe allergy issues with monitored regular usage

Does not include soy, egg, milk, wheat, peanuts, sweeteners, shellfish, and sugar

Suitable for all dog breeds and sizes
Cons:
Requires a thorough vet consultation prior initiation

Not suitable for all life stages

Very difficult to administer in mini and small sized breeds given its particular form
NOTE- I reserve no rights to the sale, purchase, and delivery of the above-mentioned products and hence would not be held responsible for any issues rising from their purchase or usage. A vet consultation is a must before using any new item for your canine, and thus this blog should be regarded for informational purposes only.
Are there any possible side effects of administering bee pollen for dogs with allergies?
If introduced without a thorough check-up, your dog may become susceptible to:
Itching and eruption of skin rashes

Mild or severe allergic reactions

Vomiting

Chronic diarrhea

Excessive drooling or panting

Loss of appetite, etc
Even though consumption of bee pollen in dogs has no known side effects, these are a few of the most common consequences that the canine may have to suffer. To make it worse, if your woofer has a pollen allergy, then he/she may end up with much more severe health issues, requiring to be treated on an emergency basis.
Hence, to prevent such heartbreaking situations and make sure that the supplement is not being overfed, a detailed discussion with your pup's vet is a must.
You may also like:
Best Dog Allergy Test Kits for Spaniels [2022]- Features, Price, Buyers Guide
Best Knuckle Bones for Dogs with Separation Anxiety
If you are a dog lover then, Subscribe to our weekly newsletters. No Spams!