Now who doesn't love chocolate!!! But what if I say you can now see your favorite food item in the form of an adorable Cocker Spaniel???
And NO, we aren't saying that this canine will be coming in the shape of a grand sized chocolate bar, but more like with the delicious color on its coat. Amazed, right??? Okay, so let's start with today's topic where we will be discussing the beautiful and regal Chocolate Cocker Spaniels.
What is a Chocolate Cocker Spaniel?
Much similar to its name, a Chocolate Cocker is a variably coloured Cocker Spaniel. Also supposed to be liver or brown colored, these canines in reality have a roan patterned coat that gives them this special appearance.
These pups typically have the markings on a bold black or white undercoat creating the desired coat colors. So for instance, if your pup is exhibiting a darker chocolate roan, their coat consists of a black undercoat with a liver secondary coat. This combination gives them a much darker complexion and can be found in both show and field cockers.
Apart from that, several other variations can also be found, including chocolate and tan (liver and tan), and a chocolate and white coat type (liver and white). This predominantly depends upon the gene mutations of their coloring chromosomes which appears way later in their life. Until then even professional breeders have a hard time denoting their coat color.
Origin History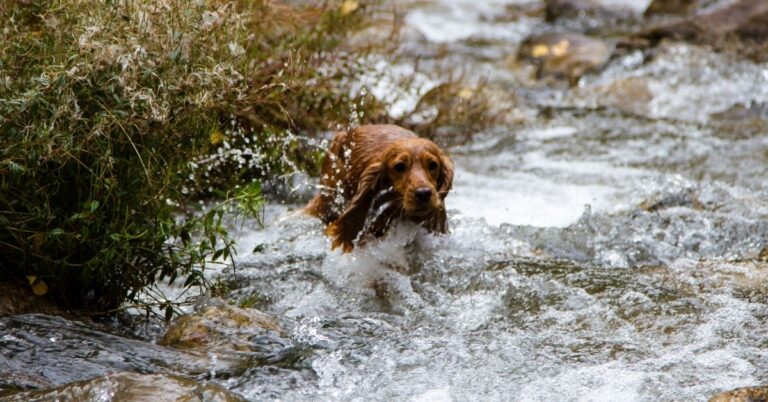 Chocolate Cocker Spaniels have originated since the very introduction of the Cocker Spaniel breed in the world, with the only thing being their rarity. So, unlike their more common counterparts, these pups are often marketized with sky-high prices by unethical breeders to oblivious pet parents.
Thus, it is essential to understand that the canines are much more of a differently colored creature, rather than being one of the new Cocker Spaniel hybrids. Similarly when it comes to their emergence, the origin of this particular roan type is still under wraps as it could have been the result of accidental gene mutation or an intentional variation.
How does a Chocolate Cocker look like?
Likewise other Cocker Spaniel coat types, the chocolate cocker also comes with similar physical attributes. They too have a short head, with almond shaped eyes, a short muzzle and layers of fur adorning their whole bodies. Further, depending upon the show or field category, they could exhibit an athletic, sturdy stature or have a gentle, fluffy appearance specifically for dog show competitions.
The coat colors can be bolder or have a light appearance, based upon their parents progeny and the severity of gene mutation. The same also goes for their eyes, with black and brown eyes being the most common out of them. Additionally, their height and weight measurements match the typical Cocker Spaniel calculations, as the canine is typically a small-medium sized breed.
How long do these pups live for?
Known to be a fairly healthy breed, the average life expectancy of Chocolate colored Cocker Spaniels ranges between 10-15 years. Although they could be predisposed to Cocker-related health conditions, a lot of them live an issue-free, happy life, given that they have been properly bred.
Thus, until and unless the breeders aren't breeding two physically unfit chocolate cocker spaniels, the litter won't have much health risks.
Are there any color specific health risks of this coat type?
The roan coat pattern type may induce:
Heightened risks to skin allergies and infections

Low tolerance to sun exposure

Progressive Retinal Atrophy

Albinism

in their nose and paw pads
Pet parents need to remember that similar to the rarity of their coat appearance, the woofers could have susceptibility to these medical conditions. Hence to avoid this, dog experts often advise getting these beautiful regal pups from professional and knowledgeable breeders only.
A good breeder will always keep their clients informed about any future issues that the little pooch could have which could be used for early diagnosis and treatment.
Are Chocolate Cockers good dogs?
There is no conclusive proof that the coloring of a pup affects their personality or temperament. And hence categorizing Chocolate roans to be aggressive or not fit as forever companions is never wise. They generally exhibit the same characteristics of any other Cocker Spaniel puppy, with a fine mixture between liveliness, playful attitude and a loyal, bold nature.
But, if the upbringing is rather abusive, then whatever the pup's persona comes out is completely the owner's fault. When subjected to harsh actions or hard core training that requires them to be hit, the canine will definitely run away or fight back as self defense. This in turn could make your pooch snappy or hyper aggressive when cornered, making them emerge as highly unpredictable canines that could be a 'High risk factor' to people and other animals.
Such pups, if proven to be a danger, are confiscated from their owners or worse, euthanized. Therefore, being a responsible pet parent, your first and utmost duty is to properly train your Chocolate Cocker Spaniel using the right methods. Positive reinforcement training and early-on socialization are the key to a civilized pup, and hence must be strictly followed.
Furthermore, these methods also come handy in teaching your fur baby anything from basic tricks to participating in the very-popular Cocker Spaniel field trials. Doing so will help you forge your bond even tightly and create many rejoicing memories for both you and your pooch.
Are these Chocolate Roan Cockers intelligent?
Chocolate roan Cockers much like their other Cocker counterparts are known for their eagerness to please their master. The pups are very intelligent which makes them comparatively easier to train. They also love to work and support their parents in their daily chores adding to their popularity all over the world.
Moreover, according to the Stanley Coren's Book – The Intelligence of Dogs, these puppers rank amongst the top 20 intelligent dog breeds in the world. With the English Chocolate Cocker Spaniel maintaining its position as the 18th most intelligent canine, the American Cockers come at the 20th position.
Thus, based upon the parents used for breeding, your chocolate roan pupper can have the English genes or American genes of intelligence. But nonetheless, there is no doubt that these pups make an amazing partner for both active and chilled out parents.
How much does a Chocolate Cocker Spaniel puppy cost?
With their popularity soaring high, pet enthusiasts have shown a huge inclination in having one of these puppies. And this very reason in addition to their rarity has spiked their ever-so-high prices even more.
Depending upon the chocolate roan variations, the price of a well-bred Chocolate cocker can go anywhere between $1200-$1800. The same goes even higher in case the parents were accorded as 'Show or Field champions', as such breeds make an amazing litter of puppies if bred the right way.
However, BE AWARE!!! Not every chocolate roan cocker that you come across deserves the price. Many-a-times fraud breeders escalate the prices solely based upon the fur color without informing the potential parents any other essential information. Therefore, to stay safe and ensure a happy, healthy life to the pups conducting your own research is very crucial.
For this, you might want to start with getting to know more about the breeders, the breeding methods used, parents' progeny and medical histories, etc. There are a myriad of things that one needs to know before bringing one of these puppies home, and hence never be too afraid to ask.
For more interesting updates do subscribe to our mailing list and always stay on the top.
If you are a dog lover then, Subscribe to our weekly newsletters. No Spams!