Well the answer for this is both a YES and a NO. Using Half Choke Collars on Dogs is completely safe and useful when they are being used in the right manner. However, if they are used to especially punish the dogs or bring them into forceful submission, then most definitely this is counted as a cruel act. So based upon their particular use, the final answer is to be decided.
What are Half Choke Collars?
Also popularly known as half slips or martingales, half choke collars offer a somewhat different working than full-choke or prong collars. They are most often a mixture of a fine leather or microfiber based collar coupled with a little bit of choke system.
This special design when used correctly prevents the dog from running away or indulging in other mischievous tasks, therefore improving the efficacy of the dog training session. This works when the handler puts a certain amount of pressure onto the leash which then tightens the collar around the dog's neck up to a limit.
So, rather than getting outright choked, as in full-on choke or prong collars, the canine is able to focus better on the task given. These collars snug gently around their fragile necks and hence can be really beneficial upon proper usage.
How does a Half Choke Collar work?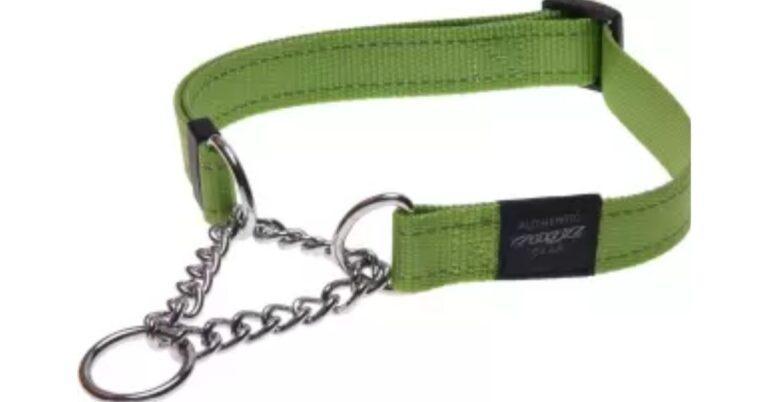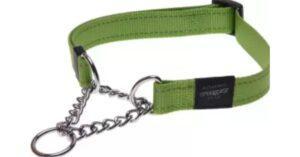 First of all let's start by understanding the composition of a half choke collar. In simple words these collars as mentioned above are made up of a nylon or leather webbing which is connected with a small chain to offer adjustments.
But in reality, this small chain is actually the center loop that keeps the collar from slipping off the caine's head. This loop is further connected to the fabric with two metal rings at the sides. So, when given the optimal pressure, the center loop gently tugs the canine by tightening to a certain limit, preventing any mishaps.
Additionally, there is also a second loop that is embedded within the nylon or leather webbing and is known as the adjustment loop. When initially tugged, the leash pulls the adjustment loop which then tightens the center loop around the dog's neck. However, there's a certain limit to how much pressure one can apply on the adjustment loop, and hence there is no fear of strangling the dog.
So, Are Half Choke Collars Dangerous?
Even though choking hazards are very rare with such dog collars, everything comes down to how knowledgeable and experienced the owner is with them. With the continuous evolution of half choke collars for dogs, there are hundreds of different types and models that you can choose from. Thus, if you have never used one of these collar designs ever before, it is better to choose as per a professional's advice.
Based upon your canine's habits and neck girth the decision should be made. As a collar too tight or loose will only lead to frequent accidents, thereby risking both the pooch's and your safety. Similarly, if your canine has had a history of labored breathing, respiratory issues, a recent tonsillitis infection or surgery then use of these products are prohibited.
Even brachycephalic breeds should never be trained or contained using half choke collars as it may create issues if the adjustments are not made perfectly.
Are there any benefits of using Half Choke Collars?
Easy to Use
Unlike conventional collars with buckles or annoying straps, the half choke collars are just needed to be adjusted and directly put on. Just slide them over your dog's head and make certain final adjustments, and voila the pooch is all set to train.
No risk of getting out
Half Choke collars do a better job as compared to flat faced collars in keeping the canine secured. No matter how naughty your woofer might be, given its complex design, it is quite hard for the little one to get their head out of it. Thus, with any amount of tugging, twisting and what not, you can stay absolutely sure that your fur baby will stay safe and under your control until the collar is perfectly adjusted and in its place.
This is also the reason why most dog trainers advise pet parents to introduce half choke collars to aggressive canines or dogs that are undergoing advanced training sessions.
A safety measure
Every year the USA alone reports thousands and thousands of hit and run cases, where dogs get into the traffic and are hit by oncoming traffic. This usually happens during walks, and hence if you want to better protect your dog, a properly sized half-choke collar is recommended.
You never know when your perfectly well-behaved dog could go ballistic upon watching another animal pass by or is spooked by something. If this happens, it can initiate a fight or flight response, endangering both the canine's and your safety, in case the dog starts dragging to the other side of a busy road or manages to roll off his head out of the collar.
Hence to be on the safer side, you can choose to invest in one of these products. This way the pupper won't be able to get its head out of the collar, leaving you ample time and control on your hand to calm them down.
A lesser risk to their coat
Many-a-times using regular collars leaves a deep 'collar mark' on the area where it was initially bound, destroying the overall visual aesthetics of your puppy's fluffy coat. Thus, if you have a dog that is considerably fluffy or has a large mane around their neck, then also half choke collars are a better option.
They go easy on the woofer's coat, leaving no such marks, regardless of how long and extensively they are used. However for best results, always choose high quality half chokers and make sure to never leave them too tight.
Aids in sound training
Ultimately, the last advantage of using such an accessory is that canines easily get used to it in a matter of a few days. Thanks to their distinctive design, adding pressure to the collar produces a rasping or in some cases a clicking noise.
When used repeatedly, the canine associates the sound to being in the wrong which aids in faster learning of good behavior. All of this works similar to clicker training. And furthermore as there is no hurting the dog in any way, it can also count as a positive reinforcement training method.
What are the possible disadvantages of using these products?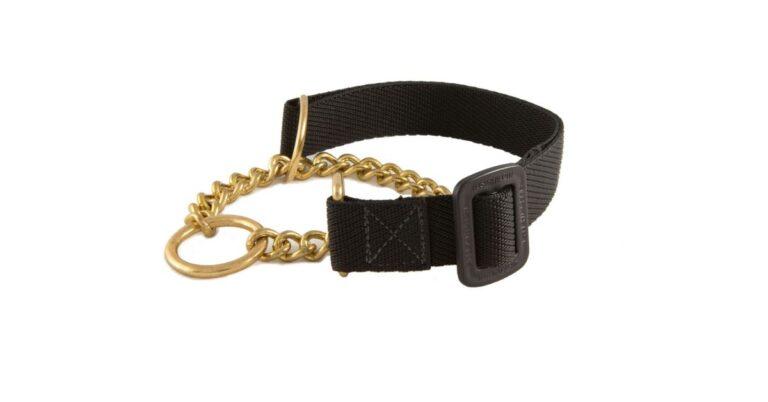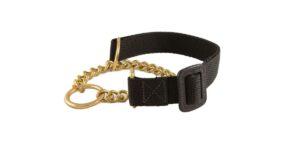 Potential Tightening around the Neck
Although half choke collars are known for their easy and relatively safer coverage, when used too tightly or loose it can strangle around the dog's neck. This could in turn cause severe discomfort to the canine, with a higher chance of other severe side effects like harm to their windpipe, whiplash, and even injury to their spinal cord.
Therefore to prevent such cases, pet experts advise going for a size that perfectly fits their dog's neck girth. However, if you don't want to take any chances, you can also take them to your nearby pet store and have the store personnel decide the right accessory for the pooch.
Not suitable for tuggers
Similarly, if your pup is a violent tugger, then using half choke collars, or any choke collars for that matter is a big no. While their design does aid in keeping your balance as well as control over the woofer, repeated and forceful tugging or twisting can lead to many issues. This includes crushing of the trachea, fracture of the larynx bones, dislocated neck bones, damage to the coat and skin, severe injury to the esophagus, etc.
In such cases, it is better to invest in a front-lead harness that goes around their front body and shoulder blades as it gives both control and ensures safety. Unlike the collars, the front-lead harness puts pressure on their back and shoulder bones, which is far stronger and sturdier than their neck.
How tight should I keep the Half Choke Collar?
To get the perfect measurement, follow the below-mentioned steps.
Get your dog into a sitting position.

Take a soft tape and measure the area around your dog's neck. Make sure to tighten the tape as you would want the collar to fit.

Take the measurements and then buy a good quality half choke collar from a nearby pet store or from online platforms, as desired.

Once you have the half choker, slip it over your dog's head. Check if the fitting is right and only proceed if the tightness is exactly as you wanted. If not you can go for a size higher or lower, but never try to compromise with the wrong collar measurements.

Next pull the collar right up until the behind of the dog's ears to make final adjustments. This is where conventional collars usually slip off and therefore giving proper attention to this area is a must.

When behind the ears, the control loop should close upon pressurizing the D-ring.

Mark the distance between the two metal rings when the control loop is in its closed position. If it is too loose, the rings will touch, requiring you to do the adjustments again.
However, no matter what don't forget to read and strictly apply the instructions mentioned on the half choke collar package. Some half chokers differ from each other, and hence careful attention is a must.
Conclusion
So, as we can see from everything discussed in this blog, there is no definite answer to the usage of half choke collars on dogs. It solely depends upon the owner and what methods they are using the collars for. While fair use of the accessories can be greatly beneficial, using them for punishment or other nasty things is an unforgivable sin that no responsible pet parent should do.
You may also like:
Ten Best Alternatives to Muzzle for Dog Barking at Night
Reference
If you are a dog lover then, Subscribe to our weekly newsletters. No Spams!