Although dog bowls may seem like a standard purchase, it is not only their visuals that you should consider when opting for them. Starting from their holding capacity, manufacturing materials, height adjustments and other specific needs, the choice should be made.
Out of all available dog bowls, here are some of the best elevated dog bowls that are specifically designed to meet your pooch's needs. The list includes: Sunmeyke Stainless Steel Elevated Dog Bowl Stand, PetFusion Bamboo Elevated Dog Bowls, Pawfect Pets Elevated Dog Bowl Stand, URPOWER Elevated Dog Bowls, yoken Elevated Dog Bowls, and the OurPets Comfort Diner Elevated Dog Food Dish. Each of these products come bearing unique features that not only makes the feeding experience comfortable but also completely safe for the canine.
To understand better, here's a breakdown of what to expect from every single of the above-stated names.
Our Top Picks
Sunmeyke Stainless Steel Elevated Dog Bowl Stand
Arriving in a superb black finish, the Sunmeyke Stainless Steel Elevated Dog Bowl Stand is no wonder the first choice amongst pet parents. This easy-to-adjust stainless steel design is made up of sturdy base materials and can easily adapt to any height requirements your pooch may want.
Weighing 8.8lbs, the brilliant design also adds stability to the whole structure, making it rather difficult to tip over. So, no matter if the pooch is over-excited during mealtimes or is known to show temper tantrums over food spills, this elevated dog bowl will be a good investment. The legs are easy to move into different sides, and therefore changing the bowl stand's height is not much of a hassle.
Additionally, the product comes over with two 1.3l stainless steel bowls which can easily hold a decent amount of their feed, without the risk of their spilling.
Pros:
Supports 8 height adjustments

Ideal for all life stages and canine breeds

Anti-skid rubber pads for added stability

1.3l stainless steel bowls

Easy to clean and store

Five-year warranty on the stand
Cons:
PetFusion Bamboo Elevated Dog Bowls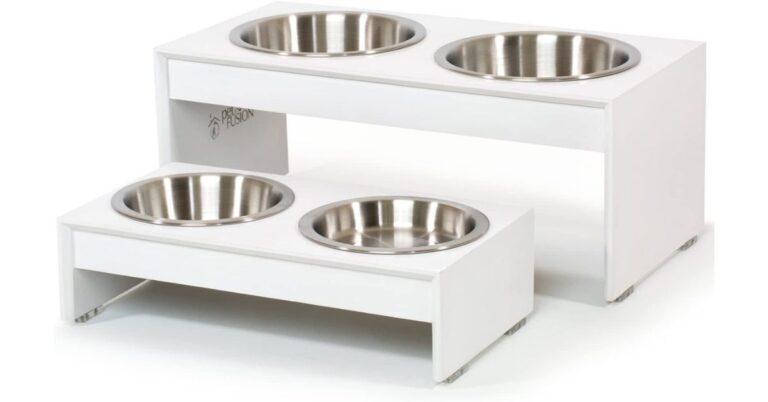 A visually appealing sturdy bowl structure, the PetFusion Bamboo Elevated Dog Bowls are the next hit choice in both online and offline platforms. Made up of only the best quality bamboo from dedicated plantations, this particular model comes in two variants, including a 8" and a 4" height elevated dog bowl design.
With the tall version made for medium and large dog breeds and the shorter one suitable for smaller ones, the whole design is water resistant and long-lasting. This is because apart from the beautiful white and leather brown finish, an additional 3 layers of waterproof coating is applied. Thus, no matter how they are cleaned, pet parents don't have to worry about infestation by termites or crusting of the particles.
Pros:
Modern design with easy-to-care materials

Sturdy and long-lasting

Available in two sizes

3 coats of water resistant seal

Deep enough bowls with anti-slip insets and feet
Cons:
Comparatively lightweight than Sunmeyke Stainless Steel Elevated Dog Bowl stand
Pawfect Pets Elevated Dog Bowl Stand
One of the most popular elevated dog bowls for pooches suffering from arthritis and gastric issues, the Pawfect Pets Elevated Dog Bowl Stand comes with a spill proof design, weighing 6lbs. This makes the model a treat for pet parents with medium to large dogs, as the weight makes them unable to trip over the stand easily.
Additionally, the set also comes with four stainless steel bowls, allowing pet parents to seamlessly switch between the utensils throughout the day. To add more stability, these bowls are further supported by silicone pads that keep the bowl intact when the pooch is eating from it. Also thanks to this very feature there is less mess as none of the food items escape through the pads.
Interested pet owners can choose from the several height options of the product depending upon their pooch's individual requirements.
Pros:
Water resistant sealant for long lasting efficiency

Best for canines with arthritis, neck strains, and gastrointestinal disorders

5 size options

Silicone pads keep the bowls in place

6lbs weight
Cons:
Relatively features a poor built as compared to the above two options

Doesn't provide protection against black mold
URPOWER Elevated Dog Bowls
An elevated dog bowl that grows along with your fur baby, the URPOWER Elevated Dog Bowls are a great investment choice. This easy to adjust stand is an ideal choice for pups that have been diagnosed with arthritis problems or have a bad time adjusting to bowls at ground level. Just a few adjustments and voila, your pup can enjoy their meal times without straining their muscles more.
This stand arrives with two stainless steel bowls, anti-skid rubber pads at the base and is dishwasher safe. Together all of these features provide the product with long lasting sturdiness and durability, making it an efficient choice for pet parents within a budget.
However, given its plastic manufacturing, the URPOWER elevated dog bowl stand is not as strong as other wood and stainless steel options. Moreover, the extreme lightweight design may also be both advantageous as well as disadvantageous based upon the situation.
Pros:
Anti-slip design

Adjustable into 4 heights

Dishwasher safe

Bowls are of premium stainless steel manufacturing
Cons:
Can easily tip over

Plastic design is relatively less sturdier
yoken Elevated Dog Bowls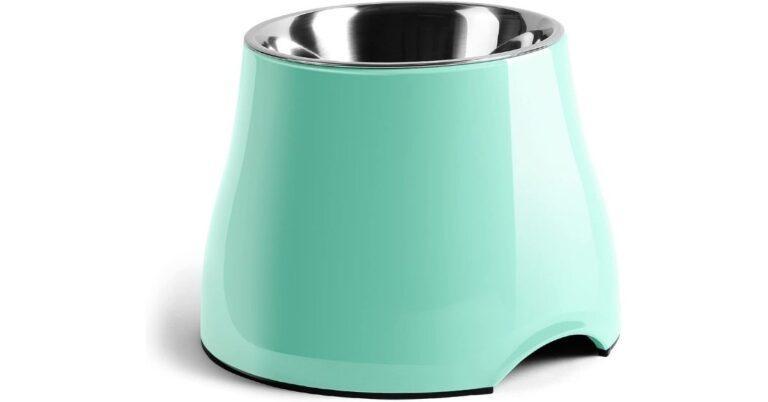 A bowl design that suits both home and travel purposes, the yoken Elevated Dog Bowls are also highly recommended by leading veterinarians. Given its unique raised melamine stand, bowls can be fit into higher positions, letting pups with cervical spondylosis and other neck strain issues eat and drink comfortably.
To make it even more convenient and less messy, the BPA-free bowls are supported with silicone-based anti-skid strips from the bottom. As a result, the bowls stay intact in their position without risking tipping or spilling of the food or water from inside.
Finally, easy to store and transport, the structure comes with curved designs at the base that aid in their seamless picking. So, pet owners don't have to struggle anymore with their picking and placing when it's mealtime.
Pros:
Vet recommended for canines with health issues

Arrives with rust-resistant stainless steel bowls (2)

Sealed off bowl placing system

Supports dishwasher cleaning
Cons:
Suitable only for small and medium sized dogs

Holds only one bowl at a time
OurPets Comfort Diner Elevated Dog Food Dish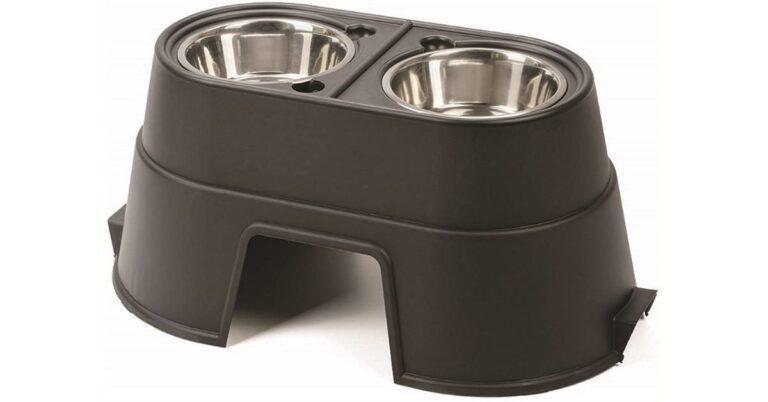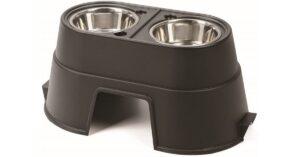 Finally, the OurPets Comfort Diner Elevated Dog Food Dish makes up for our last most preferred elevated dog bowl design. Arriving in a matte black finish, this elevated dog bowl features two high-quality stainless steel bowls which can be seamlessly configured as an auto-fill pet water bowl with a few simple steps. Just remove one of the bowls and attach any two-liter water bottle to the designated opening and watch as the bowl gets filled with fresh water.
Manufactured in three different sizes, this model is best suited for all sized dogs. The heightened bowl positioning reduces extra pressure on their muscles and also aids in faster and efficient digestion. Additionally, the structure is extremely lightweight, portable, top rack dishwasher safe and super-easy to store.
Pros:
Highly affordable

Ideal for all sizes and life stages

Can be configured into a constant water supplier

Easy to carry and store

Top rack dishwasher safe
Cons:
Relatively poor-quality base materials

Lightweight stand design may trip over

No support available for holding the bowls intact
Conclusion
Choosing the right elevated dog bowl for your pooch can be an arduous task. A simple mistake could cost you greatly and therefore checking with a licensed vet is often beneficial. You can also go through their individual specifications carefully from online and offline platforms, compare and then proceed ahead with the purchase.
Check out our other interesting blogs:
Best Dog Ear Cleaning Solutions
Best High Fiber Dog Foods for Anal Gland Problems
If you are a dog lover then, Subscribe to our weekly newsletters. No Spams!