Cocker Spaniels, with their distinctive looks and joyful demeanor, have always been a beloved breed. One frequently asked question about these dogs is their affinity for water. In this detailed guide, we will deeply understand why Cocker Spaniels like water, highlighting their historical significance, inherent water-related traits, and the best practices to ensure a positive experience.
Do Cocker Spaniels like water?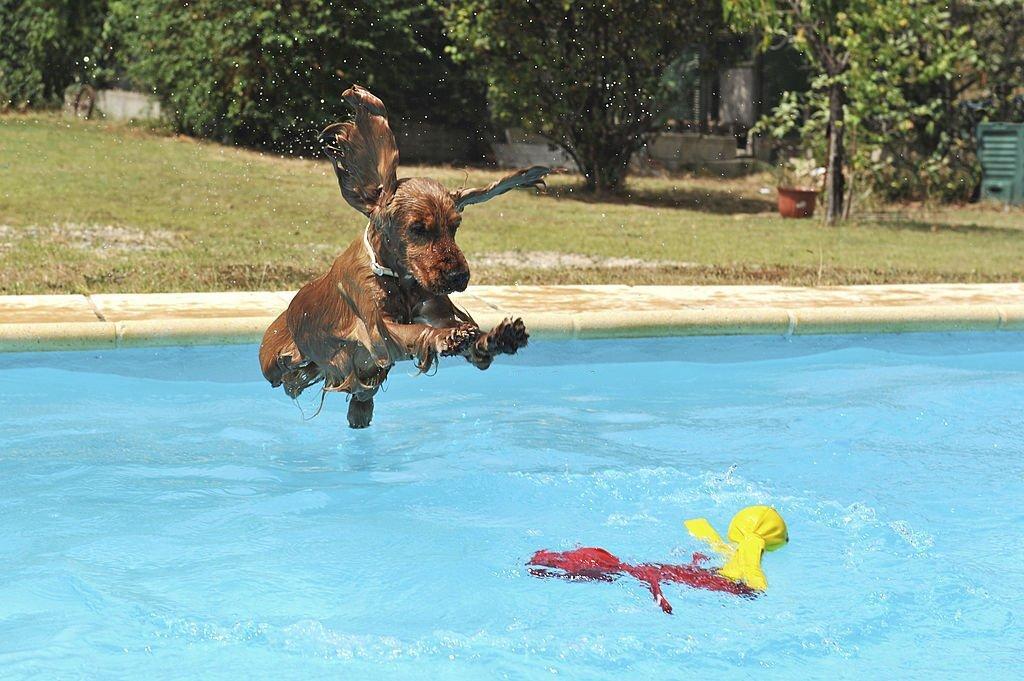 Cocker Spaniels have a natural inclination towards water, given their bird-hunting ancestry. Many enjoy swimming and splashing, relishing water-based activities. However, individual experiences vary: while some are eager swimmers, others may be more reserved. A proper, gentle introduction to water is crucial to determining and fostering a positive response. In essence, many Cocker Spaniels do like water, but individual preferences can differ.
Historical Background 
The history of Cocker Spaniels with water is very long. Originally bred as working dogs, they were masters at fetching game from water. Their sharp senses and nimble bodies made them top-notch at this job.
The Ancestry of Cocker Spaniels 
Hailing from Spain, Cocker Spaniels became experts in Spain's marshy landscapes, especially when it came to catching water birds. Their compact size was ideal for moving through thick bushes, and their amazing nose helped them easily find their target.
Physical Attributes Aiding Cocker Spaniel's Love of Water 
Dense Double Coat
One of the most defining features of Cocker Spaniels is their luxurious double coat. Not just a mark of beauty, this thick coat plays a crucial role when they're in the water. It acts as a buoyant jacket, allowing them to float and swim easily. Moreover, it offers insulation, ensuring that they remain snug and warm even if they dive into colder waters.
Webbed Feet
At a glance, it's easy to overlook the unique structure of their feet. However, those slightly webbed toes are nature's own design for a perfect swim. Acting much like flippers do for divers, these webbed feet give Cocker Spaniels an edge, propelling them forward with more force and agility when they paddle.
Inherent Traits and Temperament of Cocker Spaniel For Water Sports
Curiosity
If you've ever observed a Cocker Spaniel temperament, you'll note that they're innately curious creatures. Every new scent, sight, and sound beckons them to explore. And their intrigue knows no bounds when it comes to water sources – be it a babbling brook, a serene pond, or even a splashy puddle. They're naturally drawn to investigate, leading them to dip their toes and, often, plunge right in.
Playfulness
Water isn't just a source of curiosity for Cocker Spaniels; it's a playground. The playful nature of Cocker Spaniels turns ponds and streams into arenas of joy. Watch them frolic, splash, and chase after ripples – every water body becomes a space to unleash their boundless energy and delightful antics. 
Health Benefits of Water Activities For Cocker Spaniels 
Physical Exercise and Muscle Toning 
Joint Strengthening: Swimming improves the clinical functions of Cocker Spaniels. The resistance provided by water gives their joints a gentle but effective workout. As they paddle, turn, and play, each movement is met with gentle resistance, strengthening their joints in the process.
Osteoarthritis Pain Relief: Water buoyancy reduces the stress on painful joints, allowing Cocker Spaniels to move freely. This aquatic environment provides a soothing space for them to exercise without the typical strain and discomfort associated with osteoarthritis.
Proven Benefits through Studies: Research has showcased the wonders of hydrotherapy for dogs. Specifically, those suffering from elbow dysplasia experienced marked improvements in their mobility—be it range of motion, stride length, or stride frequency—after sessions in the water.
Mental Stimulation and Stress Relief 
When Cocker Spaniels swim, they're not just exercising but indulging in an activity that liberates them from any pent-up stress or tension. This freedom experienced in the water provides an unparalleled sense of relief and relaxation.
Moreover, swimming introduces them to an entirely different environment. The constant motion, water resistance, and the need to navigate through it offers a consistent source of mental stimulation. Their brains remain sharp, alert, and active by keeping them busy in such an engrossing activity.
Encouraging Hydration 
Swimming is undeniably beneficial for Cocker Spaniels, offering a mix of exercise, mental stimulation, and pure fun. However, like all physical activities, swimming can take a toll on their hydration levels. When your Spaniel swims, especially in salt water, their coat absorbs this water. Post-swim, it's essential to rinse or bathe them to ensure all remnants of salt water are removed. This not only keeps their fur in good condition but also prevents any unnecessary ingestion of sea salt when they groom themselves.
But hydration goes beyond just rinsing their coat. When engaged in water play, there's a temptation for dogs to drink the water they're playing in. Whether it's the sea or a pool, this water isn't fit for consumption. Sea water is salty, which can dehydrate them, while pool water contains chlorine, a chemical that can cause increased urination and further dehydration if ingested.
To counteract this, always have fresh water on hand when near water bodies. Offering your Spaniel clean drinking water ensures they quench their thirst appropriately, reducing their inclination to consume harmful water keeping them safe and hydrated.
Water-Related Activities Cocker Spaniels Love 
When it comes to water, Cocker Spaniels aren't just content with a simple swim; they have an innate love for various water-based activities. Here's a dive into the favorites:
Fetching Toys from the Waters
If there's one thing that can rival a Cocker Spaniel's love for swimming, it's their passion for play. Merging the two, water toys become the perfect indulgence. Notably, some toys have caught the fancy of many a Spaniel:
CoubonTail Dog Squeaky Toys are perfect for their buoyant nature and squeaky appeal. Whether it's pool play or beach fun, these toys promise hours of engagement.
With its interactive features, the Outward Hound Floatiez Stingray toy ensures your Spaniel remains captivated and active in the waters.
Diving Challenges
For those seeking structured water fun, diving challenges are the way to go:
Dock Diving Challenge: Here, activities like Distance jump let your Spaniel compete in long jumps from a dock. Dangle Snatch challenges them to jump vertically to grab a suspended toy, while Catch and Snatch combine the thrill of fetching a toy tossed into the waters.
Water Agility Courses
For a mix of health and fun, water agility courses stand out. These typically include:
Underwater Treadmill: A controlled environment where dogs can exercise without stressing their joints.
Swimming: Beyond leisure, structured swimming sessions provide comprehensive exercise.
Whirlpool Therapy: A therapeutic session that massages and soothes their muscles.
Warm Water Therapy: Beneficial for older dogs or those with joint issues, providing relief and mobility improvement.
Precautions for Safe Water Play 
Water play can be a refreshing escape for your Cocker Spaniel, but ensuring their safety is paramount. Here's how you can make sure your furry friend has a safe and fun time in the water.
Venturing into Unknown Waters
When introducing your Spaniel to new water sources, caution is key:
Safety First: Until you've ascertained that a new water location is safe for swimming, always keep your Spaniel on a leash. This allows you to prevent them from diving into potentially unsafe zones.
Training: Instill in them the habit of not drinking from unfamiliar water sources. This protects them from consuming harmful substances or bacteria. 
Beware the Chlorinated Pools
Chlorinated pools, while often pristine, carry risks for your Spaniel:
Potential issues include dry hair, skin dryness leading to abrasions, especially around the armpit areas, and redness of the eyes.
More severe complications might arise such as otitis (ear infections) and gastrointestinal upsets after ingesting chlorinated water. A deeper dive into these side effects can be found on ResearchGate.
Maintaining Hydration Safely
To prevent your Spaniel from consuming potentially harmful pool or sea water:
Fresh Water Supply: Always have a bowl of clean drinking water near the play area. Familiarize your Spaniel with this source and reward them whenever they drink from the bowl, reinforcing the habit.
Post-Swim Monitoring: If your dog seems lethargic after a swim or displays signs of water intoxication, contact your vet immediately.
Water Fears: Do all Breeds of Cocker Spaniels Like Water?
It is commonly believed that all Cocker Spaniels have an innate love for water, but like humans, they have individual preferences. Let's explore this dynamic further.
Water Apprehension: Not Every Spaniel Dives Right In
Contrary to popular belief, not all Cocker Spaniels have an instant affinity for water:
The Underlying Fear: A subset of spaniels hold a genuine fear of water. This can be rooted in a past traumatic event associated with water.
The Unfamiliar Feeling: For some, the sheer unfamiliarity of water under their paws gives them an uneasy feeling they're not prepared to tackle.
Easing Water Fears: Gentle Steps Toward Comfort
If your Cocker Spaniel is water-wary, patience and gradual exposure can help:
Start Small: Begin with puddles or garden sprinklers. These smaller, controlled water encounters can be less intimidating.
Shore Strolls: Walking them along the edges of ponds or lakes allows them to grow accustomed to larger water bodies at their own pace.
Positive Reinforcement: Celebrate their small victories. Treats, praises, or gifts when they approach or touch water can build their confidence.
Respecting Their Boundaries
Understanding and respecting your dog's feelings is crucial:
Avoid Force: Never throw them into water against their will. It can exacerbate fears.
Trust Their Instincts: Just like humans, dogs have gut feelings. Trust their judgment when they shy away from certain experiences.
Stay Calm and Gentle: Using a calm and reassuring voice can provide them with the comfort they need.
Proper Aftercare Following Water Play 
Engaging in water play can be a delightful experience for your Cocker Spaniel, but the aftermath requires careful attention to ensure your pet remains clean and healthy. 
Rinsing off contaminants
Start by gently combing out their coat to free any tangles, ensuring a smooth base for the next steps. Rinsing with a quality dog shampoo and conditioner not only helps eliminate contaminants but also nourishes the coat, leaving it soft and shiny. Always ensure you select products designed for dogs, as their pH-balanced formulas are tailored to suit a dog's skin.
The ears are a crucial area that can't be overlooked. Moisture trapped in a Spaniel's floppy ears can lead to infections. Using a specially formulated ear cleanser can help cleanse and maintain the ear's health, preventing complications.
Drying techniques to prevent infections
Opt for super-absorbent towels specifically designed for dogs when it's drying time. They efficiently wick away moisture, speeding up the drying process. A gentle blow drier in a cool setting can be used for quicker results. However, if you prefer a more natural approach, allowing your Spaniel to air dry works just as well. There are also instant drying products available, which can expedite the process. Alternatively, consider taking your Spaniel to a trusted groomer for a thorough and professional touch after their water escapades.
Addressing Common Causes 
When your Cocker Spaniel takes to the water, two primary concerns arise.
Ensuring infection and Water 
Water activities, especially swimming, increase the risk of ear infections in dogs. The symptoms are often unmistakable. If your dog exhibits signs such as a foul odor from the ears, visible discharge, redness, swelling of the ear canals, or if they constantly scratch their ears, resulting in scabs, they might be suffering from an ear infection.
Treatment primarily involves antibiotics or antifungals, depending on the nature of the infection. It's crucial to keep the ear area dry to aid in healing and provide relief. Regular ear cleaning can ward off potential infections. For avid swimmers, consider earplugs for your Spaniel. After every water session, ensure their ears are dried meticulously. 
Ensuring they don't swallow harmful water 
Swallowing contaminated water can have detrimental effects on your pet's health. To prevent this, always supervise your Spaniel when they're swimming. By offering them clean, fresh water, you reduce their urge to drink from questionable sources. Engaging them with toys can distract them, keeping their mouths occupied. If your dog has a habit of gulping down large amounts of water while swimming, consider using a muzzle as a precautionary measure.
End Thoughts 
Cocker Spaniels, with their history as bird-hunting companions, often show a natural inclination toward water. However, just like humans, every dog is unique. While many Cocker Spaniels enjoy splashing and swimming, others might be hesitant or even fearful. It's essential to introduce them to water gently and ensure their experiences are positive. 
FAQs
What do cocker spaniels love the most?
Cocker Spaniels are known for their playful and affectionate nature. What they love most is spending quality time with their human companions. Whether it's a game of fetch, a long walk, or just cuddling on the couch, these dogs thrive on attention and social interaction. They also have a natural affinity for chasing, so toys that engage their hunting instincts are often favorites.
Do cocker spaniels need baths?
Yes, Cocker Spaniels do need regular baths. Their long, silky coats are prone to matting and collecting dirt. However, over-bathing can strip their fur of essential oils. It's generally recommended to bathe them every 4-6 weeks, depending on their activity level and how dirty they get. Always use a gentle dog shampoo, and consider brushing their coat regularly to keep it clean and tangle-free.
How long can Cocker Spaniels hold pee?
Adult Cocker Spaniels, like most dogs, can typically hold their pee for about 6-8 hours. However, it's important to note that forcing them to hold it for extended periods regularly is not good for their health. Puppies will need more frequent bathroom breaks, often every 1-2 hours. As a guideline, ensure your Cocker Spaniel has access to a bathroom spot every few hours to ensure comfort and health.
If you are a dog lover then, Subscribe to our weekly newsletters. No Spams!