As a pet parent of two naughty canines, I have come across thousands of bizarre actions. However, the one most baffling instance was when I saw my dog sleep under my bed, even though he had a perfectly comfortable and rather new cozy dog bed for him.
This had me thinking if he was spooked by something or was there any hidden treasure under my bed, but after a quick phone call with my vet I soon got all the answers.
Why does my Dog Sleep Under my Bed?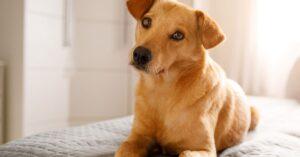 Well to start off, there are a number of reasons why my canine loves to sleep under my bed. A dog might choose to sleep under your bed even when he/she is perfectly fine or when he/she has had a bad day and needs some privacy or a sense of security.
We will be covering each of these aspects below in a detailed manner, so make sure to read until the end.
The Feeling of a Den
In earlier times, dogs used to sleep inside dens alongside their humans which has now been replaced into super glamorous mansions and what not. However no matter whatever happens, sometimes the ancestral instincts stay, making them do the same actions that they used to do in their previous years.
So, if suddenly you witness your pup trying to squeeze into the space under your bed, there is no need to be worried. It is simply that the little Fido is re-living its ancestral habits and therefore letting him do it peacefully is what's best.
SOLUTION- This instinct comes and goes, just like in my canines, and hence there is not much need of forcing them to be normal. But if it continues for a long time, then seeking a professional's attention is best for both the woofer and you. This way you will be able to better track their interests and make sure they are both physically and mentally healthy.
For Feeling Safe
The next reason as to why my dog sleep under my bed as concluded by my vet was because he was afraid of something. It could have been due to fireworks, thunderstorms, or any loud noises that might have startled him. And thus to seek safety, my pups may have decided to tuck themselves into the darkness under my bed.
Being in the bedroom means he will be in touch with familiar scents and surroundings, while staying unapproachable from others. This will help him eventually calm down and maybe fall asleep. Moreover, there could also be a number of secondary signs of fear, including whining, tail tucking, being snappy, body shaking, pacing everywhere, and even accidents here and there. Hence, if you suspect that the canine is scared, then looking out for these telltale signs and symptoms can come handy.
SOLUTION- In such cases, try identifying the triggering factors, that could be a loud noise, something strange, a person or even another animal. Once successfully traced, remove your canine from the spot to prevent further worsening of the situation. Next let them find their place wherever they feel safe, that might be under your bed, amidst your piled up clothes, or under your sheets. You can simultaneously console them with your presence, play some calming music, and pat them to sleep.
Comfort & Privacy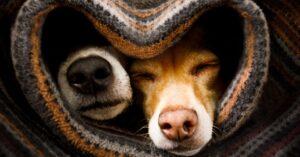 Many-a-times the reason why your dog prefers sleeping under the bed is because the spot is really cozy for them to sleep in. It could be due to various factors. For instance, the carpet might be softer than their bed or it smells nice, the temperature and lighting is just right, or they want their "me" time.
A dog might want to sleep all alone when it is always surrounded by people and other animals. This is a personal choice and therefore respecting our canine's needs from time to time is the sign of good pet parenting.
SOLUTION- Unless it happens too frequently, it is completely okay for your canines to have a peaceful sleep wherever they feel comfortable. Although you might want to clean the space more regularly so that their coats don't get all dirty and dusty.
They're in pain or suffering from mental disorders
While all the above points are on the average side of the scale, in case the pup seems agitated or exhibits extreme fearful actions, then other heartbreaking causes might be at play. This could be anything from a severe stomach pain to an underlying chronic health condition or even stress and anxiety in canines.
When such causes are the reason behind your dog wanting to sleep under your bed or anywhere that is unreachable, then seeking immediate help is the best bet to get them out of the dire situation.
SOLUTION- Be on the lookout for other secondary signs that may shed light on the exact cause and triggering factor. Take the canine immediately for a physical examination at the vet's clinic and follow through all instructions for their quick and safe recovery. Ignoring this will delay the improvements in their health and may even make them susceptible to other severe health concerns.
They miss you
The most instances of me walking into my dogs sleeping under my bed is when I had been out for work or was absent for a few hours. This tendency was described by my vet as their way of feeling connected to me and seek safety by staying as much close as possible to the places where my scent was the strongest.
Now even though I don't sleep under my bed for my smell to be lingering there (which would be definitely next level weird), another factor that could be the reason why they prefer the spot is because of the ambience. Generally, under the bed spaces are limited, dim lit and a little colder than the rest of the house. Hence, by cozying up to the space under your bed, your pet is simply trying to be close to you.
SOLUTION- A good option here would be to let your dog have a piece of your clothing that has your smell on it. You can put the cloth over their bedding or even better make them wear it. This way there would be a lot less chance of them trying to sneak under the bed and get out all dirty and dusty once you are back home.
They don't have a bed
Ultimately, the reason why your dog is sleeping under the bed is because he/she doesn't have his/her own bed. Even if they do have one, it might be too dirty, stinky or hard for them to enjoy a good night's sleep.
A sleeping place is like a personal spot for your canine and hence making sure it is properly taken care of at all times is an essential part of being a good pet parent. Without this, the little Fido will most likely search for other places which he can claim and use as theirs, rendering them to choose your under bed space as their resting spot.
SOLUTION- Always be mindful of your pet's sleeping and resting spots. You may also want to check if the bed is too dirty or hard to sleep on, and make any necessary changes as the situation demands.
Should I be worried if my dog sleeps under my bed?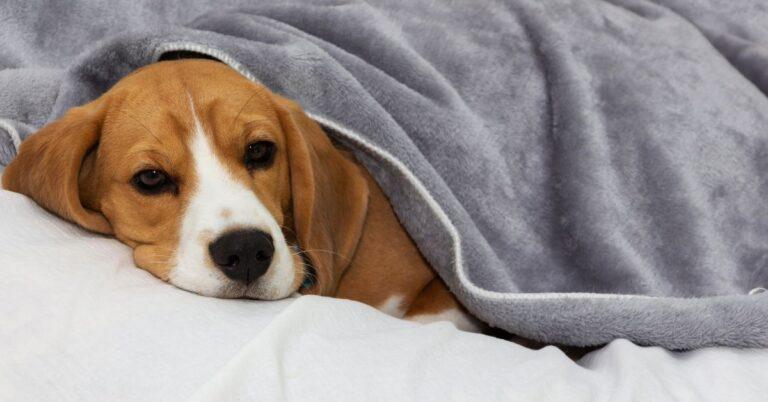 Even though the practice itself isn't a serious thing to be pondered over, the frequency of them doing so and other behavioral signs and symptoms could be a mirror to their exact issue. And so if your pup seems to be in stress, overly anxious, or extremely snappy lately, then getting them thoroughly checked by a veterinarian as well as a canine behavioral specialist is a must. This way you and your pup can overcome things before it's too late and the whole recovery process becomes expensive on your pockets.
Moreover, this will also help you look for other solutions, such as using crates, signing up your dog for special canine training or administering anti-anxiety medications. However, prior to taking any steps always make sure that your Fido's vet agrees to the same.
You may also like:
Why does my Dog Scratch my Bed Sheets?
If you are a dog lover then, Subscribe to our weekly newsletters. No Spams!