Springer Spaniels are a highly sought-after family dog because they're fun and have beautiful eyes. But, people often wonder, "Do Springer Spaniels shed a lot?" Knowing how much a dog sheds is important because it helps new spaniel parents to prepare themselves for the right ideal grooming. In this article, we'll talk about how much Springer Spaniels shed and give you all the details about their fur management. Let's dive in!

Do Springer Spaniels Shed?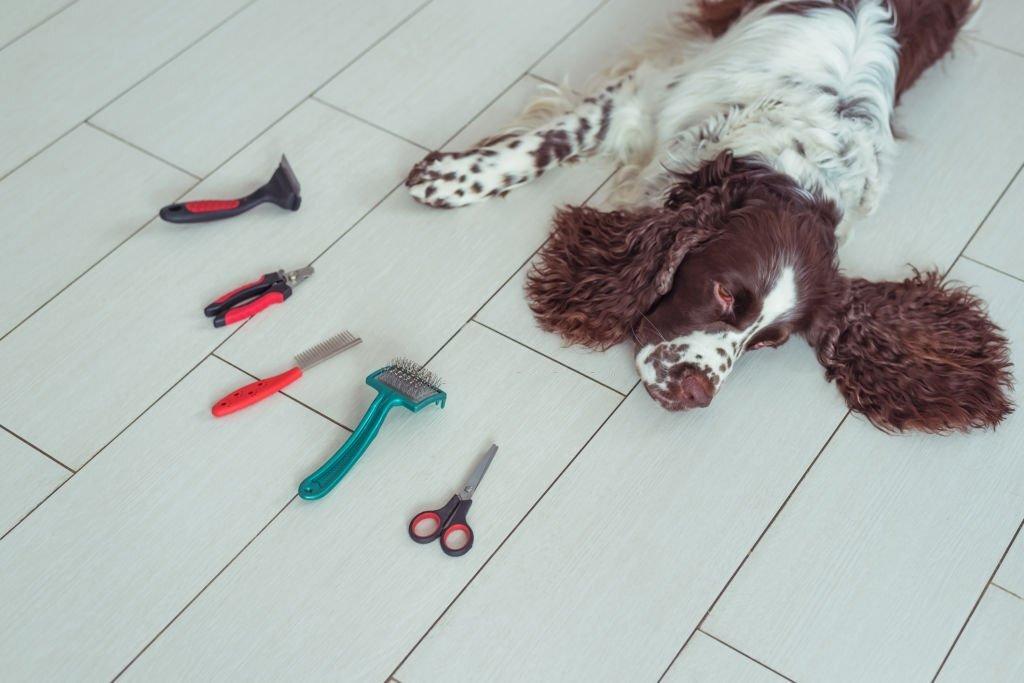 Springer Spaniels are fun and loving dogs, but they do shed a lot. Even though they aren't great for people with allergies, if you take care of their fur and clean your home well, it's easy to handle. With the right care, you can enjoy having a Springer Spaniel without too much fur everywhere.
In this regard, let's understand their coat types, shedding cycle, influencing factors, and grooming guide in detail. 
Springer Spaniel Coat Types 
Springer Spaniels, known for their lively nature and keen sense of smell, have different coat types that reflect their history and job roles. Let's have a brief understanding of different breed type.
Coat of English Springers from England
These dogs are recognized by their double coat. This coat serves a dual purpose: the outer layer repels water while the inner layer provides warmth. As a result, these Springers can handle wet and chilly conditions. Feathering, which is the long, flowing fur, is prominent around their legs, ears, and underside. It not only adds to their beauty but also protects sensitive areas.
Coat of Show English Springer
If you see a Springer with long, wavy fur and droopy ears, it's likely a Show Springer. Bred primarily for dog shows, their coat is luxurious, often needing regular grooming to maintain its shine and form.
Coat of Field Springer
Built for work, the Field Springer sports a shorter, tougher coat. This makes it easier for them to navigate through rough terrains without getting tangled. They have less feathering, which means fewer chances of collecting debris and moisture during their field tasks.
Coat of Welsh Springer
Distinct from their English counterparts, Welsh Springers flaunt a flat or single coat. This medium-length fur is dense, ensuring the skin stays insulated. It doesn't have the double layer like the English variety, but it's still thick enough to provide protection against harsh conditions.
The Springer Spaniels Shedding Cycle 
Springer Spaniels, much like many other breeds, undergo distinct shedding cycles in response to seasonal changes.
Spring Shedding
As warmer months approach, Springer Spaniels start shedding profusely. This phenomenon, often referred to by groomers as 'blowing their coats,' is the dog's natural way of getting rid of their dense winter fur. The thick winter coat, which provided insulation against the cold, is no longer necessary as temperatures rise. Therefore, Springers shed it in favor of a lighter summer coat. If you own a Springer, you might notice an increase in loose hairs around your home during this period.
Pre-Winter Shedding
As the chill of winter starts to set in, Springer Spaniels prepare once again by shedding their lighter summer fur. This is to make way for the growth of a thicker, more insulating coat that will help them handle the colder months ahead. This denser coat acts as a protective barrier, ensuring they remain warm even during the coldest days. 
Factors Influencing Shedding in Springer Spaniels 
Environment
If a Springer spends most of its time indoors, it's less likely to develop a thick winter coat. This means less shedding when summer arrives.
Genetics
Welsh Springer Spaniels often carry two copies of the sd allele. This genetic trait means they tend to shed more. 
Stress
Springer Spaniels under stress or anxiety may shed more. This shedding sometimes comes with an unusual odor. 
Diet
A diet low-in-protein can lead to patchy hair loss and weak hair in Springers.
Health
These dogs can suffer from a skin condition called seborrhea, which leads to more shedding and hair loss.
Coat Care
If you don't groom a Springer properly, its coat can become tangled and matted, leading to increased shedding.
Grooming English Springer Spaniel 
Regular care and understanding can help manage and reduce shedding in Springer Spaniels.
Springer Spaniels, known for their energetic demeanor and captivating appearance, require consistent grooming, although their maintenance level varies based on the type:
Double-coated Springers: These dogs come equipped with a plush layer of fur. While they're undeniably soft to the touch, the double coat demands a bit more time and patience during brushing sessions.
Show Springers: Bred primarily for their stellar looks and show-worthy appearance, these Springers have long, lustrous hair that requires regular care to maintain its elegance.
Field Springers: Built for rugged terrains and outdoor activities, their shorter hair, although easier to manage, is a magnet for dirt and debris. Regular brushing can help remove burrs and prevent pesky matting.
When it comes to grooming methods, there are primarily two:
Brushing vs. Hand Stripping
Brushing: Brushing is essential for every Springer owner, just like the early Springer Spaniel training. Brushing not only keeps the fur neat but also ensures that tangles and mats are dealt with promptly. And when paired with a detangling solution, the experience becomes seamless and comfortable for the dog, effectively catering to both the outer and inner coat.
Hand Stripping: A more traditional method, hand stripping involves manually removing the dead top coat to encourage healthier hair growth. While it focuses mainly on the outer coat, it can sometimes be uncomfortable for some Springers. If your Springer is neutered, it might be a good idea to give this method a miss.
Essential Grooming Tools
Every Springer owner should have a toolkit ready:
Wire-Pin Brush: Ideal for quick grooming sessions, this brush is adept at removing dirt with its short, effective strokes.
Medium Bristle Brush: Besides removing dirt, this brush adds an extra layer of shine, making your Springer's coat look healthy and vibrant.
Grooming Clippers: Perfect for the occasional trim, these clippers help manage and maintain the Springer's coat length.
Shedding Shears: These are particularly useful for managing the density of the outer coat, especially during shedding season.
Furminator: A godsend for dealing with the undercoat. This tool ensures that excess hair is removed without causing any harm to the protective top coat. If you're considering using one, it's wise to consult your vet first.
Tips for Minimal Shedding
Shedding is natural, but a few practices can make it more manageable:
Regular Brushing: This simple act can drastically reduce the amount of hair your Springer sheds.
Bathing: A periodic bath can rid your Springer of old hairs and keep the coat fresh.
Coconut Oil: Excellent for moisturizing dry skin, which can further reduce excessive shedding.
Fish Oil: A remedy for itching, which can be a cause for increased shedding.
Managing Springer Spaniel Shedding 
Springers are friendly, good-natured dogs that are eager to please and learn very quickly. But they are prone to excess shedding and don't have a hypoallergenic coat. One can enjoy the delightful company of a Springer Spaniel without the fur-filled consequences with the following expert tips. 
Managing Indoor Shedding 
Managing the shedding of a Springer Spaniel requires consistent attention:
Regular Brushing: This cannot be stressed enough. Frequent brushing will not only ensure a neat appearance but will also reduce fur shedding around the house. It keeps their coat soft, clean, and tangle-free.
Quality Diet: Ensure they receive adequate protein from high-quality dog food. A proper diet can influence the health and quality of their coat.
Supplements: Consider adding omega acid or fatty acid supplements to their diet. These can enhance coat health and reduce shedding.
Hydration: Always ensure your Springer has access to fresh water. Hydrated skin and fur shed less.
House Maintenance: Vacuum your living space regularly to keep fur accumulation in check. Additionally, using protective covers on furniture can minimize fur accumulation.
Grooming Products: The right shampoo makes a difference. Coupled with a quality brush, it can keep their coat in prime condition.
Dealing with Allergies and Pet Dander 
If someone in the house struggles with allergies, especially from pet dander, these steps can help alleviate symptoms:
Medication: Over-the-counter antihistamines and nasal corticosteroids can be effective in managing allergy symptoms resulting from pet dander.
Air Quality: Regularly change your home's air filters to ensure dander doesn't circulate through the house.
Restricted Areas: Designate certain areas, like your bedroom or the living room sofa, as off-limits to the dog. This ensures some dander-free zones in the house.
Flooring Considerations: If possible, consider replacing carpets with hardwood or tiled floors. Carpets can trap and retain dander, making allergies more severe.
End Thoughts
Springer Spaniels are great family dogs and they shed a lot. But, you must know how to take care of their fur and clean your home well. After that, you can enjoy having a Springer Spaniel without too much fur everywhere.
FAQs
How do different Spaniel breeds shed?
Spaniels shed a medium amount, and how much they shed depends on their fur type and job. For instance, American Cocker Spaniels shed the most and need lots of grooming. Irish Spaniels, even with their curly fur, shed the least and are easier to take care of.
Can You Shave Your Springer?
Yes, you can shave your Springer Spaniel, but it's important to think about a few things first. Shaving can help in hot weather, but their coat also protects them from sunburn and insects. If you decide to shave, don't go too short. Remember, their fur helps control body temperature in both hot and cold weather. It's always a good idea to ask a vet or a professional groomer for advice before shaving your Springer to make sure it's the best choice for your dog.
If you are a dog lover then, Subscribe to our weekly newsletters. No Spams!